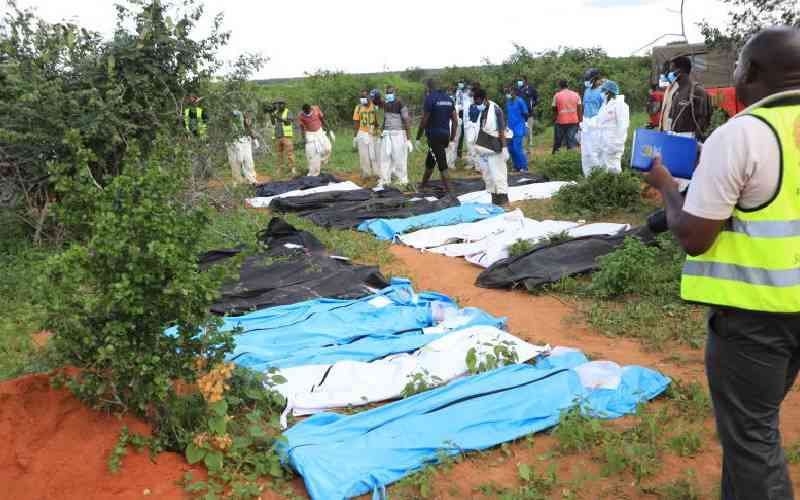 Homicide detectives investigating the Shakahola massacre linked to controversial preacher Paul Makenzi have found four mass graves in his 800-acre land in Kilifi County.
Forensic experts believe one of the graves could contain many bodies even as they prepare to dig them up in the coming days as they wait for the second round of postmortem of more than 100 bodies at the Malindi sub-county hospital mortuary set for Wednesday, May 24, 2023.
The graves were discovered in another village named Judea within Makenzi's controversial farm.
The team, led by homicide director Martin Nyaguto, discovered the graves on Monday.
Further, the detectives have recovered the skeletons of two children, bringing the death toll to 239.
The bones were discovered by the General Service Unit (GSU) officers who have been combing the expansive forest in their efforts to save those who are still alive while recovering the bodies of victims.
The age and gender of the two bodies could not be established immediately until forensic experts perform the postmortems scheduled to begin on Wednesday.
Last week, the forensic team took a five-day break to prepare for the second phase of the postmortem.
On Saturday, Interior Cabinet Secretary Kithure Kindiki announced the search and rescue operation for survivors will be extended to Tsavo East National Park.
"It is clarified for the information of the public that the search and rescue operation for survivors will be extended to the fringes of the neighbouring Tsavo East National Park in the coming days using ground and drone searches," said Kindiki.
Makenzi, of Good News International Church, is said to have lured his followers to death through starvation and dehydration in the name of religion.
Some of those who died were children after they were allegedly forced to fast and pray with the hope of meeting Jesus Christ.
Starve himself to death
But all this time, Makenzi is said to have been eating. He reportedly told his followers that he would, in the end, also starve himself to death to meet Jesus.
Detectives have also disclosed that they are expecting to begin phase three of exhumation immediately after the scheduled second phase of postmortem.
Meanwhile, families have continued to flock to the Malindi sub-county morgue for DNA tests as they seek to identify their loved ones.
Last Saturday, Coast Regional Commissioner Rhoda Onyancha said 93 relatives had undergone the DNA test.
"Families have come out in large numbers for the DNA, but also those reported missing by their families have reached 613," she said.
Related Topics