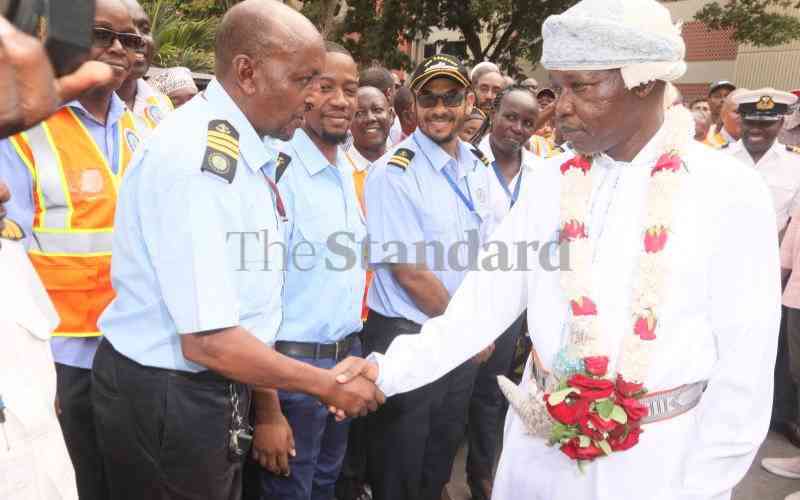 Captain William Ruto, managing director of Kenya Ports Authority, is scheduled to meet with Dock Workers Union officials this week to discuss workers' grievances.
General Secretary Simon Sang confirmed that his team has scheduled a meeting with KPA top management at the corporation's headquarters.
They hope to resolve outstanding promotions, payment of a two-year annual bonus, medical scheme, permanent and pension confirmation for 14 employees on contract at Kenya Railways and 96 employees on contract at Lamu, as well as overtime.
The union officials will also meet with top management after it was revealed that the decision to promote Captain Ruto to MD has boosted worker morale.
"We will meet with Ruto, the human resource manager, the general manager of port operations, and other senior staff in the port to resolve these issues as a means of motivating the workers," Sang said.
Ezra Okong'o of the Port Workers Welfare Group said the arrival of Captain Ruto at the port has boosted worker morale.
"The port is currently witnessing a marked improvement in tonnage since the appointment of Captain Ruto," said Okong'o, a former deputy DWU general secretary.
Another former union official, Paul Abisa, who is the chairman of Port Workers Welfare Group, said the appointment of Captain Ruto and board chairman Benjamin Tayari would be a game changer.
"We as the port workers' Welfare Group urge the port management to implore workers to work hard to achieve its long and short-term objectives," said Abisa.
In a letter addressed to the MD dated March 25, Sang says top on his list of grievances is the confirmation of 56 port operators whose names had been approved for promotion.
"On March 4, 2022, the human resources management committee in its meeting approved 56 employees who were said to have met all qualifications.
"The general manager (Human Resources) endorsed the approval memo to the Head of Human Resources for implementation but to date 46 have not been promoted," said Sang.
Sang says the KPA human resource manual of 2012 provides that acting appointments to vacant posts are approved in the sixth month or reverted and in the seventh month advertised.
A KPA worker who spoke to The Standard, Nancy Osanjo, said the arrival of Captain Ruto as the KPA had MD restored morale.
"The workers know their grievances are being addressed by one of their own."
Sang says the Employment Act provides that acting appointments may be verbal or written and dismissed those denying the employees' rightful promotion.
"There is a need to unlock the payroll system, which has capped overtime payment to only 30 per cent of monthly salary despite heads of department approving work beyond 30 per cent as work demands," said Sang.
The union boss concurred with the former KPA managing director Dr Daniel Manduku who broke his silence about the port last week and said the facility is finally working.
Manduku congratulated port workers for breaking the record last week when MD captain Ruto piloted Mv Manta Ray to berth 22.
"During the operation on that day, the vessel broke a five-year record with 194 moves per hour against 192 moves recorded in 2018," said Sang.
Related Topics