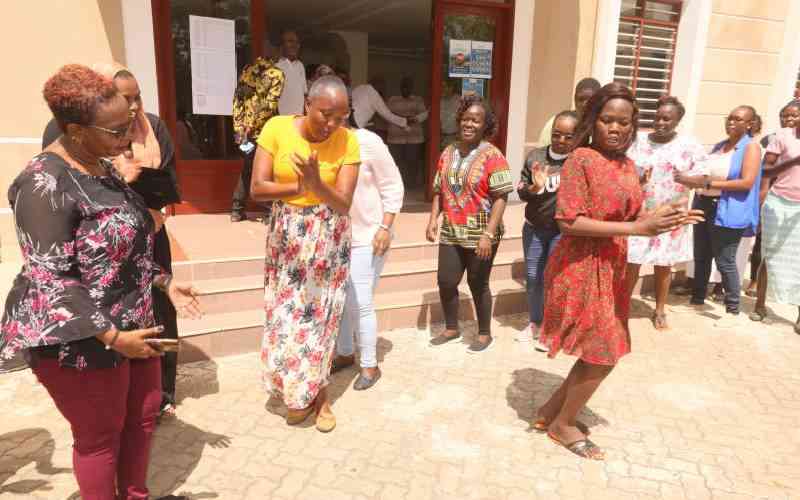 Light Academy in Mombasa posted a mean score of 9.89 to emerge as the best school in the 2022 Kenya Certificate of Secondary Education (KCSE) examination at the Coast.
All but one of its 78 students who did KCSE at the school scored B (minus) and above. Three students scored A, and 23 had A-.
The school's principal Yerkin Kaljanov attributed the success to determination, hard work, and collaboration between the school and parents.
"It is a marked improvement in the overall performance given that last year we recorded a mean of 8.73, a B grade, and this year we have 9.89, a B+," said Kaljanov.
He said the population of candidates registered in 2022 was almost the same as in 2021. Last year the number of candidates was 84 while this year it stood at 74.
An analysis of the performance of the school indicates that students scored highly in computer studies whose mean score improved from 11.19 in 2021 to 11.93.
"It is also worth noting that whereas last year we had only one A plain and 9 A minuses, this year they have 3 A plains and 23 A minuses," said Kaljanov.
He added; "They did their best and deserve the good grades that have made Light Academy the best-performing school in the region. We never doubted their abilities to do better," he said.
The top candidate was Onyango Lulu, who scored an A (plain) of 83 points. Audrey Chebet Bii who scored A (plain) of 81 points said she was pleased with her performance as her effort paid off.
"We used to collaborate, and this helped especially in the weak areas. The school offered the best in form of teachers and infrastructure making it conducive to excel," she said.
Meanwhile, Dr Aggrey Boys High School and Kenyatta High School Mwatate in Taita Taveta, were the top public schools in the region.
Dr Aggrey and Kenyatta had a mean score of 8.9 and 8.23, respectively. Bura Girls High School produced a mean score of 7.571, an improvement from the 7.503 it had in 2021.
Dr Aggrey had two students with A plain while Kenyatta had four A plain but its mean grade dropped to 8.23. Dr Aggrey Principal Robert Aran said 234 candidates have qualified for the university after obtaining a C plus and above.
"As far as we are concerned, the school has done well compared to the previous year," stated the Principal.
He said all subjects recorded a significant improvement due to hard work and resilience among teachers, students, and the school's management.
"Having 236 of 240 (98 per cent) candidates qualifying for direct enrollment to university is a very outstanding performance. There is a significant improvement in results," stated Aran yesterday.
Boys' schools performed better than girls' schools in the region.
Related Topics