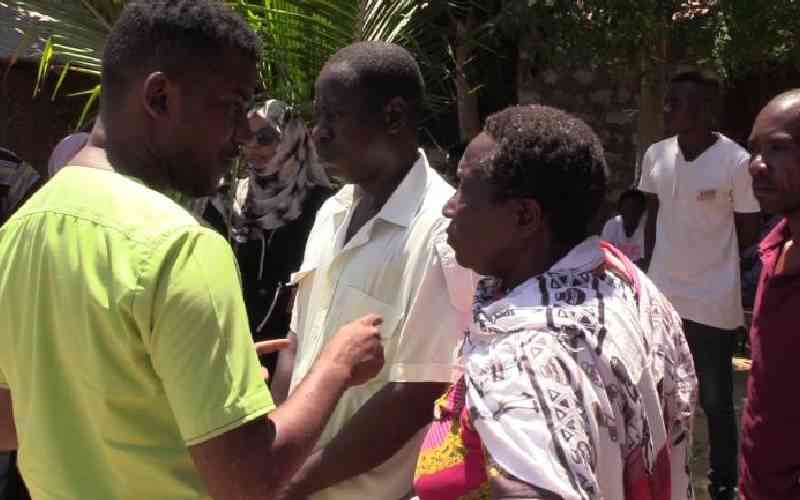 Shock and grief has engulfed a Malindi family in Kilifi after their daughter's body arrived in the country from Italy without some internal organs.
The 36-year-old Amani Justine Luwali, had been staying with her Italian husband since 2016 when they got married.
According to family members, the body was in a tamper-proof metal box when it arrived at the Star Hospital mortuary in Malindi town.
Josphine Mrima, the mother of the deceased, said that her daughter had been in Italy for close to fifteen years.
She first went there in 2004 after undergoing heart surgery and returned home then went back to live with her husband with whom they have a daughter. At that time, she was 18 years old.
"I don't know how she died and I don't even know if she was sick. I was just told by our friends in Italy that she was dead.
The husband later revealed that she had died and a requiem mass was to be conducted and the body to be cremated the following day. I objected, because according to our customs, we don't cremate bodies, and I said that her body had to be brought back home," she said.
She added that the husband made arrangements and the body was flown to Kenya via the Mombasa International Airport but with instructions that the container carrying it should not be opened.
"The husband promised to bring the body and when it arrived, we were told not to view it, but I insisted that we must view it. The body was transferred to Malindi Star mortuary where the coffin was opened and we saw the body which was in a very awkward state," she said.
Josephine said that at that point, her eldest son took up the matter and reported it to the Marereni police station. "I am appealing to the government to investigate this issue and bring the culprit to book. She was my sixth born and had stayed in Italy for at least 15 years," she said.
James Karisa, a brother to the deceased, said that upon opening the metal box, they were shocked to find that the body had stitches all over and the eyes had been removed and replaced with plastic ones.
They reported the matter to Marereni police station, in Magarini sub-county, before conducting a post-mortem that confirmed their worst fears.
The heart, major blood vessels, kidneys, eyeballs and liver were missing, a matter that the family wants to be investigated before they can bury the body.
"We learnt of my sister's demise on September 27 this year. We received a phone call from one of our friends in Italy that she was found dead in her house. We objected the idea of cremating her, that is when arrangements were made to bring her home, and the body arrived in Kenya on October 27 and a postmortem was conducted on November 3," he said.
Karisa also said her sister had filed for divorce from her husband but the matter had not been concluded. "When we talked in March, my sister had informed me that she had filed for divorce, but her husband rejected the idea and he did not even show up for the hearings," he said, adding that she was still searching for a job at the time of her demise.
Related Topics