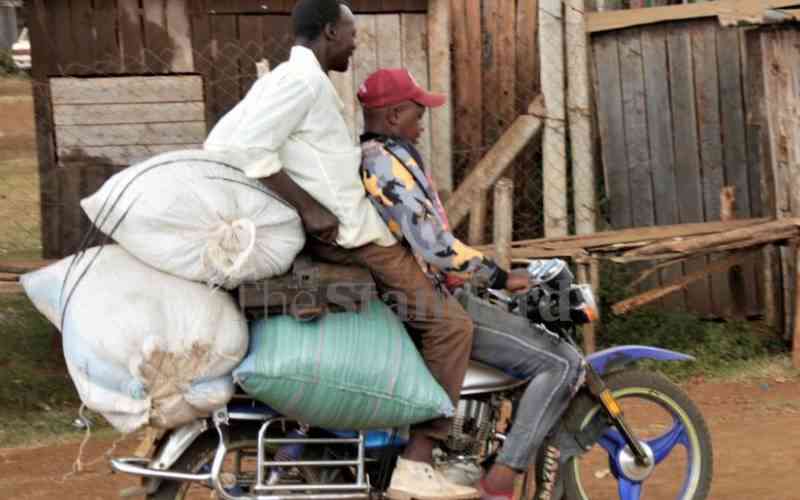 Natural coffee processing has given hope to hundreds of farmers who had opted to uproot the cash crop, blaming coffee Sacco management for embezzlement.
Farmers from five different coffee factories in Mathira, Nyeri County, have joined efforts to start a cooperative society.
Charles Maina, a farmer from Ruui Ruiru Coffee Factory said they were counting losses after selling their coffee to brokers at a throwaway price.
He added that in 1996, they had to close all of the coffee factories because farmers abandoned their coffee and those who were completely disappointed uprooted their crops.
"Farmers stopped delivering coffee to the factory, and brokers stepped in and bought their gold at a bargain," Maina said. He also stated that now that they have been introduced to natural coffee processing, they will reap the benefits of their hard work after things became difficult after the society's poor management.
"Shortly after the formation of the new Kenya Planters Co-operative Union (New KPCU) in 2019, chairman Henry Kinyua introduced them to Crowd Farm Africa LTD, who introduced the concept of natural coffee processing to the farmers," he said.
Crowd Farm Africa officer Samuel Wachieni said after explaining the natural coffee processing to the farmers, they struck a deal to carry out the process and have been reaping the benefits for three years.
According to him, the agreement called for coffee farmers to deliver the coffee and dry it, while the New KPCU would provide milling and warehouse services, and Crowd Farm would buy the coffee from farmers for export. "Our goal is to resurrect the shuttered coffee factories, and we have partnered with the New KPCU to launch our first project in Kenya," he said.
Wachieni said they chose natural coffee processing because it is simple, environmentally friendly, and popular with some international roasters.
"You don't need a pulping station or water for natural coffee processing, and it's also not labour intensive because you dry the cherries as they're harvested from the farm," he added.
Wachieni said that they began purchasing coffee at Sh70 per kilogramme, with Sh5 going towards reviving the shuttered factories, with only 200 farmers delivering their coffee by 2020.
"Our target was 50,000kg, but the farmers managed to deliver 24,000kg because most of them had uprooted the cash crop.
"The international buyers were very impressed with the quality of the coffee, and the farmers were happy that their factories were back in operation, the farmers increased to 400 the following year, and cherry production rose to 50,000kg," he said.
In 2022, farmers agreed to sell their coffee for Sh85 per kg, with Sh5 going to fully operational factories. "They delivered about 100,000kg of cherry, and the number of active farmers had increased to 600; the coffee earned them more than Sh8 million in January," he said.
Timothy Mirungi, the acting manager of the New KPCU, said the collaboration has benefited farmers who had lost hope in coffee farming.
He went on to say because natural coffee processing requires less water and electricity, farmers can make a good profit.
"The New KPCU has donated a greenhouse for drying coffee and other extension services to farmers, and currently the farmers have access to the revolving coffee cherry fund on their own," Mirungi said.
Job Kareithi, the CEO of Tetu Coffee and a coffee farmer in Mathira, said natural processed coffee has a larger market because it has more fruits and fermented flavours because the beans have more time to interact with the natural sugar from the cherry.
He said pulped coffee berries are cleaned off the cherry before drying, giving it a distinct flavour from naturally processed coffee.
"In anaerobic coffee processing, the fermentation of coffee sugar occurs without the presence of oxygen. The coffee berries are dried with all of the natural sugar and pulp. The dry coffee is then milled, whereas the pulping method involves cleaning the coffee of sugar and fermenting it before drying and milling," Kareithi said.
One of the factory's secretaries, Joshua Wambugu, said they are pleased and that no farmer is complaining about the lack of school fees, as they used to before.
Related Topics