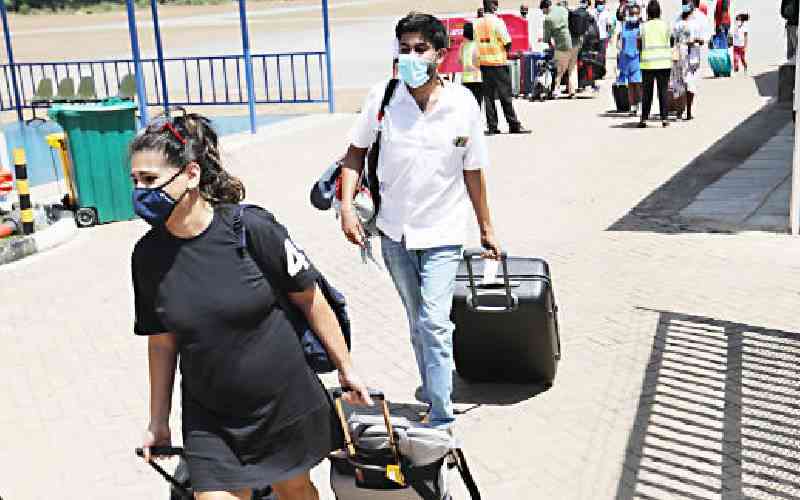 Stakeholders have hailed the planned rehabilitation and elevation of the Ukunda Airstrip in Kwale County to Diani Airport as a game changer for the tourism sector in the South Coast.
They say this will increase the number of tourists to the region as the sector continues to recover from the negative effects of the Covid-19 pandemic.
According to the Kenya Airports Authority (KAA), the rehabilitation and expansion of the airport to handle larger aircraft will cost Sh2.3 billion.
KAA plans to extend the airstrip's runway from the current 1.2 kilometres to 1.8 kilometres. KAA says it is in the process of acquiring an additional 54 acres as part of the expansion plan.
After the rehabilitation, the airstrip will be renamed Diani Airport.
"Bigger planes can now land in Diani, thus increasing carrying capacity. This will mean more tourists to Diani," said Kenya Association of Hotelkeepers and Caterers Coast Branch Executive Officer Ikwaye.
He said limited carrying capacity makes it expensive to fly to Diani since airlines have to compensate for empty seats on each flight. "As a result, Diani will now be a cheaper destination in terms of accessibility. The status also matches the elevated municipality status of Diani itself," said Mr Ikwaye.
Diani Reef Beach Resort & Spa Managing Director Bobby Kamani said the upgrade and name change of the airstrip would lead to improved accessibility, leading to more tourists. "The name change to Diani Airport will boost the destination's image," said Kamani.
He said the upgrade of the airstrip to airport status would also allow it to handle night flights, thus accommodating passengers from different time zones.
"Upgrading the airport and enabling night travel can also make Diani more competitive with other international tourist destinations that offer 24/7 air travel options," said Mr Kamani.
Related Topics