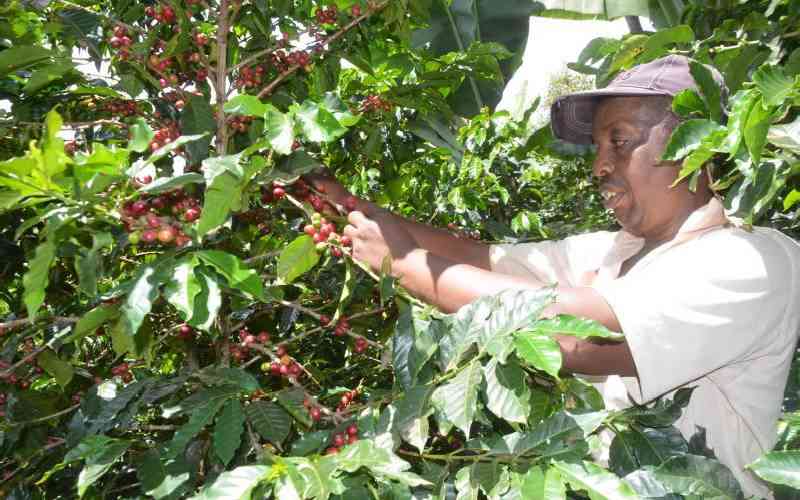 Deputy President Rigathi Gachagua has planned a three-day conference in Meru County this month to discuss ways of reviving the coffee sub-sector.
The meeting, slated for June 8-10, will bring together various stakeholders, including farmers, to discuss long-term reforms that will take coffee farming back to profitability.
"Coffee farmers have been neglected for a long time as middlemen muddle the waters. We want to see things change for the benefit of the hardworking farmers," said Gachagua.
The DP added: "Revitalisation of the coffee subsector in Kenya will directly impact the lives of small-holder farmers who, for a long time, have remained unheard and have been taken advantage of. The philosophy of the Bottom-Up economic transformation model envisages restoring dignity to the people at the bottom of the socio-economic pyramid, and that is what we are doing."
Mr Gachagua has already held several engagements with the Parliamentary Caucus on Coffee Reforms to discuss how to revive the subsector. During the meetings, laws, policies and regulations that need to be enacted were discussed. The meetings have also identified the existing laws, policies and regulations that need review to make coffee farming attractive once again.
The conference in Meru will examine the existing legal framework, how it impacts coffee farming and how it can be improved.
The DP has engaged experts from Ethiopia to share knowledge on good practices in coffee farming and running farmer-centred cooperatives. These engagements are also meant to help local farmers get direct linkages to consumers in high-value markets such as the US.
Some of the emerging issues that will be discussed at the meeting include capitalising on the distinct flavour and aroma of Kenyan coffee in marketing efforts and strengthening cooperatives as key actors in the development of the coffee sector.
Last month, Gachagua and visiting Colombian Vice President Francia Marquez discussed how Kenya and Colombia could work together as they seek to penetrate high-value coffee markets including Canada, Belgium and the US. One of the focus areas of the summit in Meru will be tightening the legal framework with a view of instituting laws, policies and regulations that will make farmer-centred reforms possible.
"Coffee farmers have been exploited from all sides. It is disheartening that the farmer, who works so hard to produce coffee, cannot afford a cup of coffee. This is despite good export market prices. During the upcoming summit, we will look at the reforms that will lock out brokers and ensure farmers reap full benefits from their hard work," said Mr Nicholas Mesa, a coffee farmer from Nyamira County said.
President William Ruto has tasked the DP to lead public reforms, including in the coffee, tea and milk sub-sectors, even as the Kenya Kwanza administration rolls out programmes to revamp the agriculture sector.
The government has a special focus on agriculture with a view of enhancing food production as a way of reducing the cost of basic commodities.
Related Topics