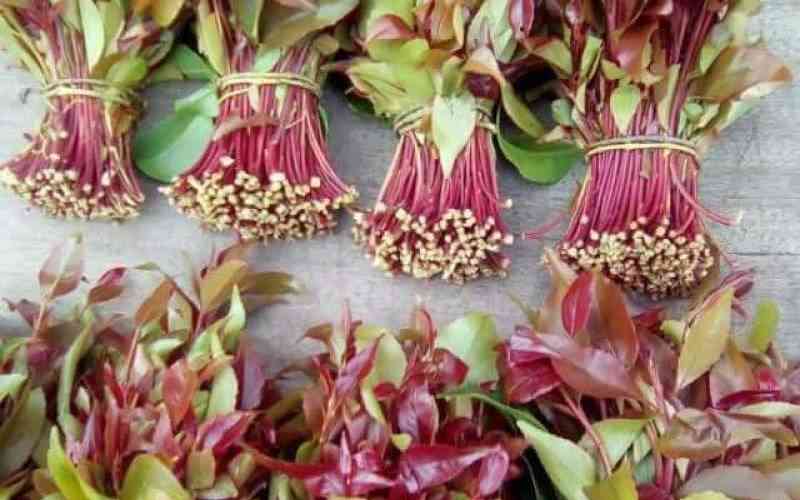 Meru leaders have hit out at the National Authority on Campaign Against Drug Abuse (Nacada) for classifying miraa as a drug. Nacada has listed alcohol, tobacco, bhang, and miraa as the most commonly abused drugs in Kenya.
It is the listing of miraa as a drug that has angered miraa farmers, traders, and Meru leaders who are now demanding a unified government position.
While the National Assembly passed a law recognising miraa as a cash crop in 2016, Nacada, a government agency, lists it as a drug.
Nyambene Miraa Farmers and Traders Association (Nyamita) led by its Chairman Kimathi Munjuri and Igembe South MP John Paul Mwirigi are among those who have called out Nacada over its position on miraa.
Their argument is that listing miraa as a drug portrays it in a bad light and goes against efforts to make it at some markets, including international ones.
Mr Mwirigi who was spearheading a public participation forum on the National Government's 2023-2024 Budget public participation forum, said the people were concerned with Nacada's position on miraa.
He said it was wrong for Nacada to list miraa as "more dangerous" than bhang.
"So the people sent us with a clear warning against Nacada. That they must pronounce themselves if they have any interest in this crop. We are going to prosecute this issue in Parliament. Even MPs from Embu, Meru, and Tharaka Nithi are concerned about why Nacada is highlighting this crop as a drug".
Munjuri said Nyamita is pushing for a unified government position on miraa, seeing as some agencies such as Nacada were working against the development of the crop by listing it as a drug.
He regretted the differing positions on miraa by some government agencies.
Munjuri said the push for a unified government position on miraa was triggered by the May report by Nacada that ranked miraa as the third most abused abuse drug in Kenya.
Munjuri said miraa had been planted and consumed for eons without any reports of negative effects on farmers, traders, and consumers.
He said they were aware that the government was actively promoting the farming and trading of miraa but, at the same time, "very worried and confused that the same it was also campaigning against miraa".
Related Topics