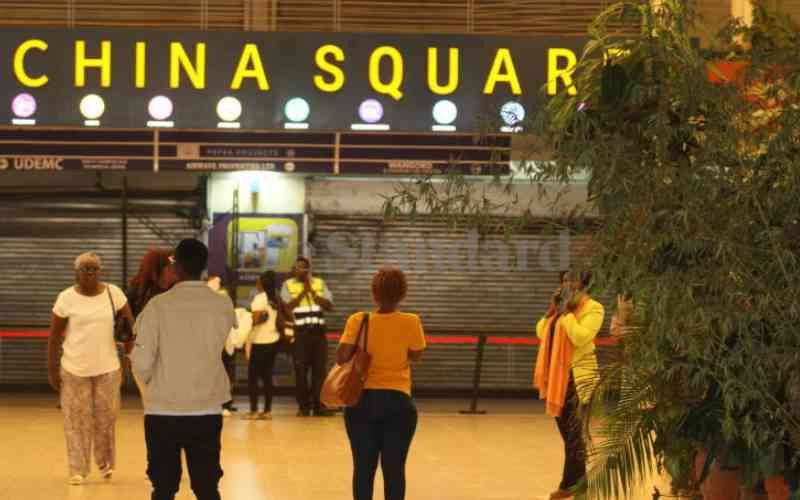 The ejection of the China Square retailer from Kenyatta University's Unicity Shopping Mall has rattled many but also raised queries about the country's policy on foreign investments.
The opinion is divided on how the country should balance attracting foreign investments with protecting local industries, in this case, retail, as well as protecting consumers that local retailers are reportedly overcharging.
Moses Kuria Cabinet Secretary Ministry of Investments, Trade and Industry a week ago said he had directed the KU Vice Chancellor to buy out the lease for China Square and "hand it over to the Gikomba, Nyamakima, Muthurwa and Eastleigh Traders Association".
He noted that while Chinese investors are welcome to invest in Kenya, they should invest in industry and not jostle for customers with micro and small businesses. While Kuria's sentiments have found support among many in government and industry, there are also many who feel he may have been quick to act.
Among these include Korir Sing'oei, Foreign Affairs Principal Secretary, who on social media, tried to comfort foreign investors, saying they should not be apprehensive as the country's investment regime is non-discriminatory and non-arbitrary.
Another lot that feels CS Kuria acted hastily include lawmakers led by Nandi Senator Cherargei, who called for structured engagement with investors to resolve such issues.
Structured approach
Addressing a press conference at Parliament Buildings, the lawmakers noted that China Square is not the only foreign-owned retailer in the country and hence the need to have a structured approach to the matter.
The lawmakers included senators Mohamed Chute (Marsabit), James Lomenen (Turkana), Issa Boy (Kwale), Alexander Mundigi (Embu), Mohamed Faki (Mombasa) and Mumia East MP Peter Salasya.
Marianne Kitany, the vice chair of the National Assembly's Committee on Trade, said it is time Kenya changed its policy on foreign investments to offer clarity on where foreign nationals should invest and sectors that should be left to Kenyans. She said among the countries with the best practices in this area are Ethiopia which is clear on what areas are solely the preserve of the government, segments of the economy where only Ethiopians can run as well as where Ethiopians can partner with non-citizens.
"It is something that we can borrow from so that we do not shut out investors but then also said that a certain category of investments will only be done by locals. Things like selling goods, which is happening at China Square, in my view, should be a preserve of locals. We want investors but we also want to grow," she said in an interview with KTN News.
"Then we move to certain sectors where we feel as Kenyans we may not have full capacity and can get investors to come in but put a policy to say a Kenyan investor will partner with a foreigner and have minimum percentages in terms of shareholding."
She added: "Then there are those that the government must intervene (for example large multinationals) they can take it up at the government level and say that the government will allow these people to come because of their global shareholding structure."
Kitany added that such a structure offers clarity from the onset and foreigners will not find themselves putting money in areas that later bring complications.
"If we categorise them this way, it becomes easier and neater so when an investor comes in, they know which category and which band they can invest in," said the Aldai MP. "The scenario we have with China Square is such that we have not broken that down. Now that this has happened and our traders are crying and saying that their business is being taken away… they are closing down and their livelihoods and those of the people that they employ."
Ken Gichinga, chief economist at Mentoria Economics, told The Sunday Standard that there is a need to have a policy that would balance the much-needed foreign direct investments as well as Kenyan businesses. "The primary role of the government's economic policy should be to secure jobs for Kenyans and to safeguard the common good," he said.
"While FDI is of great importance to the country, it needs to be regulated to avoid a wholesale displacing of existing Kenyan businesses."
Kenya has a target of growing FDI from $500 million (Sh63 billion) to $10 billion (Sh1.26 trillion) by December 2023, according to the Ministry of Investments, Trade and Industry.
Last week, local manufacturers protested what they term as influx of cheap Chinese imports. "The key question is why are they cheap?" posed Kenyan Association of Manufacturers (KAM) chairman Rajan Shah. "Cheap is a relative term. Are they cheaper than Kenyan manufactured goods? If that is the case, then we have to evaluate what makes our locally manufactured goods relatively more expensive," he said.
Kenyan manufacturers, he argued, feel the high cost of production is edging them out of business.
"This is what we have been driving our advocacy as KAM on how to level the playing field against other countries' manufactured goods," Shah said.
"This means our cost of doing business through logistics cost, taxation and regulatory burden is much higher and hence we are less competitive."
According to Shah, "this is the elephant in the room" that Kenyan policy-makers "need to address" to level the playing field. "If local manufacturers can become globally competitive, then these so-called cheap Chinese goods will no longer compete with our manufactured goods," he said.
Imported goods
"However, as a part of creating a level playing field, we also need to ensure that these cheap imported goods are complying with the local quality standards and have paid the due taxes and levies which are required. Only then can we as local manufacturers compete at par with imported goods."
Official statistics show that the nature of trade in manufactured goods between Kenya and China is characterised by high imports from China and very low exports from Kenya. A large proportion of Kenya's manufactured exports end up in countries with which it has a clear trade framework.
Moreover, Kenya lacks a comparative advantage for manufactured goods, while China has a high comparative advantage; therefore, Chinese exports complement Kenya's import needs, analysts say. "Kenya should focus on a comprehensive trade policy with China, support more FDI in manufacturing, innovation, and technology, improve labour productivity and infrastructure, enhance its global value chains, and create new comparative advantages among others," says a study published last year by Kenyan scholars.
The study dubbed "Kenya-China Trade in Manufactured Goods: A Competitive or Complementary Relationship?" highlighted the gaps between the two countries in trade.
"China enjoys a comparative advantage in low-priced manufactured goods, as its manufacturing and infrastructure sectors are highly integrated into global value chains," it says.
"As a result, China is a major source of imports from Kenya, in particular rubber products, machinery, equipment and electronics. Kenya, on the other hand, lacks a comparative advantage in manufactured goods due to the weak rule of law, poor infrastructure, and barriers to production."
This hinders growth in the manufacturing sector, making it difficult for local producers to compete with Chinese manufactured goods, concludes the study.
Already, Chinese authorities have called on the government to intervene and protect Chinese enterprises and citizens.
The Chinese Embassy in Nairobi issued a statement last in which it noted that a conducive environment would bolster China-Kenya for the benefit of both countries. Chinese nationals conducting business in the country were further urged to operate within Kenyan laws and regulations.
Earlier, China's Director-General of the Department of African Affairs of the Foreign Ministry, Wu Peng, called for the creation of a non-arbitrary and non-discriminatory investment environment environment between the two nations.
Related Topics