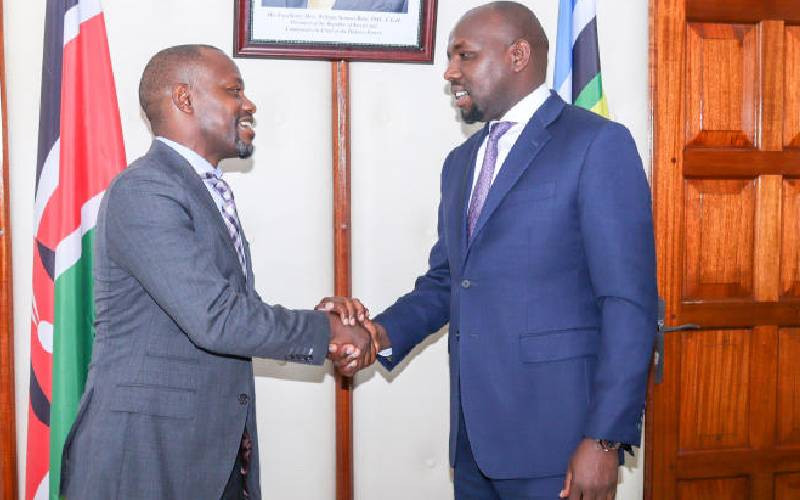 Transport Cabinet Secretary Kipchumba Murkomen has said his ministry is in the process of addressing critical issues and welcomed collaboration with the media to highlight these reforms.
He cited traffic congestion, electric vehicle transport, commuter railway and bus rapid transport (BRT) as some of the issues the ministry is grappling with.
Murkomen said there were plans to introduce an intelligent traffic management system in the city by installing cameras in the Central Business District (CBD) to manage traffic, and that the pilot project is already ongoing.
"We are going to work with National Transport and Safety Authority to ensure that traffic offenders are fined instantly and the resources that are gotten from the fines are ploughed back to ensure safety and infrastructure development," he noted.
On the Lamu Port-South Sudan-Ethiopia-Transport (Lapsset) Corridor, he said the ministry wants to make sure the Lamu port is functioning. He also pledged to ensure completion of the road from Lamu to Garissa, through Isiolo, all the way to Moyale.
Murkomen spoke when he met Standard Group Plc Chief Executive Officer Orlando Lyomu who paid him a courtesy to call to his office.
The two agreed to forge a partnership through which the media house, using its various platforms, will highlight the ministry's work.
"Whereas it's the responsibility of the media house and journalists to play the role of public watchdog, there is also a new space for us to ask ourselves what we can do as a corporate body as per the Sustainable Development Goals(SDGs) on partnership for progress and, we are not excluded from that,"' said Mr Lyomu.
He added: "So how then do we come on board as partners to make sure that what you are doing is not only understood by Kenyans but we also highlight how it is happening and why its important and if possible remove any misconceptions to leave no room for misinformation.''
Mr Lyomu was accompanied by Standard Group Plc's Editor-in-Chief Ochieng Rapuro, Head of Corporate Affairs Charles Kimathi, Khadija Mohammed from Corporate Affairs and Marren Annot from Commercial department.
The Cabinet Secretary promised that repair and rehabilitation of the old Mombasa Road, which was damaged during the construction of Nairobi Expressway will be completed soon.
Related Topics