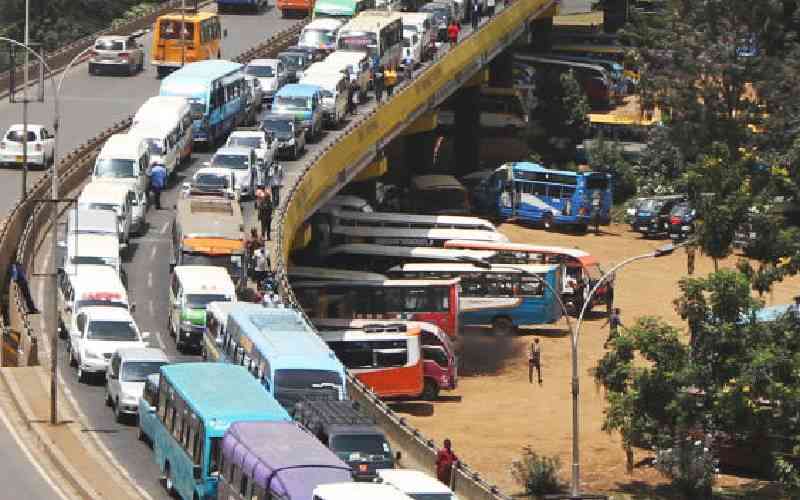 A recent incident in Nairobi where the door of a matatu fell as the vehicle made its way out of town with passengers on board, has rekindled the debate on Michuki rules that were aimed at enhancing safety.
The passengers aboard the matatu, which plies between city centre and Kileleshwa, had to alight along Latema Road and find another vehicle as the faulty vehicle was driven to a garage along Kirinyaga Road.
The incident highlights the Michuki rules initiated by then Transport Minister John Michuki in 2004.
Under Michuki rules all matatus and buses were required to install speed governors and safety belts, carry a specified number of passengers and operate on clearly defined routes.
All drivers and conductors were expected to be disciplined and to have a good conduct certificate.
Litter bins were to be put in all matatus, operators were to wear uniforms and display badges at all times. All public service vehicles had to have a yellow line.
But now, several routes have unroadworthy public service vehicles (PSV), many without seat belts or litter bins, and with faded yellow lines.
Drivers and conductors no longer wear uniforms or badges. There is little compliance with the Michuki rules, at least the ones that are still in force.
Eighteen years since the rules were introduced, things have got out of hand, with industry players blaming each other and corruption among police officers for the mess.
A spot check on several city routes revealed major breaches of the rules, meaning the sector is back to the old, unruly days.
Booming music, conductors shouting to attract passengers and graffiti all over the vehicles.
Eight out of 10 vehicles sampled along Jogoo Road, for instance, had loud music with audio-visual entertainment.
A majority of drivers weave in and out of traffic and drive dangerously on the shoulder of the road during peak hours. Out of 20 sampled matatus along Jogoo Road, only three had yellow stripes. The rest were covered with graffiti on the outside and inside.
Along Juja Road, out of 15 matatus sampled, 13 had excess passengers.
According to traffic rules, every seat in a PSV found without a seat belt risks a fine of Sh10,000. On the other hand, a passenger found in a moving vehicle without a seat belt risks parting with Sh500.
Along Juja Road, out of 20 matatus sampled, none had a working seat belt. Many matatus that are fitted with seat belts have defective buckles. Many of them are also dirty.
And during police checks, some passengers pretend they have buckled up, by placing the seat belt across their laps.
Out of 10 matatus sampled along Ngong Road and Mombasa Road, only three had litter bins.
The National Environment Management Authority (Nema) requires PSVs to have bins to reduce the amount of trash thrown carelessly.
Wearing uniforms and displaying badges by conductors while on duty is no longer a priority.
Demand bribes
Along Thika Super Highway, out of 10 matatus sampled, none of the conductors wore the maroon trouser, shirt and jacket. Only two drivers were seen in navy blue trousers, shirts and jackets without badges.
A manager of a matatu sacco that operates on Ngong Road says traffic police who demand bribes have left the enforcement of the laws to the saccos.
"That is why you will find some vehicles operating without necessary documents and disrespecting passengers because saccos now do what police are supposed to be doing," said another sacco manager.
Before 2004, insanity reigned in the transport sector, with criminal gangs taking charge of the industry. The same is now creeping back.
The Matatu Welfare Association, operators and police admit the laxity but point fingers at each other over the mess.
"Michuki rules have failed because crackdowns are never sustained. We hold one today, then after a few days, we go back to normalcy because of exploitation," said association Chairman Dickson Mbugua.
He blamed authorities for the poor enforcement of the rules. "We are good at drafting good policies and laws yet police officers who are supposed to enforce the laws are openly collecting bribes from the operators," said Mbugua.
The chairman said some PSVs rarely go for inspection, which is supposed to be done regularly, citing protection from some forces.
The National Transport and Safety Authority (NTSA), however, said owners of the PSVs stand accused if the vehicles are not serviced.
"It is the responsibility of the vehicle owner to take it for inspection. However, it is the role of police to enforce the laws," said Gerard Wangai, NTSA's Director of Motor Vehicle Inspection.
Nairobi Traffic Commandant Joshua Omukata said Michuki rules ceased to exist almost a decade ago.
"Currently, what we have in place is called Traffic Act and we have not stopped working. We have records of people arrested and charged for flouting traffic rules," said Omukata.
He said 'Michuki rules' became famous during that time because of the name but under Traffic Act, the traffic police department is still active.
He said they are working closely with NTSA and other stakeholders to enforce the Act.
"In fact, we have been carrying out crackdowns on fake speed governors and other related cases," said Omukata.
National Police Service Spokesman Bruno Shioso admits there are teething challenges on enforcement of the traffic rules.
"We address challenges as they come and request the public to continue cooperating with us to fix the transport industry in a sustainable manner," Shioso said.
A spot check by The Standard on various routes, however, established wanton disregard of the rules.
Along Ngong Road, most of the matatus heading to Kibera and Kawangware are unroadworthy, yet they still carry excess passengers.
Same case applies to vehicles plying Jogoo Road, Kangundo Road, Embakasi and Juja Road.
In the city centre, some reserved areas like walkways have been turned into matatu termini, with a resurgence of stage cartels who extort money from operators.
"Look at Thika, Kiambu, Kayole, Huruma, Githurai and Machakos matatus, for example, they are all over in town. It's all chaotic," said James Mwadime, an operator.
The laxity of security forces has been manifest in many incidents.
In 2018, a bus veered off the road and crashed in a valley on the Kisumu-Muhoroni Highway claiming 55 lives.
The accident stirred public anger after it emerged that the bus had excess passengers yet it had passed through several police roadblocks.
The owner and fleet managers were charged for operating an unroadworthy vehicle and flouting guidelines governing PSV operations.
In December last year, a traffic policeman was killed after a matatu lost control and hit six cars along Valley Road, Nairobi
By April 2022, statistics compiled by the NTSA showed 1,345 people had died from road accidents since the beginning of the year.
Related Topics