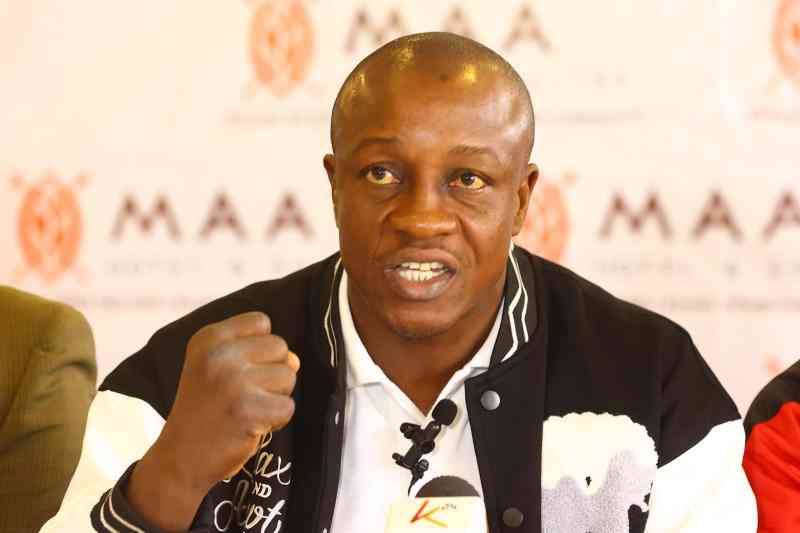 Tanzania's showboating pro boxer Karim 'Mtu Kazi' Mandonga has promised to punish his Kenyan opponent Daniel Wanyonyi severely when the two pugilists square it out in a 10-round super-middleweight non-title bout at the KICC Ball Room in Nairobi on Saturday night
It's also the same warning that Kenya's inspirational boxer Rayton "Boom Boom" Okwiri has extended to his Tanzanian opponent Ally Ndaro, telling the latter to prepare for 10 painful rounds in the night.
"As usual I don't underestimate my opponents, I give Ndaro the respect he deserves but let him know he has a long night on Saturday," said Okwiri (8-1-1, 6 KOs).
Okwiri, a former Africa Boxing Union champion, will face Ndaro (5-0-1, 2 KOs) in a non-title middleweight main fight on the day.
At the same time, Big-talking Mandonga says he is not cowed by Wanyonyi's decorated tale of the tape which stands at 27 fights including 22 KOs, 14 losses and two draws.
In a press conference in Nairobi on Thursday, Mandonga told Wanyonyi that he has not come to tour Kenya but to do business and his business is to floor his formidable rival.
"It's more than a fight, just like my name Mtu Kazi (a piece of work), I mean business," Mandonga told Standard Sports.
"I have not come here to relax, I have come here for war, whether Wanyonyi likes it or not I will beat him. I will only rest after confirming my victory," Mandonga underlined.
"His Kenyan fans are in for a rude shock, Wanyonyi will know why I'm called Mtu Kazi on Saturday night," tough talking Mandonga added.
However, Mandonga was non-committal on the exact round that he intends to floor Wanyonyi.
He only said he will finish off his calm opponent with his now famous 'Sugunyo' signature jab, a style he claims he perfected in Ukraine.
"I'm going to explode bombs in his head," stated the Tanzanian boxer who is unbeaten in four fights including one draw and two knockouts.
Mandonga arrived in Nairobi on Wednesday night.
He had a packed schedule on Thursday. He had lunch at the popular eatery, Mpambe Dishes, in California Estate, Nairobi.
He visited his opponent Wanyonyi at Gikomba Market under tight security, given his temperamental nature he could have decided to go bare-knuckle against Wanyonyi who sells clothes at the market as a side hustle.
He also visited the Standard Media Group PLC premises along Mombasa Road where he took part in a mock weighing-in and featured in the leading evening sports show, Zilizala.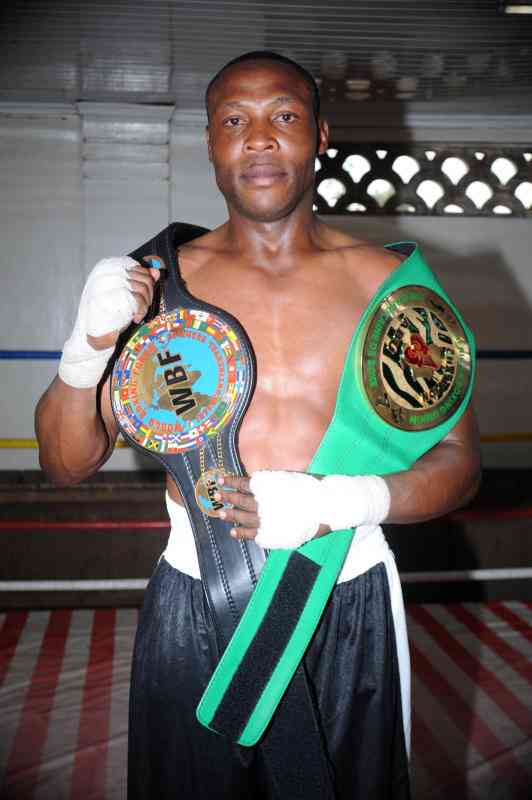 The Saturday fight card, sanctioned by Kenya Professional Boxing Commission and staged by Solid Rock Promotions will feature two Tanzanians, one Democratic Republic of Congo and five Mauritius pugilists who will be up against Kenyan rivals.
Saturday matchups at the KICC
Adel Motean vs Lucien Botumbe
Tyrone Oliver vs Patrick Amote
Jean John Colin vs Raphael Odiallo
Kennedy St Pierre vs Yannick Mandu
Cedric Oliver vs Gerald Male
Reddy Bellehumeur vs David Omollo
Jane Kavulani vs Praxides Anyango
Morris Okolla vs Hudson Muhumuza
Rayton Okwiri vs Shanani Ally Andaro
Karim 'Mtu Kazi' Mandonga vs Daniel Wanyonyi
Related Topics