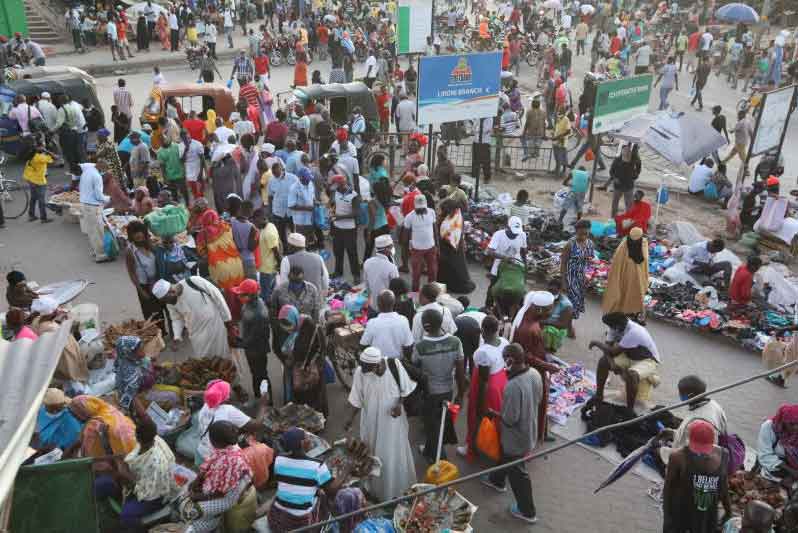 In less than six months Covid-19 has claimed close to 400,000 lives with 5.7 million confirmed cases globally.
Covid-19 was declared a pandemic by the World Health Organization at the end of January 2020 sending panic across the globe and has caused unprecedented and incalculable consequences in human health and health care systems as well as economies.
Our preparedness in responding to local outbreaks and preventing them from becoming international health crises has been tested and found wanting by a virus that just won't stop spreading.
The control of this pandemic has so far relied on non-pharmaceutical interventions laying emphasis on the need to continuously engage with the public about health; not just about their individual health but about the health of those close to them and the system that is taking care of them. Not just talking to them but talking with them.
This virus that is spreading relentlessly, requires that we are empowered enough to understand the importance of social and behavioural changes. It requires that we understand measures being enforced by relevant authorities as not just "a-tick-the-box" situation but a life and death situation.
Understanding the importance of wearing your mask correctly, washing your hands with soap and water, and socially distancing yourself; staying at least two arms' length from others, not gathering in groups and avoiding crowds.
These interventions have played a tremendous role in controlling the virus with a lot to borrow from history where this has been successful.
When I first travelled to Vietnam, I was greeted by a sight of almost everyone wearing a mask at the airport; from the young to the old. Asia has had a number of influenza outbreaks in the past and some of the practices that helped in control have stuck with them with or without and outbreak.
This is a good example of fruitful engagement with the public. It ensures that generations start thinking about their health and that of others from an early stage.
As the race for a vaccine continues, these interventions remain our saving grace. We have to make sure that the general public understands and embraces them. There are a number of laudable initiatives towards strengthening public engagement amidst this pandemic.
Speak in their language
Dr Faiz Shee, Faculty at Pwani University, recently talked to WHO Kenya about their efforts in Mombasa, together with the United Front, of choosing to re-package and re-emphasize public messages by the Ministry of Health to the residents of Mombasa.
Faiz narrates the story of a horrified asthmatic mother with a sick child who has to make a decision between taking her child to the hospital and staying at home for fear of being taken to quarantine because her asthmatic condition mimics some Covid-19 symptoms.
The media has reported a growing concern about the number of deaths in Mombasa occurring at home]. This led Dr Faiz and The United Front team to come together and engage the residents in their own language and having candid conversations with them.
When many are currently deemed "non-essential", The United Front is seen to put together a diverse array of skills in communication and broadcasting to support health experts in getting the message home.
Dr Faiz says this has helped and the demand for their activities has grown. They are on a mission to involve religious and youth leaders who can then replicate their activities deeper into the communities.
Truths and half-truths
I came across an article that described the world experiencing two pandemics at the same time; the Covid-19 global pandemic and that of misinformation. With the deeper penetration of internet in rural areas and high reliance on social media for information, fake news is no longer looming but here with us.
Over 50 per cent of all messaged that are marked 'Forwarded' in my social media pages are fake. Unfortunately, most of these 'forwards' are from the older generation; some from my folks.
During these COVID-19 times, where the elderly in society are most at risk, the last thing you want to see from any of the older folks is their inclination towards a message that suggests that masks are overrated or that this disease does not affect people of African descent.
Ian Wafula, a BBC Africa Journalist, through an initiative dubbed "Heal the Web", seeks to make the internet a safe space for all. In the wake of Covid-19, he has expanded the use of this space to address fake news. In a recent conversation with his mother posted online, Ian took the initiative to take his mother through key tips of deciphering what is true and what is not.
Ian points to out to her, and his over 50,000 social media fan base, the importance of things such as questioning the source, analysing the language, and choosing to ask the authenticity of the forwarded messages. Such online engagement goes a long way in reducing the fight of pandemics to one; Covid-19.
Dr Tedros, the WHO Director-General, in one of his recent statements reminded us that: "This is a time for facts, not fear. This is the time for science, not rumours. This is the time for solidarity, not stigma. This outbreak is a test of solidarity - political, financial and scientific. We need to come together to fight a common enemy that does not respect borders".
Many have expressed displeasure in the lockdowns enforced by governments in an attempt to curb the spread of Covid-19. This is understandable given that many livelihoods have been severely affected.
On the other hand, the success of easing any lockdowns and reopening of economies is heavily dependent on how the public responds to the measures in place. It is heavily dependent on how the public engages with these scientifically sound non-pharmaceutical interventions.
We must, therefore, step up in making sure those around us stay safe by speaking to them in their language and dispelling misinformation. As the Good Book directs, let us not make those around us perish because of the lack of information, information that we around them have. We need to public engage our way out of this.
Related Topics