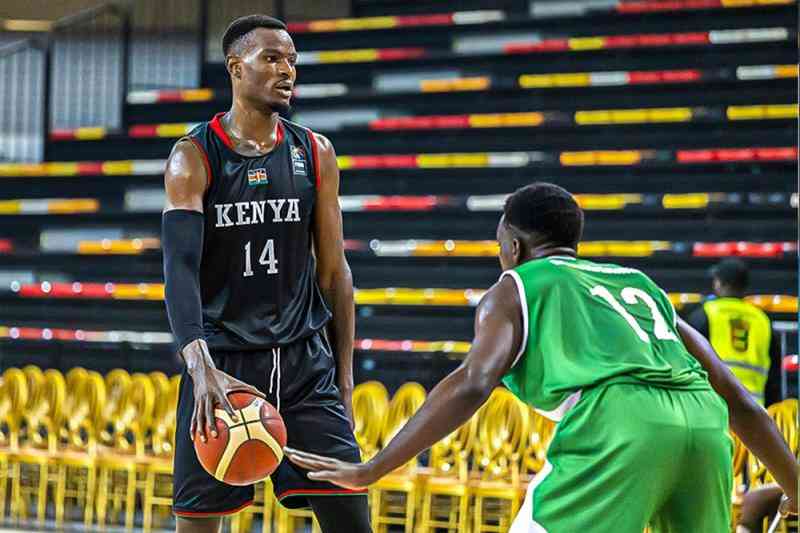 It didn't matter how Kenya Morans made it through to quarterfinals of the 2023 AfroCan championships, it mattered most that they made it.
Morans survival a late scare and blow out attempt by Gabon to qualify for the last eight of the championships currently going on in Angola, despite losing 66-63 to the Central African nation.
According to the FIBA AfroCan rules, the teams that finish in the first places of Groups A,B,C and D, qualify for the quarterfinals.
The teams that finish second and third of each group will have a second chance to remain in the competition by playing in the qualification round to the quarters, where the losing teams will be eliminated.
The four semifinalists will qualify for the 2027 FIBA AfroCan, while the losing teams at the last eight, will compete in the Classification Round.
Losing by three points meant Morans survived being relegated to the quarterfinals qualifiers as they finished above Ivory Coast.
Kenya led 16-15 in the first quarter before stretching their lead to five points at the break after a 16-12 second quarter show to lead 32-27.
Gabon never really let Kenya walk away with a big lead, always doing the job to remain as close as they can to their opponent.
In the final half, Gabon responded with a monster 27-18 third quarter show before Kenya responded with a low 13-12 that left them losing 66-63.
Derrick Ogechi once again led Kenya in scoring with 16 points and eight rebounds, followed by KBF Premier League MVP Eugene Adera, who had 12 points.
Fidel Okoth and Griffin Legare dropped seven points each as Bramel Mwombe and Tom Wamukota commanded the rim with a combined effort of 17 rebounds.
Though Kenya out-rebounded their opponent 48-37, the defensive rebounds were worth their weight in gold, as they were more than enough to fend off Kenya's offensive.
Farrel Dimidimba led Gabon with 17 points in their win over Kenya and first in AfroCan.
Unlike Kenya who made only 3 of their 23 three-point attempts, Gabon were more efficient finishing 4-for-13 from behind the arc.
After two group matches, all the three teams in Group A finished with three points but it was Kenya Morans who automatically sailed through to the quarterfinals.
Morans had three points with a point difference of seven points followed by Ivory Coast, also with three points, but an inferior point difference of four points.
Morans will now wait to know who they meet on Wednesday.
Related Topics