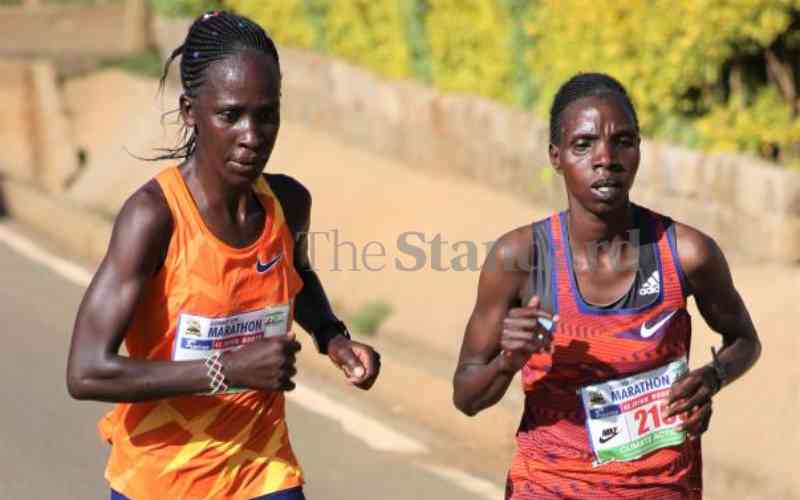 Eldoret, they say, is the city of champions –or in other words, the world's athletics superpower.
Just about every world beater in athletics who readily comes to mind –from the legendary Kipchoge Keino to world marathon record holder Eliud Kipchoge–calls this part of the country home.
This is where speed meets endurance; where budding athletes nurture their skills and where races are planned and executed with military precision.
This is what happens in the run up to Sunday's Eldoret City Marathon. By yesterday, the athletics-mad town was teeming with top athletes -active and retired -preparing for event. KTN News will air the event.
The race, billed as among the highest paying marathons in Africa, has produced big shots who have gone to conquer well-heeled big city marathons.
From double winner Victor Kipchirchir to World marathon silver medallist Judith Korir and to inaugural winner Sharon Cherop, Eldoret City Marathon is basking in the glory of its road racing stars.
"The most amazing thing about the Eldoret City Marathon is its desire to give athletes, especially those without managers the opportunity to compete and be spotted.
"One athlete previously came to this race with borrowed running shoes and went ahead to settle among the top spots," says race director Moses Tanui, a two-time Boston Marathon winner.
Judith Korir did not disappoint when she was selected to represent Kenya at the 2022 World Championships.
Korir, who finished second at the 2021 Eldoret City Marathon won silver medal at the World Championships in marathon.
Korir won the Paris Marathon in a course record and set a personal best.Shyline Jepkorir who finished second in the women's Eldoret City Marathon represented Kenya at the 2023 Budapest World Championships.
And then there is Victor Kipchirchir, the only athlete to produce back-to-back victories in 2021 and 2022.
Since April 2022 when he successfully defended his Eldoret City Marathon title, he has competed in three international road races, recording podium finishes in two 42km contests.
Months after beating a strong field in Eldoret last year, he went ahead to top Buenos Aires Marathon in September in 2022.
Kipchirchir then finished third at the Doha Marathon in January and followed it with a fourth place in Xiamen 42km on April second.
He told Standard Sport last week that he would be watching on the sidelines as a new champion is born on the streets of Eldoret on Sunday.
He is preparing to compete at the Amsterdam Marathon on October 15.
Former Beijing Marathon champion Valary Aiyabei, for instance, went ahead to place third at the 2021 edition of Prague Marathon and took part in the London Marathon the same year finishing sixth.
Aiyabei chalked up victory at the second edition of Eldoret City Marathon in 2019.She had previously topped the Beijing Marathon in 2018 and Valencia Marathon in 2016. Margaret Wangari who came in sixth, also in 2019 went ahead to secure a second place at this year's Prague Marathon in May.
Sharon Cherop, the 2012 Boston Marathon winner, went ahead to claim victory at 2020 Lagos Marathon.
Cherop finished in yesterday's Buenos Aires Marathon in Argentina, where Roda Tanui lead a Kenyan sweep. Pamela Rotich came third.
Related Topics