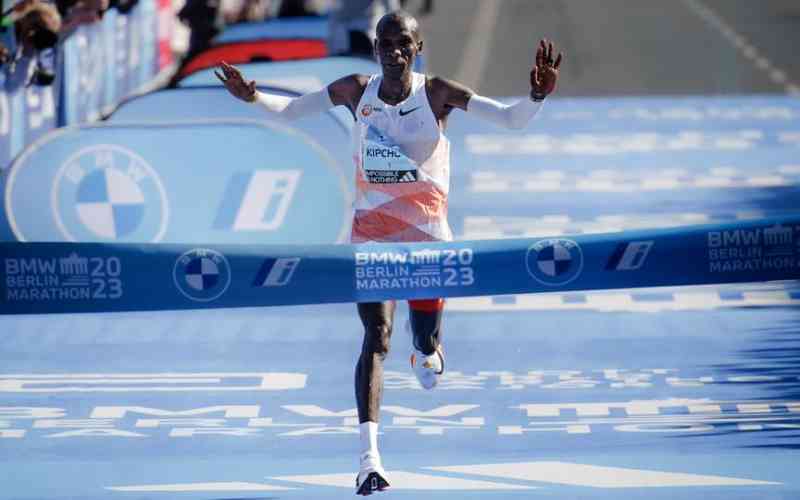 World marathon record holder Eliud Kipchoge notched up a record fifth victory at the 49th Berlin Marathon, a World Athletics Platinum Label road race, on Sunday.
Ethiopia's Tigst Assefa successfully defended her BMW Berlin Marathon title in style, smashing the world record with 2:11:53.
Vincent Kipkemoi (2:03.13) and Sheila Chepkirui (2:17.49) settled for runner up spots.
Assefa took more than two minutes off the women's world record of 2:14:04, which had been set by Kenya's Brigid Kosgei at the 2019 Chicago Marathon. Kipchoge, meanwhile, won by 31 seconds in 2:02:42, the fifth-fastest time of his illustrious career. The men's and women's races unfolded in contrasting style.
A large pack of the leading contenders ran together through the early stages of the women's race, passing through 5km in 15:58. 13 women were still in contact with the lead as they passed through 10km in 31:45.
By the time 15km was reached in 47:26, Assefa and compatriot Workenesh Edesa had managed to open up a slight gap on Kenya's Sheila Chepkirui and Ethiopia's 2015 world 5000m silver medallist Senbere Teferi and Zeineba Yimer. The first 12 women were strung out, but still within 15 seconds of one another – and all were running inside world record pace.
Sensing that most of her rivals were already starting to fade, Assefa took greater command of the race by throwing in a 2:59 split for the 16th kilometre. By the time she reached 17km, Assefa had dropped Edesa, the last of her opponents, and had just a few male pacemakers for company.
Assefa seemed to grow in confidence – and pace – once she knew she was alone at the front of the pack, and she went on to reach the half-way point in 1:06:20, putting her on track to smash the world record by more than a minute.
And then she sped up. The next kilometre was covered in 2:48, the fastest of the race up to that point, extending her advantage over Edesa and Chepkirui. Assefa's 25km split of 1:18:40 was still well inside world record schedule; Chepkirui and Edesa, now almost a minute behind the leader, had dropped off the pace, but were still on course for huge PBs.
Assefa, still looking incredibly relaxed and composed, covered the next 10km segments in a remarkable 31:02, bringing her to 35km in 1:49:41. Her 30km split was 1:34:12, the second-fastest mark in history for that checkpoint (behind Ruth Chepngetich's 1:34:01 from the 2022 Chicago Marathon).
But while Chepngetich faded badly in that race last year, Assefa went from strength to strength in the closing stages in Berlin.
She got to 40km in 2:05:13, following another 15:32 5km split, putting her on course for a finishing time in the 2:12 range. Spurred on by the knowledge that the world record was in the bag, Assefa picked up her pace in the closing kilometres and charged through the finish line in 2:11:53.
Chepkirui held on to second place in 2:17:49, while Tanzania's Magdalena Shauri made a remarkable breakthrough to take third place in 2:18:41, a huge national record. A record eight women finished inside 2:20.
Kipchoge may not have improved on his own world record, but he added to his legacy on the streets of Berlin by achieving a record fifth win, clocking 2:02:42.
The two-time Olympic champion eventually won by 31 seconds, but for most of the race he had company in the surprising form of Ethiopia's Derseh Kindie.
The duo made an early break from the rest of the field, reaching 5km in 14:12 with a 15-second margin over the rest of the elite men. By 10km, reached in 28:27, they were operating at exactly 2:00:00 marathon pace and more than half a minute ahead of the seven-man chase pack.
Kipchoge and Kindie continued to run together at world record schedule through the half-way point, reached in 1:00:22, but the pace started to drop soon after. By the time they got to 25km (1:11:48), they were no longer on schedule to break Kipchoge's record of 2:01:09 set last year in Berlin.
But records weren't Kipchoge's main concern; he had company in the form of a relatively unheralded runner up to 30km (1:26:25), so his attention was primarily on securing victory.
At about 31km into the race, Kipchoge increased his tempo and, with a cursary glance over his shoulder to see if Kindie was able to follow, knew it was enough to see off his opponent. The Kenyan great was alone in front at last, while Kindie continued for another minute or so before stepping off the course.
Kipchoge still had more than 10km to go, but his lead was comfortable and his form was controlled and relaxed. He went on to win in 2:02:42, while a fast-finishing Vincent Kipkemoi came through to take second place in 2:03:13. Ethiopia's Tadese Takele was third in 2:03:24.
Related Topics