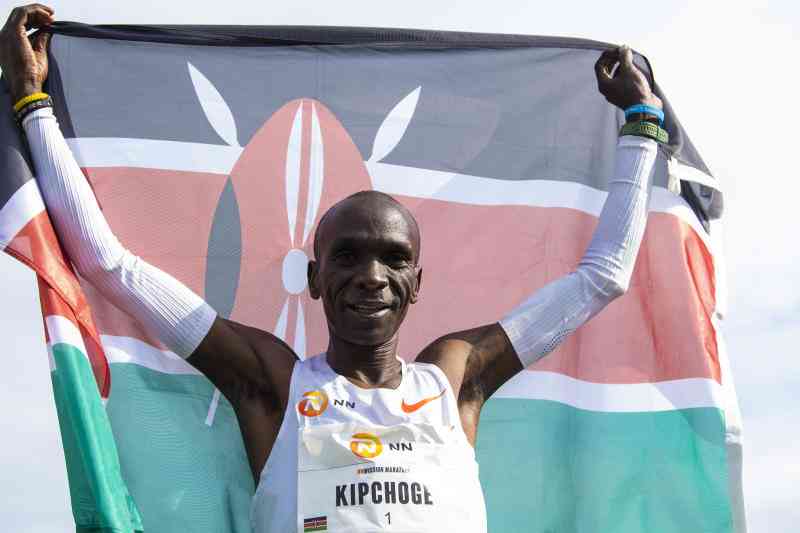 "Success doesn't come to you, you go for it," writes Marva Collins, an American author
This simply means things don't just happen. They are made to happen. And it clearly captures Eliud Kipchoge's preparations ahead of well-heeled big city marathons across the globe.
Kipchoge's preparations have always involved a delicate balance of brain and brawn.
From his humble background transporting milk to Kenya Co-operative Creameries (KCC) to Kapsabet using a bicycle at his rural home in Kapsisiywo village in Nandi County to his unrivalled reading culture; Kipchoge has no doubt developed a master class manual of marathon running.
And he is not done just yet. He believes in a wide reading culture for inspiration in marathon running.
Kipchoge borrows from world famed authors and inspirational philosophers to help perfect in sports.
He is an avid reader and always chooses the right book for the right task to get into the right frame of mind and that comes in handy as he gets immersed into attacking world marathon records.
In 2017 ahead of the Breaking2 Project in Monza, Italy, he read Imitation is Limitation and Impossible is Possible by American author John Mason. He set an impressive 2:00.25, which is the second fastest unofficial 42km mark in history.
As he prepared to attack the world record at the Berlin Marathon in 2018, he read Shoe Dog by Phil Knight, the co-founder of Nike, the American sports apparel that kits him.
Apart from athletics inspiration, Kipchoge says, he picked some vital investment ideas from Shoe Dog: "It's a very encouraging book. You get to know how you can grow a small business idea into a big enterprise."
Ahead of the historic Ineos 1:59 Challenge in Vienna in 2019, Kipchoge read 11 Life Lessons from Nelson Mandela authored by Ndaba Mandela, who is the late former South African President's grandson.
Last year before successfully attacking the world, he read The Practice of Groundness: A Transformative Path to Success that Feeds –Not Crushes –Your Soul by Brad Stulberg, a renowned expert on human performance, well-being and sustainable success.
He looks ready to put smiles on Kenyan faces once again at the 48th edition of the Berlin Marathon on Sunday next week.
Kipchoge now reads another inspiring book Grit, Rigour and Humour by seven authors that has an opening chapter by Sir Jim Ratcliffe, the founder of Ineos.
"I have discovered the secret to reading. Success is approached from all fronts.
"I read 20 pages a day in a book and that is three books a month. To get to learn and get more knowledgeable when you read books. I have realised that if you don't read, you will always remain ignorant," he said.
He holds a diploma in Human Resource and Development from Alphax College in Eldoret.
Kipchoge has won London, Berlin, Chicago and Tokyo and is keen to seal it with a third Olympic medal.
"Berlin Marathon is my dream for the Paris Olympic Games next year," he said.
Last year, he made it four wins at Berlin Marathon –equaling Ethiopia's multiple record holder Haile Gebrselassie.
"I am a fan of Berlin. It has a good course. I have won four times with two world records in Berlin. Last year, we secured the fastest half marathon ever, crossing the halfway mark at 59.51. I hope for the best," he said.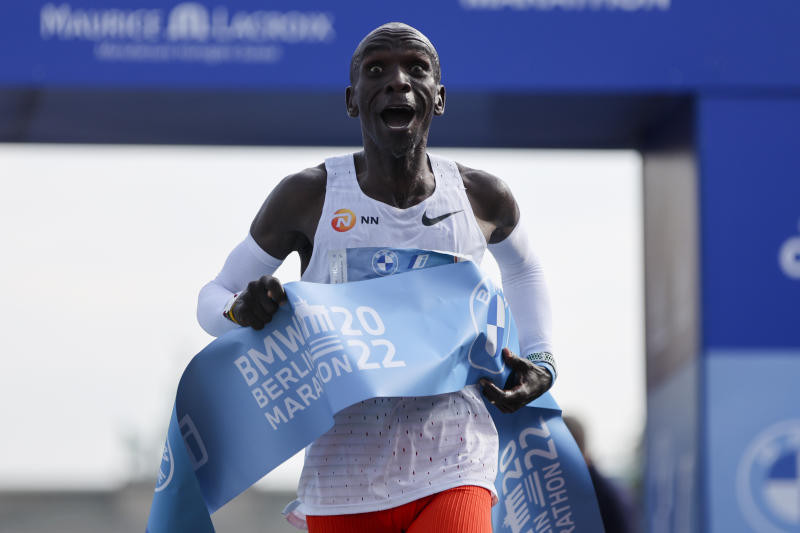 Kipchoge has produced impressive times in the Berlin Marathon– 2015 (2:04.00), 2017 (2:03.32), 2018 (2:01.39) and the world record of 2:01.09 last year.
Kipchoge will lead 2021 London Marathon winner Amos Kipruto, Mark Korir, Josphat Boit, Philemon Kiplimo, Abel Kipchumba, Silas Sugut and Dominic Nyairo while Sheila Chepkirui and Margaret Wangare will anchor the women's onslaught.
At the 2003 World Championships in Paris, the then 18-year-old Kipchoge defeated Kenenisa Bekele and Hicham El Guerrouj. Five years later, Bekele ran away with the 5,000 metres crown at the Beijing Olympic Games.
Kipchoge rips off essentially one exceptional marathon performance every time he goes to the start line as his marathon record now stands at 10 victories from 11 starts, with the course record in London (2:03:05), 2:00:25 at Breaking2 in 2017) and Ineos Challenge where he set a brilliant 1:59.40 in Vienna.
Related Topics