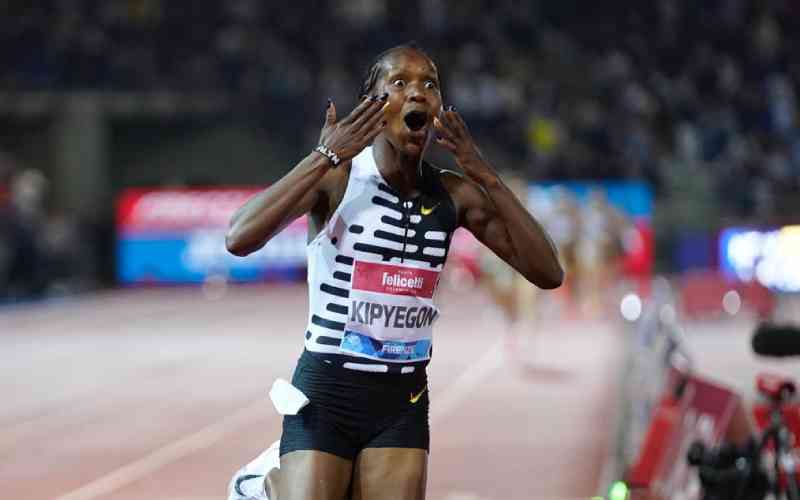 Her smooth running with swift steps, economical movement of the arms and a text book distance running style makes Faith Chepngetich Kipyegon stand out.
Her blow dried hair has remained her distinctive feature for some time. But that has featured prominently in three occasions –at the 2016 Olympic Games, 2017 World Athletics Championships and the 2020 Tokyo Olympic Games –save for a series of World Athletics Diamond League meetings across the globe.
It was a spectacular sight to behold watching her on Friday night become the first woman in the world to dip under 3:50 in 1500m –as she set the world record of 3:49.11 at the Wanda Diamond League meeting in Florence, Italy, the third stop of the 15-leg series.
Kipyegon has been dropping one second every year since 2021. That's 3:51 in 2021, 3:50 in 2022 and 3:49 this year.
But there are so many incredible things about her impressive shows in 1500m. On Friday night, she took almost a full second off the old record held by Ethiopia's Genzebe Dibaba. She produced brilliant closing splits of 2:00.6 for 800m, 58.9 seconds for 400m and 29.2 seconds for 200m. That made her own half of the 14 fastest performances in the race's history.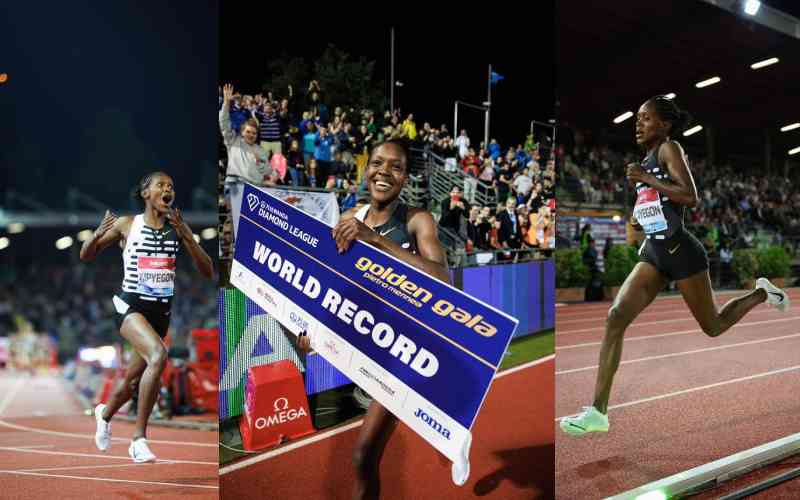 Like many other world beating female athletes returning from maternity, Kipyegon has been in imperious form since giving birth in 2018.
"After maternity, it was no easy. It needed a lot of sacrifice. Being a mother makes me work hard," she said in an earlier interview.
She is married to 2012 Olympic 800m bronze medalist Timothy Kitum and they have a daughter Alyn, born in June 2018.
Interestingly, Kipyegon and Kitum made their international track debut at the 2011 World Youth Championships inside Stadium Lille, Metropolle, in Lille, France. Kipyegon won gold in 1500m while Kitum settled for silver in 800m.
Other top stars to have staged impressive comebacks after maternity include 2018 London Marathon winner Vivian Cheruiyot, Boston Marathon winner Hellen Obiri, Britain's former world marathon record holder Paula Radcliffe and Ethiopia's track assassin Tirunesh Dibaba.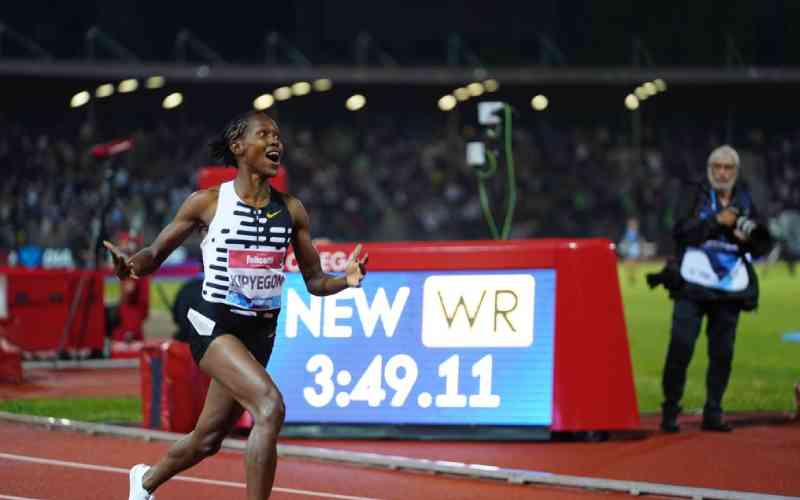 All along Kipyegon had wanted to improve on her father Samuel Koech's exploits in athletics.
"My father was a good 800m and 1,500m runner but unfortunately, he never boarded a plane. He would only win his races up to nationals and go back home as there were no big competitions like we have these days," Kipyegon said.
Her signature salute –punching in the air –and pony hairstyle became synonymous when she competed at the 2017 World Athletics Championships in London.
It was billed the women's 1500m race of the decade, with a start list brimming with menace, speed, endurance and athletic power.
Then Olympic 800m champion Caster Semenya of South Africa, US champion and Olympic bronze medalist Jenny Simpson, Great Britain's Laura Muir, Netherlands' track ace Sifan Hassan, world record-holder Genzebe Dibaba of Ethiopia – all with below four-minute times in the 1,500m women's race.
And in that mix of gunpowder stood a coy, tiny gazelle from Ndabibit village in Kuresoi, Nakuru County. That girl was Faith Chepng'etich Kipyegon.
She didn't disappoint. Cruising down the stretch, her legs cutting through the air with the rhythmic power of a well-oiled engine, Faith struck Kenyan women's first gold medal in 1,500m in the World Athletics Championships history, leaving the sporting world dazed.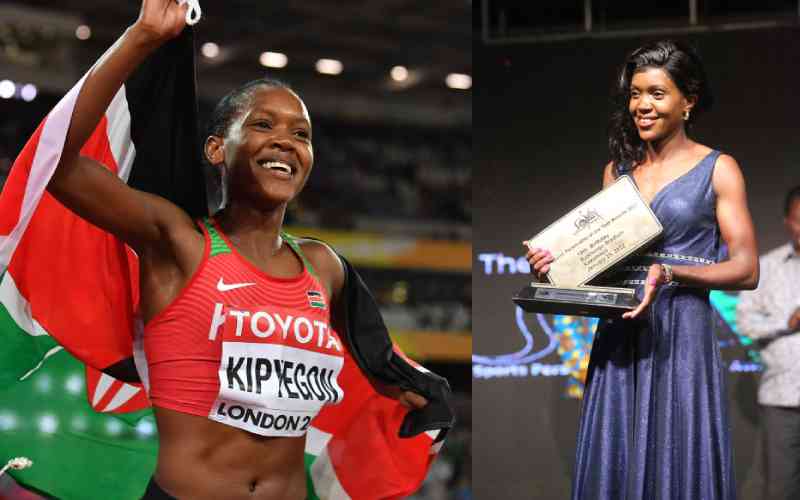 The Kenyan track queen is drop-dead gorgeous, an eye candy who stopped male athletes on their tracks at the Queen Elizabeth Olympic Park in London. Her beauty and style sidelined the Ethiopian track superstars.
The little girl from far-flung Ndabibit village, who caught the world's attention, running barefoot to finish fourth at the World Cross Country Championships in Bydgoszcz, Poland, in 2010 is now a track assassin. Gorgeous in running kit and absolutely stunning in an evening gown, she is the perfect poster girl that would leave any pin-up model gasping in envy.
This beauty would no doubt cause a traffic jam on Moi Avenue if she crossed that road on a Sunday morning! Then meet her in her room – at Keringet Athletics Camp in Nakuru County, Kaptagat Camp in Uasin Gishu and Nijmegen in The Netherlands, listening to a mix of Tanzania music super star, Diamond Platinumz – and you will confirm her unbridled love for Bongo Flava.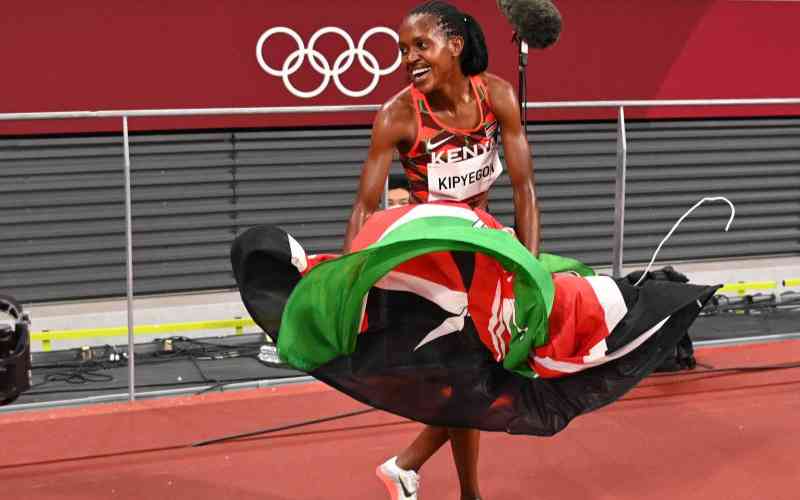 She is also a staunch football fan and has always expressed her love for English Premier League side Arsenal.
Her full lips sit pretty on her lovely, bright face, emphasising a beauty that the manicured nails and blow-dried soft hair crown with such great flair. Faith as she is referred to by many has come so far since she won her first gold medal on July 4, 2011 for the World Youth Championships in Lille, France.
She has come a long way from the clean-shaven Winners Girls High School student who, as a junior, raced her peers to the ground.
When she threw down the gauntlet to race down her opponents, it was evident she had come of age.
"I won the Olympics in 2016 but the victory at the World Championships in 2017 was sweeter because I fought the hardest," she said.
"In 2016 Rio, I was only wary of Genzebe Dibaba of Ethiopia because I had a fantastic season. In London, Caster Semenya, Dibaba, Sifan Hassan, Laura Muir and Jennifer Simpson were all gold medal prospects," she said.
The two-time Olympic champion says has achieved what most of her peers just dream of. Sample her calling card; World Youth (Under 18), World Junior (Under 20), World Cross, Commonwealth Games, World Relays, World Championships and two Olympic titles.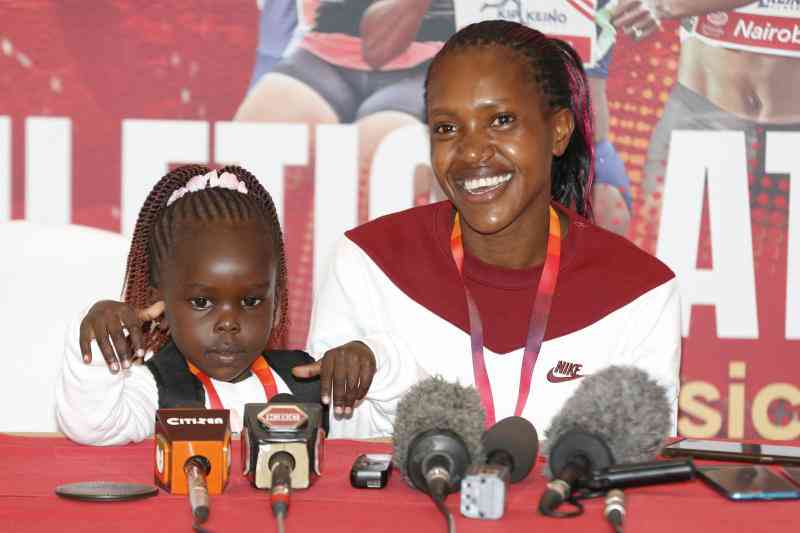 "I couldn't sleep the moment we landed in London in 2017. I did not even feel hungry. It was an extremely difficult time waiting for the competition. The only good thing is that the pressure was not only on me but also on the rest of the field.
"It was well distributed among us, especially after I lost to Sifan at the Monaco Diamond League that time before coming into the championships," said Kipyegon, before making history as the first Kenyan female world champion in 1,500m since the race was introduced in Gothenburg Sweden in 1995.
She always borrows a famous Nigerian proverb 'a determined hunter is never frightened in the jungle' to re-affirm her prowess.
"I knew it would be a tough race and everyone was going for gold. I knew nobody would go to the front in the first two laps and they would go faster in the last lap. So I trained for it," said Kipyegon, who is managed by Dutchman Jos Hermens of Global Sports Communications in The Netherlands.
At times, she trains in Dutch's oldest city of Nijmegen, where their management has a camp.
As a Form Two Student at Winner's Girls High School in Keringet, she was among young athletes feted at the centenary celebrations of the World Athletics in Barcelona, Spain, in 2012.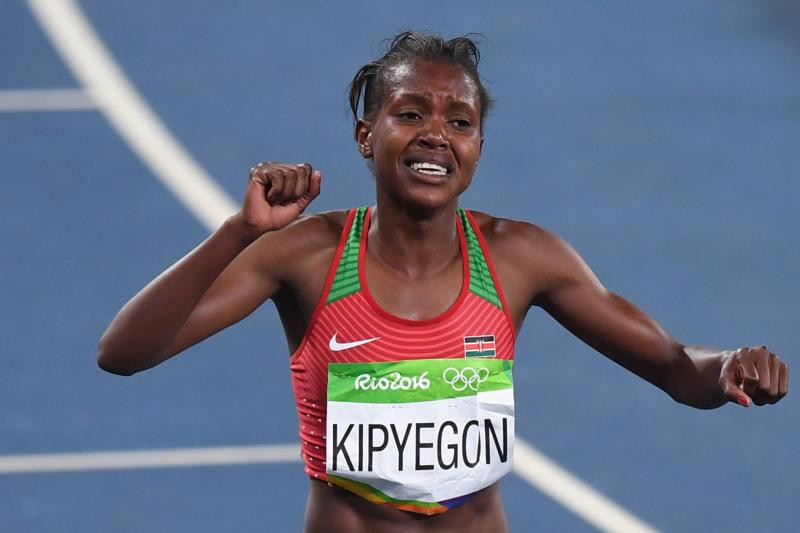 In 2014 during the Commonwealth Games inside Hampden Park Stadium in Glasgow, Scotland, Kipyegon, then a Form Three Student, exhibited exceptional courage to snatch the 1500m gold medal.
She beat a classy field that included track star Hellen Obiri and a strong Australian and Canadian challenge to win her maiden track championship race since graduating to seniors, having won the Africa cross country championships in Kampala, Uganda, in March that year.
At only 28, she has a long career ahead, and no doubt, her charming smile is sure to light up the finish line again and again.
"You know, it's really hard to say I am the best or that I will the best ever. I prefer to make short-term plans to avoid putting too much pressure on myself. So far, I'm happy with my achievements," she said.
Confident, gorgeous, eloquent, humble. That's the track assassin who always keeps the Faith. With proper management of her training regimen and competitions, Faith can match her longevity to 2018 London Marathon winner Vivian Cheruiyot, who spent 18 years actively competing on the track.
Related Topics