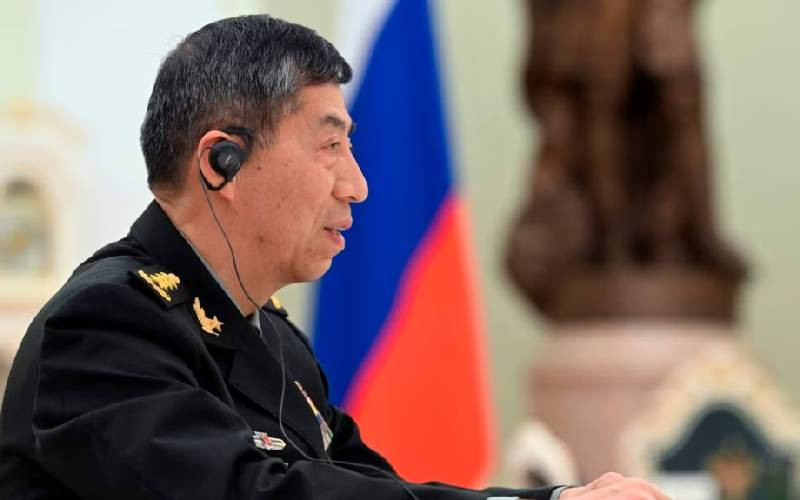 Chinese Defense Minister Li Shangfu has disappeared from public view for more than two weeks and his unexplained absence has triggered speculation about his fate.
Analysts say Li's disappearance, which follows a series of abrupt purges of top-level officials in recent months, reflects Chinese President Xi Jinping's desire to strengthen his control over China's military.
"This incident shows the People's Liberation Army may be in an unstable state and Xi might hope to create a high level of obedience within the military by abruptly replacing top-level officials like Li," Ying Yu Lin, an expert on Chinese military affairs at Tamkang University in Taiwan, told VOA in a phone interview.
Li, who became China's defense minister in March, made his last public appearance Aug. 29, when he delivered a keynote speech at the third annual China-Africa Peace and Security Forum.
The Washington Post reported Friday that Li is under investigation for "corruption" and will likely be removed from his post, citing two unnamed American officials. Reuters reported that the investigation is related to the procurement of military equipment without specifying the types of equipment involved in the case.
Beijing has avoided answering questions related to Li's whereabouts. During the daily press briefing Friday, Chinese Foreign Ministry spokesperson Mao Ning said she had no information about Li's case when asked. Friday readouts from the Foreign Ministry's daily press briefings do not mention Li's case.
Currently, Li is still listed as China's defense minister and a member of the Chinese Communist Party's Central Military Commission.
Part of a broader shakeup?
Experts say while it is not unprecedented for high-level officials to be investigated and charged with corruption, Li's case, which follows the leadership shakeup at the People's Liberation Army's Rocket Force and the abrupt removal of former Chinese Foreign Minister Qin Gang in July, suggests a large-scale anti-corruption campaign may be under way within the Chinese Communist Party.
"It suggests to me that a major round of anti-corruption campaigns is underway in Beijing," Brian Hart, a fellow with the China Power Project at the Center for Strategic and International Studies in Washington, told VOA by email.
Since becoming party general secretary in 2012, Xi has made the anti-corruption campaign a hallmark of his leadership, launching large-scale purges in different sectors and, in some cases, removing political opponents.
With its long history of struggling to contain corruption scandals, the People's Liberation Army has been a target of Xi's anti-corruption campaign. In Hart's view, Li's disappearance and the purging of top commanders of the PLA Rocket Force suggest corruption remains a problem that Xi has not been able to fully eradicate.
"Li rose through the ranks through the PLA's procurement system, which has always been a major epicenter for corruption," Hart said in a written response. "It's worth noting that the current senior Chairman of the Central Military Commission, Zhang Youxia, also led the procurement system before Li, so if he is not put under investigation, it could signal that he is too big or too close to Xi to take down."
Throughout his career, Li has been known as an expert in weapons development and he has long been in charge of the PLA's acquisition of rockets and other advanced weapons. And, like Xi, Li is also the son of a veteran of the Mao Zedong era, according to Professor Lin from Tamkang University.
Damaging China's international credibility
Apart from strengthening his control over China's military, some observers think Xi's abrupt purges of top-level officials may also damage China's international credibility and reduce other countries' confidence in Beijing.
"While other countries may be dealing with a certain minister from China, that person could be replaced next month or in a few years," said Professor Lin. "This may increase other countries' distrust in Beijing during future interactions."
According to Reuters, several Vietnamese officials said Li was pulled out of a bilateral gathering on defense cooperation between Vietnam and China last week due to unexplained "health reasons."
The incident is similar to the removal of former Chinese Foreign Minister Qin Gang in July, during which Chinese authorities claimed health issues were behind Qin's extended absence from public view.
Since the defense minister and foreign minister are both public-facing officials, some experts say the unexplained removal of Qin and the disappearance of Li will damage the credibility of China's governance model.
"The recent developments are hurting China's claim of the superiority of its governance system," Alfred Wu, an expert on Chinese politics at the Lee Kuan Yew School of Public Policy in Singapore, told VOA in a phone interview.
"Xi claimed that China's governance model could become an alternative to the U.S.-dominant world order, but when they keep removing top-level officials abruptly, which country would like to learn this from China?"
Impact on party, military
While recent purges of top officials may affect China's international image, most experts think the impact on the Chinese military and the Communist Party will be limited. "I don't think the removal of these top officials will create any chilling effect on others," Wu said.
"Officials who haven't been affected by the purge will treat these incidents as a signal that they have more space to operate," he added. "Under Xi's one-man rule, officials need to compete to get better positions under the blessing of Xi."
Even though Li's disappearance will not directly affect the PLA's operations and capabilities, Hart said he thinks the incident may reduce confidence in the PLA internally.
Related Topics