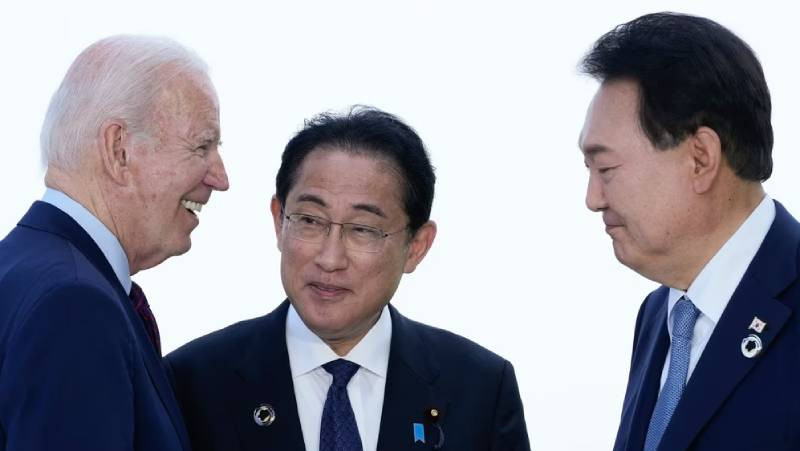 In a sign of warming relations between America's two closest allies in Asia, U.S. President Joe Biden met Sunday with Japanese Prime Minister Fumio Kishida and South Korean President Yoon Suk Yeol, in a trilateral meeting on the sidelines of the Group of Seven advanced democracies' summit in Hiroshima, Japan.
Topping the meeting's agenda was the growing nuclear and missile threat from North Korea and China's rising assertiveness, two regional threats that have aligned the three countries more closely.
In a statement, the White House said the leaders discussed "how to take their trilateral cooperation to new heights," including with new coordination in the face of North Korea's nuclear and missile threats, on economic security, and on their respective Indo-Pacific strategies.
"A big focus for our three countries is improving our interoperability militarily and improving our readiness and looking for ways in which we can better prepare ourselves to meet our individual and our collective national security commitments to each other and to the region," a senior administration official said in a briefing to reporters Saturday.
China challenge
The leaders would also discuss the "economic challenges that they all face from the PRC when it comes to coercion," the official added, referring to the People's Republic of China's use of punitive trade measures for its political goals.
The three leaders are largely aligned in their views of the regional threat posed by Beijing, National Security Council spokesperson John Kirby said in an interview with VOA Friday.
"Japan has put forward a new national security strategy which really gives them a stronger voice and presence here in the Indo-Pacific in terms of regional security," Kirby said. "And President Yoon helped author a new Indo-Pacific strategy that the Republic of Korea put out that dovetails nicely with our national security strategy."
Yoon has sought closer ties with Tokyo and Washington, a departure from his predecessor, former President Moon Jae-in, who worked to strengthen relations with Pyongyang.
Treaty allies
Japan and South Korea are both U.S. treaty allies. After Tokyo's defeat in World War II, the United States occupied and pledged to defend Japan in exchange for maintaining a large military presence in the country. In 1953, in the aftermath of the 1950-53 war on the Korean Peninsula, the two sides signed the U.S.-Korea Mutual Defense Treaty which became the basis of U.S. continued military presence on the Korean Peninsula.
However, Japan-South Korea ties have long been strained by historical animosity following Tokyo's brutal occupation of Korea from 1910 until Japan's defeat at the end of World War II. Despite some domestic opposition, Yoon and Kishida have continued their rapprochement by expanding bilateral security and economic cooperation. The pair met earlier this month, their second meeting in less than two months.
"Since the recent Kishida-Yun summit has linked the Japan-Korea leg, it is important for Biden to capitalize on this trilateral momentum," said Ken Jimbo, former adviser to Japan's Defense Ministry who now teaches at Keio University.
"Whenever three heads of state are together, they must seize the opportunity to reiterate the importance of trilateral cooperation," Jimbo told VOA. "They must wave a green light for deeper cooperation to navigate each domestic stakeholder."
South Korea, which is not a G7 member, was invited by Kishida to Hiroshima as an observer, along with the leaders of Australia, Brazil, Comoros, Cook Islands, Indonesia, India, and Vietnam.
The city, now rebuilt from the devastation caused by the atomic bomb dropped by American forces that ended World War II, provided a poignant backdrop for the trilateral meeting amid increasing saber-rattling by Pyongyang. This year alone North Korea has launched at least 13 missiles this year, including three intercontinental ballistic missiles.
Extended deterrence
During the South Korean leader's state visit to the White House in April, Yoon and Biden signed the Washington Declaration, whereby Seoul agreed not to pursue its own nuclear weapons program, in return for a greater decision-making role in U.S. contingency planning in the event of a North Korean nuclear attack and a more muscular U.S. presence in the region.
Yoon called the Washington Declaration "an unprecedented expansion and strengthening" of the extended deterrence strategy — a term also known as the American nuclear umbrella.
The trilateral meeting in Hiroshima is an opportunity for the leaders to discuss whether elements of U.S. extended deterrence can plausibly be applied to both South Korea and Japan, Ken Jimbo said.
"In that context, I think there will be a lot of chance that we will develop some kind of coordination mechanism together rather than one by one," he added.
In April, senior officials from the three countries agreed to hold regular missile defense and anti-submarine exercises together.
Related Topics