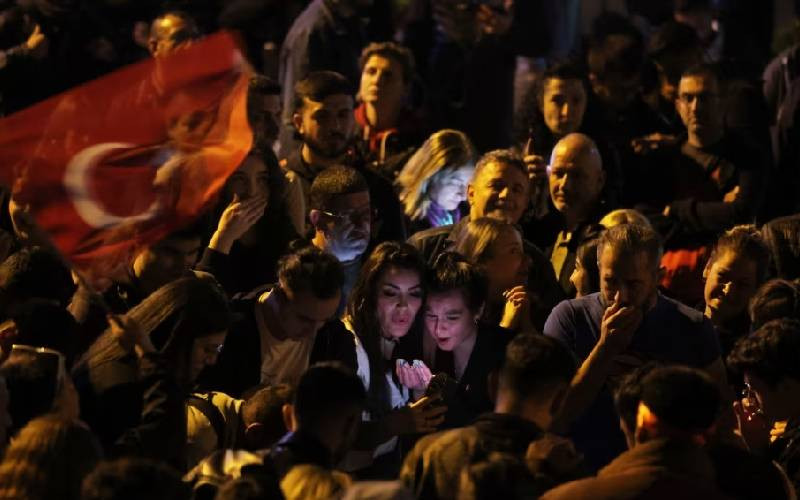 Turkey appeared headed for a runoff election after neither President Recep Tayyip Erdogan nor rival Kemal Kilicdaroglu received a majority of the vote on Sunday.
However, Erdogan, 69, who has been in power for 20 years and is the country's longest-serving leader, performed better than had been expected.
With more than 96% of ballot boxes counted, Erdogan led with 49.44% of votes and Kilicdaroglu had 44.86%, according to state-owned news agency Anadolu.
The Supreme Electoral Board said a runoff was not assured, as the majority of ballots from the 3.4 million eligible voters living abroad still needed to be tallied.
More than 64 million people, including the overseas voters, were eligible to vote Sunday and nearly 89% voted, according to The Associated Press.
Both incumbent President Erdogan and his primary challenger, Kilicdaroglu, 74, claim the election is the most important in the country's history.
In Istanbul's Kadikoy district, voting was brisk, starting when polling stations opened. The economy was the main concern for voter Mustafa, who only wanted to be identified by his first name.
He said, "the economy is most important. You just need to look and see everywhere how bad things are."
With inflation at more than 40% and a cost-of-living crisis, the economy is seen as the most crucial issue for many voters. However, Zehra, a pharmacist who also wanted to be identified only by her first name, democracy was the most important issue.
She said, "for me, the main issue is to move from one-man rule and return to a pluralist democracy so that all the opinions will be represented."
Erdogan has turned the government into a powerful executive presidency that allows him to rule by decree. Critics blamed such centralized powers for failing to react swiftly to February's deadly earthquakes that claimed more than 50,000 lives, a charge Erdogan denies.
However, Kilicdaroglu is pledging to return Turkey to a parliamentary democracy. Erdogan insists such powers are vital, given that the country is in a neighborhood of turmoil, an argument backed by voter Ali Demir.
He said, "In this election, the foreigners are trying to divide and break up Turkey; they are trying to undermine us."
In his last campaign speech Friday, Erdogan accused U.S. President Joe Biden of trying to oust him from power through the elections.
Washington has said it does not take sides in elections.
Relations between Turkey and its traditional Western allies have become strained in recent years over Ankara's deepening ties with Moscow and concerns over democracy. Kilicdaroglu is vowing a reset with Turkey's Western allies.
Related Topics