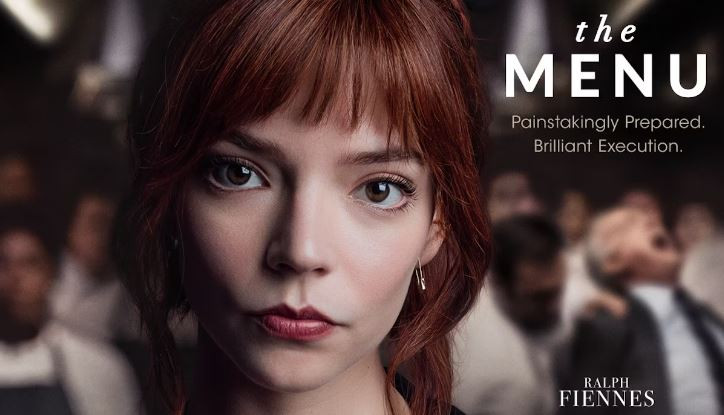 Cast: Ralph Fiennes, Anya Taylor-Joy, Nicholas Hoult, Hong Chau, Janet McTeer, Reed Birney,
Judith Light, John Leguizamo
Directed by: Mark Mylod
Genre: Comedy, horror, thriller
Rating: 6/10
A young couple travels to a remote island to eat at an exclusive restaurant where the chef has prepared a lavish menu, with some shocking surprises.
Thumbs up:
The Menu is a real treat. It starts as a seemingly eerie thriller/suspense-type movie with weird and unique quirks, but slowly devolves into something much wilder. We get a fantastic ensemble cast. Nicholas Hoult steals the show with a pitch-perfect performance of a pretentious foodie. Fiennes is wonderfully unhinged as the mysterious creator of the eponymous menu in a layered role and Anya Taylor Joy is always a delight to watch. The production design is excellent and the photography is eye-catching and aesthetic. The Menu is a film filled with black humour and jabs that will make you smile even with its most sadistic elements.
Thumbs down:
There are a few rough edges when it comes to the plot, and when you really get down to it, the premise is not necessarily groundbreaking. The second half is a letdown. The film goes completely off the rails, the story itself and its narrative are as clear as mud. There are so many unanswered questions, and plot holes that happen that go against the main antagonist's rules.
Verdict:
The premise was better than the execution, but in the end, it is worth a watch.
Related Topics