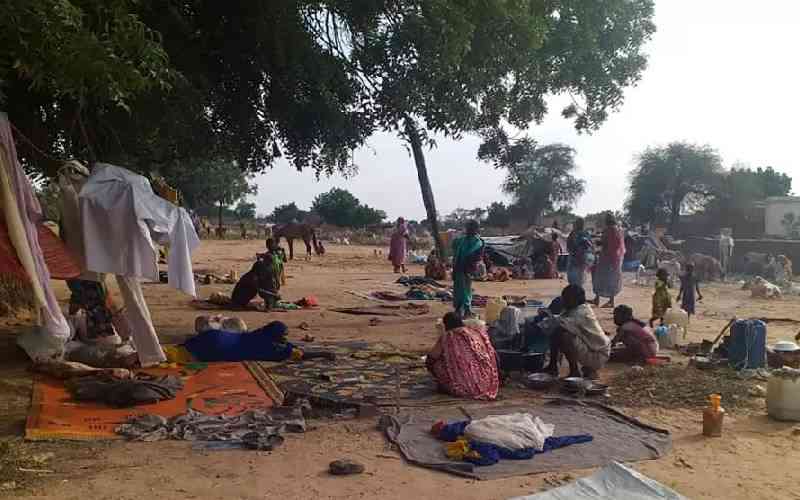 Measles, diarrhea and malnutrition, among other preventable diseases, kill about 100 children every month in Sudan where armed conflicts have uprooted more than five million people from their homes, according to the United Nations.
Between May 15 and September 14, at least 1,200 children under the age of five died from a deadly combination of a suspected measles outbreak and high malnutrition in nine camps for internally displaced people in Sudan's White Nile state.
There have also been reports of cholera, dengue, and malaria cases emerging in various parts of the country, sparking concerns about the looming threat of epidemics.
"Children younger than five are worst impacted, accounting for nearly 70% of all cases and 76% of all deaths," the World Health Organization (WHO) said on Tuesday.
The U.N. warning comes as Sudan's health sector is teetering on the brink of collapse, crippled by a severe lack of funding and essential resources.
"Health facilities are at breaking point, due to shortages of staff, life-saving medicine and critical equipment, exacerbating current outbreaks and causing unnecessary deaths," the WHO said.
Ongoing-armed hostilities between Sudanese Armed Forces (SAF) and the paramilitary Rapid Support Forces (RSF), which started in April, have generated and exacerbated humanitarian crises in the African country.
The conflict has taken an immense toll on Sudan's civilian population, with the Health Ministry acknowledging over 1,500 civilian deaths since the conflict started.
However, aid agencies contend that the actual death toll far exceeds the officially reported figures.
Both warring factions, the SAF and RSF, have faced accusations of committing egregious acts of violence against civilians, including arbitrary detentions and killings.
"The conflict has paralyzed the economy, pushing millions to the brink of poverty," Volker Türk, the U.N. High Commissioner for Human Rights, said last week.
"More than 7.4 million children are without safe drinking water and at least 700,000 are at risk of severe acute malnutrition," he said.
Humanitarian appeal
In May, the U.N. appealed for $2.57 billion in humanitarian assistance for 18 million people in Sudan.
However, the situation remains dire, with aid agencies estimating that more than 24 million Sudanese are in urgent need of humanitarian aid.
As of September 19, the appeal has garnered $788 million, approximately 30% of the required funds, with the United States leading the list of donors with a contribution of $472.5 million.
"The world has the means and the money to prevent every one of these deaths from measles or malnutrition," Filippo Grandi, the U.N. High Commissioner for Refugees, said in a statement on Tuesday.
"And yet dozens of children are dying every day — a result of this devastating conflict and a lack of global attention. We can prevent more deaths, but need money for the response, access to those in need, and above all, an end to the fighting," he said, according to the statement.
Related Topics