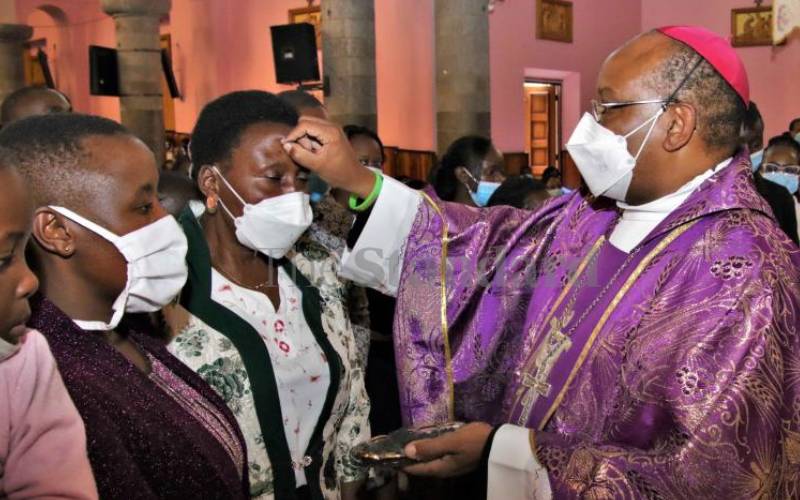 Church leaders have urged Kenyans to exercise caution despite the lifting of several Covid-19 containment measures and a decline in the infections rate.
At a press conference yesterday, Interfaith Council Chairman, Archbishop Anthony Muheria said that reduced infections should not cause complacency among citizens.
"We still warn that the Covid-19 pandemic is not yet over. The danger still hangs, despite the waning infectious spread. We must not lower our guard," said Mr Muheria.
The Ministry of Health last Friday lifted CovidD-19 prevention measures, particularly wearing facemasks in public and restrictions on gatherings after Kenya recorded a positivity rate of less than one per cent.
Archbishop Muheria also voiced concerns over the ongoing political campaigns, which he said, pose a great risk of increasing infections in case of a new outbreak.
"We are concerned about political gatherings that have totally ignored protection measures. This remains a great risk in case of a new outbreak," observed Mr Muheria.
The archbishop further called on political leaders to ensure that protective measures pertaining to hygiene and sanitation are put in place while conducting campaigns and rallies.
"We urge political leaders to at least put in place some measures of protection like avoiding hand-shakes and use of sanitesers," he appealed.
Mr Muheria confirmed the resumption of full capacity in-person worship for all vaccinated persons including the elderly and vulnerable persons who were previously restricted.
He, however, maintained that hygiene protocols will still be observed in places of worship including handwashing and sanitisation of shared items, particularly microphones.
Physical contact, particularly handshaking, remains banned and all worshippers are required to continue wearing masks in places of worship.
"We will continue to observe all measures of hygiene, by washing hands or sanitising before and after services, as well as handling shared items. Special attention should be given to sanitising microphones," assured the Archbishop.
Further, the Archbishop urged Kenyans to continue getting vaccinated but clarified that worshippers will not be required to show proof of vaccination.
"We are encouraged by the uptake of vaccination and encourage as many Kenyans as possible to receive the jab, as this will strengthen our resistance for any eventual wave," he said.
The positivity rate currently stands under one per cent for the last two months.