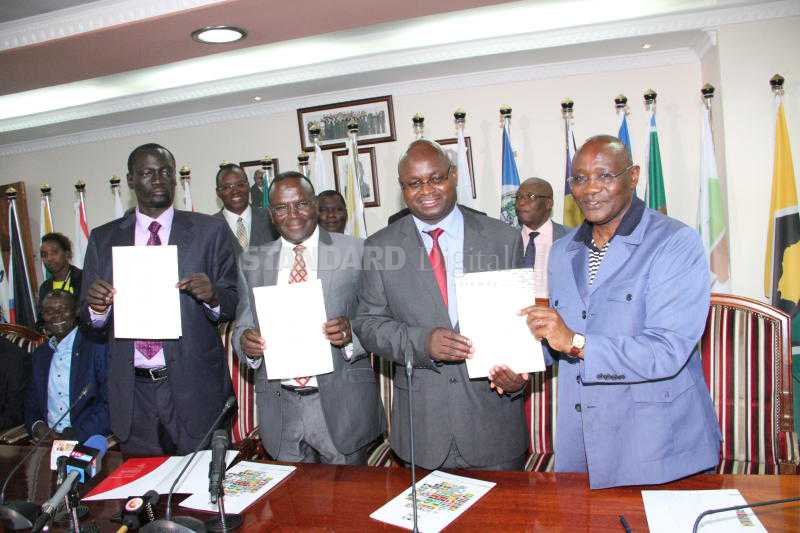 Nurses' union appears to have toned down on a threat to go on strike after eight counties pledged to have the arrears of their members paid by end of this month (January).
The Standard has confirmed that out of the 13 counties that had made the nurses issue a notice of industrial action, only two are yet to comply. These are Kakamega and Murang'a.
While Murang'a Governor Mwangi wa Iria has made it clear that he will not pay the defiant nurses in his county, Kakamega is still in talks with the relevant union leaders.
Bungoma, Nakuru, Narok, Elgeyo Marakwet, Migori, Makueni, and Nyamira, are some of the counties which have promised to pay their nurses by the end of this month.
Laikipia, Nyeri and Kericho have already paid up according to the Kenya National Union of Nurses (KNUN).
In a letter dated January 5 from the Council of Governors Chief Executive Office addressed to all the 47 governors, the county bosses were directed to pay the withheld salaries for the over three months nurses were on strike.
Payment of the salaries was part of the Return to Work Formula signed on November 2, between the Council of Governors, Ministry of Health and Knun that directed all nurses to be paid their dues withheld on or before December 31, 2017 and there should be no victimization.
"This is to request all counties to comply with the terms of the aforementioned agreement and promptly pay the nurses their outstanding dues. This is to avert the industrial strife that prevailed in the country for a period of close to five months," read the letter signed Eunice Fedha, for the CEO's office and copied to all county secretaries who are in charge of human resource.
As part of the deal, nurses are supposed to start receiving uniform and nursing service allowance remunerated at Sh15, 000 and Sh23, 000 respectively effective from June this year.
These allowances will be increased in the next financial year (June 2019) to Sh25, 000 and Sh30, 000.
KNUN had protested in an earlier letter dated January 4, which was a response of another dated December 19 on postponing of the signing of the CBA by the CoG on grounds that the Salaries and Remuneration Commission was yet to provide a go ahead.
A definite date for signing the CBA is however yet to be set according to the letter from the COG.