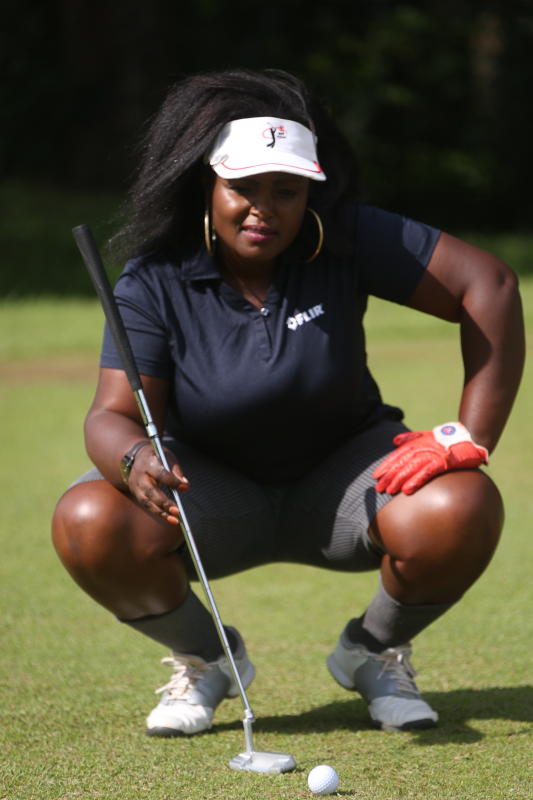 Alice Awiti is easy to spot on the golf course – not only for her athleticism, skills and intimidating presence – but for an even simpler reason.
She has accomplished plenty in just 16 months of playing golf at Nyanza Golf Club.
On Saturday, Awiti defeated a field of over 100 golfers to win the DBT Bank Golf Sponsored tournament in Kakamega to add to her runners up award during the third leg of the Standard Group County Golf Classic Series in Kisumu, earlier this month.
Two months ago, she won her first ever tournament during the Safaricom Golf Series in Eldoret.
What started as a fun and try-out game has now turned into almost a full time job.
For a 37-year-old who only started playing golf last year in March, it's no secret that her professionalism, fitness, versatility and threshold for physical output is still off the charts.
While not effortless by any drive, her training course input shows a steely look of determination as she leans into improving her game every week at the difficult, challenging but amazing par 70 Nyanza Golf Club in Kisumu.
When she debuted last year, it was obvious there was something different about such a talent as she has become an instant hit for the past six months.
In April, Awiti shocked many golfers after winning the sixth leg of the Safaricom Golf tour in Eldoret.
She posted 49 points to become the second lady golfer to win an overall prize as she emerged top beating a field of 140 players.
Playing off handicap 54 then, Awiti carded 23 points in the first nine and 26 on the second nine, for a total of 49 points for the victory.
She fended off Anthony Yano, Sylvia Tanui and Nilam Shah, in a four-ball tournament holing a birdie on the seventh, 11th and 15th holes with three pars to emerge the tournament's winner.
"I have always dreamt of playing good golf but never in my imagination had I thought I can beat a very powerful field to be crowned the overall winner. I attribute this win to my consistency in training. It's a dream come true," she said.
"More importantly, I would like to thank Safaricom for giving us an opportunity to compete more frequently because with more tournaments, we have a chance to perfect our competitive edge."
To prove doubters wrong, Awiti capped her win with another stellar show during the third leg of the Standard Group County Golf Classic Series in Kisumu, earlier this month.
She finished runner-up in the Lady's category with 34 points, one point behind the overall winner Maureen Mundia from Kakamega.
"I narrowly missed the top prize. It was heartbreaking, but also a learning curve for me because it was unimaginable to be on the podium on two consecutive tournaments. I want more," she said.
On Saturday, she won the DBT Bank Golf Sponsored tournament in Kakamega to make it three podium finishes. She finished with 39 points.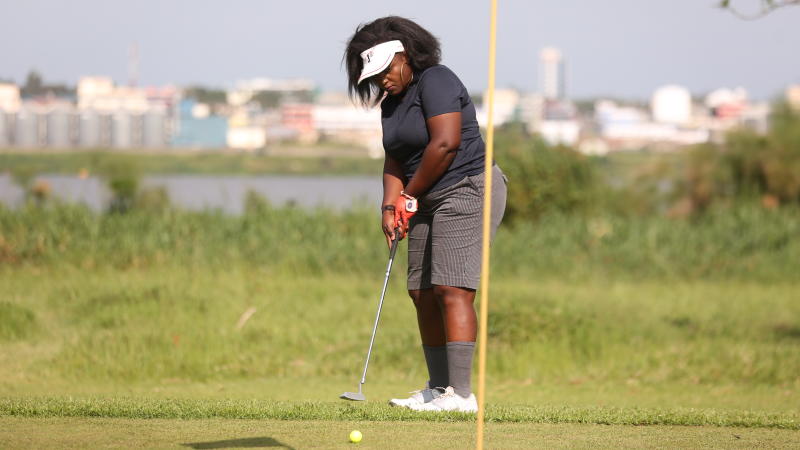 What many people don't know is that Awiti has been a fighter since day one.
Raised from humble beginning in Siaya County, Awiti has defied all odds to reach where she is.
She studied at Barchando Girls before proceeding to Kenya Institute of Mass Communication for a Diploma course. She later worked for Kenya News Agency, Nation Media, Standard Group and KBC.
Between 2005-2006, she also tried her hand in singing, where she recorded songs with the renown Ogopa DJs and sung with Gidigidi and MajiMaji before she switched her allegiance and joined the corporate world.
She worked as a marketer at Coca-Cola from 2006 to 2013 as a Retail Manager between 2015 and 2018.
Currently, she is the Area Sales Manager Safaricom, Greater Western Region, where she has held the position since joining the corporate giant in 2018.
She joined Nyanza Golf Club in 2019, but started playing competitive golf in March last year.
Since then, she has played many corporate golf tourneys where she has improved while thanking her trainers Joseph Atito and Pro David Odhiambo all from Nyanza Golf Club.
Awiti urged women to join golf clubs and play saying it is not a sport for the rich.
"Give it a try. There is no where it is written that golf is for the rich. I mean, you can get rich playing golf. If you put your mind to it, you can sure play and win," said Awiti.