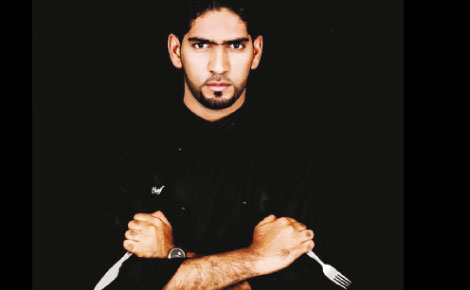 Chef Ali L'artiste.
Ali Said Mandhry, 25, popularly known as Chef Ali L'artiste is best known for his culinary prowess. Geoffrey Korio gets him talking about his culinary journey, experience and other talents.
Generation Next: How long have you been a chef?
Chef Ali: Ever since I can remember. I was cooking good food at age of nine and by the age of 12, I was a complete junior master chef with my own cake business.
GN: Tell us about this amazing culinary journey.
CA: It has been a whirlwind. I would later join Sarova Whitesands Beach Resort and Spa at the age of 17 as an apprentice chef. At 22, I was appointed culinary lecturer arts, cooking with my celebrity mentor Chef Osama El-Sayed on Dubai TV. It was around this time that I was named in the International Hall of fame in USA, paving way for my appointment as Kenya's Ambassador by Kenya Chefs Association. With the faith bestowed on me, I saw it fit to help the world explore the Kenya's splendid cuisine by beginning my own cook show Tamu Tamu. The show has been a success and I look forward to taking it to greater heights and achieving so much more with my skill.
Read More
GN: What were some of the challenges you experienced when starting out as a chef?
CA: There were not that many challenges per se. The long hours involved, however, were taxing even as they ironically moulded me into a focused individual. I also remember slicing myself accidentally with a knife severally which goes to prove that 'practice makes perfect'.
GN: Tell us a bit about your basic day as a chef…
CA: I wake up at 5.30am; perform my morning prayers before going out for a morning jog or an aerobics session depending on the day. I then return home for my work plan for the rest of the day, which involves a lot of cooking, supervising, and teaching for the following eight hours. In the evening, I attend my Masters class: education never ends. Besides, the world is evolving every day. There are new developments everywhere and great ideas to be implemented. I am now advancing my culinary education as a nutritionist to improve my profile.
GN: What do you love most about cooking?
CA: I love the fact that we chefs treat humans' stomach in the same way that doctors treat ailing human beings. We deal with hunger and ensure that you do not starve. To this end we also ensure that people not only eat to survive, but also enjoy the food they eat. Nothing satisfies a chef more than a satisfied appreciative client.
GN: To date, what is the most special dish that you have ever created?
CA: I try to always make the best out of my cooking. I love creating and combining different flavours to ensure all that I prepare each time is special.
GN: Can one solely depend on cooking to earn a comfortable living?
CA: Definitely, but only if approached right. In fact, cheffing is one of the best paying jobs in the world. To make it even more lucrative you can branch out like I did. I am culinary instructor, TV and radio personality, and food journalist.
GN: Your plate seems full, is there anything else you do?
CA: Believe it or not, I sing pretty well. I also can draw with the skill to sketch a human portrait in minutes.
GN: Amazing. Tell us about your background.
CA: I am the fourth born of seven children — three brothers and three sisters. I grew up in Mombasa in a family that appreciates good food.
GN: What of relationships?
CA: I am engaged to be married this year.
GN: Do you mentor other people in your skill?
CA: Yes I do. Through my TV and radio shows, I educate a wide audience. One a more personal level, I offer free one on one cooking lessons to selected schools and college pupils, children who are less fortunate and also children who a physically disabled. I, hope that my hand has a positive impact, especially, for the latter.
GN: Advice for young who are inspired to follow your path?
CA: I am living my dream because I followed my heart. All I can say to the young is follow your heart and your dreams. Never let anyone say it cannot be done. As long as it feels right, go for it. Be focused in life and always hold your head high and you are guaranteed to be successful in life.