What's next for Ngumi: I don't appoint myself and I don't lobby for positions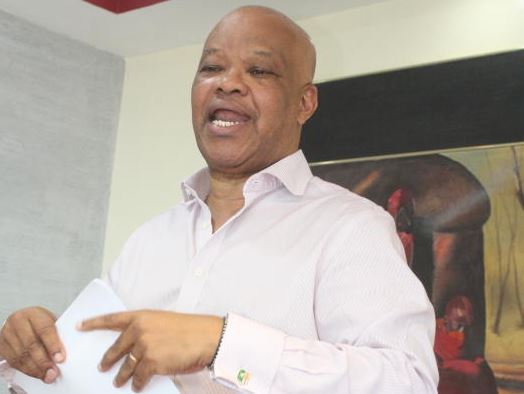 For two unbroken terms of three years each, banker John Ngumi sat at the helm of the tumultuous Kenya Pipeline Company board.
For all its turbulence in those years- controversial Line Five project, Thange oil spill, high turnover of CEO's, scandal after scandal- the man believes he has steadied the ship and has every reason to walk away whistling.
From his experience, he now believes in some of its corporations, Kenya is sleeping on commercial behemoths and game-changers for its economy, what he calls "incipient Safaricoms lying all over the place".
All that is needed, is to let them loose, get people with incredibly thick skin, ability to ignore intense noise, a clear idea of why they are there and what is expected of them to run them, and voila, we take off as a country.
As for boards and board chairs, he now advises that they must know the power relationships within and outside the corporation; find a way to work with their parent ministries and always bear in mind the disconnect between the public's picture of a board's powers, and the reality.
"The reality, however, is that boards are infrequent visitors to companies, and rely on strategic coherence and systems and controls to exert their authority. Chief executives run state corporations, and jealously guard these operational prerogatives," he says. He describes this unenviable conundrum as "responsibility without power".
Public service, he adds, is not for the fainthearted, nor is it for those shy of speaking out loudly even at the risk of being accused of interference.
In this exit interview, he tells of his hopes, fears and aspiration.
You have done over five years as KPC board chair and these being your last days, how would you want to be remembered?
I would want to be remembered as having helped set KPC onto a path to becoming a normal, even boring company. KPC is a utility. Utilities worldwide are usually near invisible, with the best of them carrying out their mandates so efficiently that beneficiaries of their services hardly notice.
They also churn out steady, predictable and usually high profits and dividends for their owner's year in, year out. KPC should be no different. All this drama and noise that has surrounded the company over the years is completely unnecessary. This is a simple, straightforward business, whose positive impact should be felt without fanfare or din.
What next for John Ngumi? If you were to be given an extension?
I don't appoint myself, and I don't lobby for appointments. Had I had my way I would have been happy continuing my professional life as a senior banker. Fate had it otherwise. What I have achieved as KPC chairperson has been achieved. What I haven't, hasn't. Talk of extension is just that: idle talk. This is a public position, not a personal property or entitlement. There are many who can and will do my job better after me. I will happily slip back quietly to the anonymity of my profession at the end of my stint in public life.
What invaluable lessons have you picked from your tenure at KPC?
That, contrary to myth, state corporations are populated by very good people, highly experienced and trained, whose most pressing need is for good corporate leadership. Put a good team in charge, leave that team free to work, and these corporations' performances will astound the country. Easier said than done, I know, but let's not lose sight of this potential.
That state corporations have their logic and dynamic, working through governance and oversight structures, difficult for private sector people fully to comprehend. These structures also lead to complex power relationships that explain so much of what often comes across as baffling and inexplicable to the outsider. Balancing the requirements and demands of all the entities that have a say in the running of state corporation's calls for special skills, which are not readily taught.
I am now more understanding and empathetic when I see chairpersons and CEOs under attack, or struggling to explain what otherwise seems bizarre. This is not to excuse or condone wrongdoing or evasion of responsibility; rather it is to underline that state corporations' leaderships are often operating under enormous pressure to perform to conflicting priorities.
We saw KPC give the National Treasury Sh12 billion this financial year. What was that about?
We did not "give" the National Treasury money; that makes it sound like a grant or a gift. We are a company governed by the Companies Act, and by various statutes, and there are clear processes and procedures that guide how we utilise what are, after all, public funds.
What happened is that our shareholders, the National Treasury (who own 99 per cent of KPC) and the Ministry of Petroleum and Mining (1 per cent) resolved that KPC would pay Sh11.5 billion in special dividends, having received Sh300 million earlier in ordinary dividends from KPC. Therefore the total received by our shareholders this year is Sh11.8 billion. All these payments were authorised by shareholders through resolutions passed at Ordinary and Extraordinary General Meetings and will be audited at the end of the financial year by the Auditor General.
As a company, ours is not to question what our shareholders do with dividend payments, but in this instance, the Government has been gracious enough to let us know that our dividend payments have enabled them to meet critical national goals.
The most recent Special Dividend payment we made of Sh1.8 billion deserves particular mention since we are advised by the Government that it enabled the National Treasury to release an equivalent amount of funds for the rehabilitation of the Nairobi-Nanyuki Railway.
During your term, KPC controversially completed major projects namely Line 5, Kisumu Oil Jetty and the new storage tanks in Nairobi Terminal. Are Kenyans reaping the benefits of these projects or will they be among Kenya's white elephants?
These three projects have sound strategic underpinnings. True, there have been questions and issues, controversy if you will, surrounding how contractors were procured, and how the projects were executed. Investigations by the DCI on some of these aspects are underway, and at least one court prosecution has commenced. But make no mistake: notwithstanding these investigations and prosecution, the projects themselves make strategic and commercial sense.
Line 5 has allowed us to reduce reliance on the ageing and prone-to-leakages Line 1, thereby assuring Kenya and the region that KPC will continue transporting fuel. We are considering repairing and thereafter using Line 1, which otherwise is ready for decommissioning, to transport LNG. This will help speed up the conversion of power stations from heavy fuel oil to LNG, a move that is in line with the global switch to clean energy.
The Nairobi storage tanks were a necessary adjunct to Line 5. It is imprudent and commercially illogical to expand transportation capacity without also expanding storage capacity. As for the Kisumu Oil Jetty, I would have thought recent transport glitches at the Kenya-Uganda border make it abundantly clear just how far-sighted our planners were when they conceptualised this project all those years back.
Over the last couple of years, some of your top managers including the immediate former managing director Joe Sang have been charged with corruption. How have these affected the operations at the company?
We have a superbly trained and experienced team at KPC and have also institutionalised effective deputising and succession planning. Are we likely to see more KPC staff charged? I hope not, but I am the wrong person to ask; that is a question best put to the DCI, EACC and DPP. We are aware several issues are under investigation by the DCI and EACC, so the likelihood of further charges cannot be discounted.
Even as we await developments from the investigations, as a board we are aware that the long term solution to combating corruption and other financial malfeasance lies in having robust systems that will deter wrongdoing, or swiftly unearth any occurrence.
Revamping existing control and compliance systems, and building new ones, are long-standing board asks, which management have now embraced fully as key deliverables. Part of this process involves having a very strong internal audit function, one that is not beholden to or afraid of management.
The KPC pipeline has had major oil spillages in Thange and Kiboko areas of Makueni County. Where are we in terms of compensation and cleanup?
Those two spillages, plus other leakages on the old Line 1, remain matters of extreme concern to KPC. Petroleum is a high-risk business, carrying with it fire, environmental contamination and health dangers at all levels: upstream, midstream (where KPC operates) and downstream.
As for compensation and clean up for the two incidents, please rest assured that we have taken our clean up responsibilities very seriously. Compensation involves legal issues, so I will not go into that here. We are determined to do right by all the affected people.
In these Covid-19 times, we have seen coordinating production and distribution of government sanitizers to fight coronavirus. How did you get involved in matters sanitizers?
It all started in early March as a result of KPC Management's decision to provide sanitisers to staff, being part of measures we were taking to prevent Covid-19 infections. Our chemists came forward and proposed that as an alternative to buying, we could produce sanitisers in our laboratories by purchasing ethanol from sugar factories and blending it with hydrogen peroxide, glycerol and water.
President Uhuru Kenyatta got to hear of what we were contemplating and immediately upped the ante by challenging us to think bigger and nationally.
He suggested KPC blend ethanol that had been seized and was being held by various government agencies.