Why every Kenyan wants piece of pie in poultry farming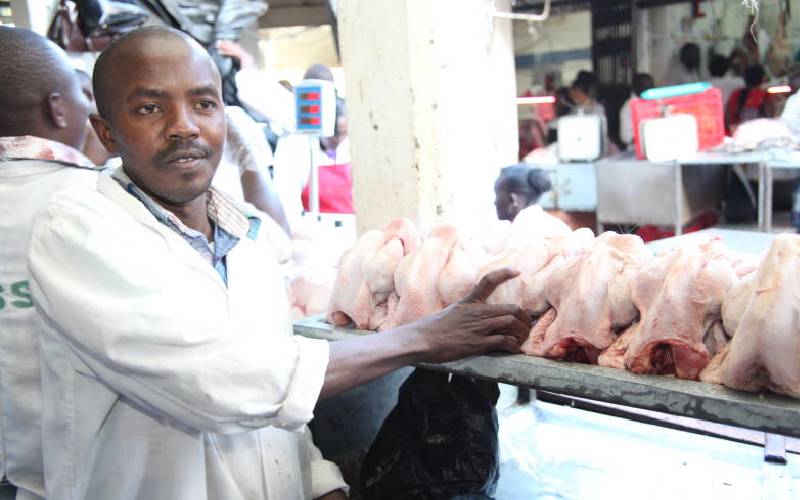 Long ago, when fast food joints were rare and Kentucky Fried Chicken (KFC) was one of those American brands on TV, chicken was a delicacy for special occasions and people.
For those who celebrated Christmas, chicken was eaten during Christmas or when someone special visited.
Not that this came to an end, but it has changed significantly.
A study done last year found that meat consumption, which generally increases with income, rose during holidays.
Holidays with increased meat consumption in Kenya are during Christmas, Easter, Id al Adha (Islamic Festival of Sacrifice, Id al Fitr (The Festival of the Breaking of the Ramadan Fast) and Diwali, according to an April 2019 study by the Kenya Markets Trust Society (KMTS), an NGO.
"When there are religious and cultural festivals or households have guests, the high income buys more meat, followed by middle and low," read the report.
Meat demand, retailers told the authors of the report, is seasonal reducing from 20th every month (Mwenzi iko kwa corner) and picking by the first day of the month, following the monthly cycles.
"Meat is more heavily consumed during certain holidays, school holidays as well as during certain time of month e.g. end month, meat consumption goes up."
However the middle-class and the poor, the study found, buys more meat when the children are on holiday.
Ready market
Take a quick survey and help us improve our website
Take a survey
But meat, and especially chicken, is increasingly being consumed frequently. As the economy has grown, incomes have gone up with a bulge in the number of middle class families. Moreover, tastes and preferences have also changed, with a lot of people preferring white meat mostly for health reasons.
As a result, poultry farming has grown into one of the most profitable agribusiness as farmers are assured of a ready market.
Although we did not find a study that puts a monetary of this market, experts say it is worth billions of shillings.
Eating habits have also changed. Unlike before when people ate mostly in their homes, outdoor consumption has become popular, especially in urban areas.
Thus, even if people will not eat chicken everyday in their homes, their teenage children mostly, can't help a taste of chicken and French fries in the many fast food restaurants.
A study done in April last year by Kenya Markets Trust Society (KMTS), showed that chicken is the highly consumed meat among the high income and middle class.
Titled, "A Study on Meat End Market Trends in Kenya," the study explained that the popularity of chicken meat among these income groups is due to their increasing sensitivity to health as well as safety.
Consumers of meat are also concerned about the uncertainty of the genuineness of product, with some fearing red meat for possibility of eating wild meat.
Quality, safety, and reduction in household size are other factors that are driving up consumption of chicken meat.
With tonnes of studies showing a correlation between red meat and lifestyle diseases such as cancer and obesity, a lot of people have been ditching beef, goat meat and other red meat for chicken and fish.
In 2018, for example, 132,000 tonnes of poultry meat was consumed in Kenya, resulting into per person consumption of about 2.7 kilograms per year.
While this is still a far cry compared to the global per capita consumption of 15.2 kilograms, it is an astronomical increase from a decade earlier.
In 2008, chicken meat produced and consumed in the country was worth 24,000 tonnes, translating into per capital consumption of 600 grams of this meat.
While chicken consumed by a typical Kenyan has increased by more than four times in a decade, that of meat has actually declined.
Many players
As a result, poultry farming has attracted a lot of players. There were about 38.8 million chicken in Kenya by end of August when the census survey was done. Almost 80 per cent of these chickens were indigenous, popularly known as Kienyeji.
Although most of them are reared for subsistence, there is a great opportunity to make money out of them.
The study by KMTS noted that the reason the poultry meat production is higher than beef is due to intensive production system and active role of such smallholder and indigenous chicken production systems.
Demand for Kienyeji chicken has been increasing, particularly among the high income and some middle class families who are becoming increasingly conscious about their health.
However, among the high income, group, a lot of of people who would like a taste of Kienyeji chicken can't relish the dish because it is inaccessible, according to the study by KMTS.
The study found that for the other groups, people who would have loved to eat chicken, were however put off by the high price.
The biggest markets for meat, all kinds of meat, Nairobi and Mombasa cities, which account for three quarters of the country's total meat consumption.
Data from the national statistics indicates that besides these cities having people with high incomes that enables them to afford chicken, there are very few people that rear chicken.
However, you can still sell chicken in rural Kenya, with studies showing that close to 60 per cent of the chicken consumed in these parts of country are actually purchased.
You can decide to rear broiler or layers. With layers, you will see eggs in the first 24 months, cull them and sell them into meat.
With broilers you start selling meat directly.