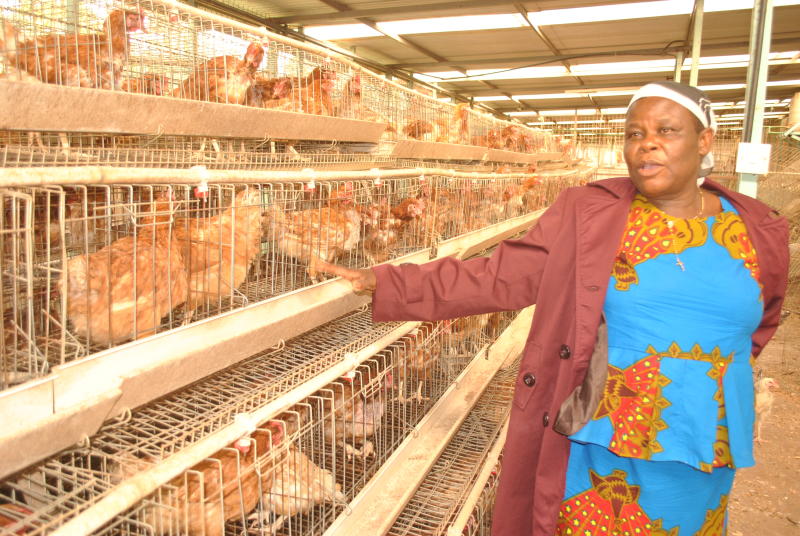 A project to promote indigenous chicken by the Kenya Agricultural Productivity Project (KAPP) in 2011 proved to be a turning point for Mary Muhatia, a widow from Lirhanda village, Kakamega County.
Mrs Muhatia started poultry farming in 2003 with four indigenous birds. She later bought 50 broilers of which 30 died.
Despite losing over half of the birds, she did not give up. She ordered 100 improved indigenous chicken from the Kenya Agricultural and Livestock Research Organisation (KALRO) in Naivasha at a cost of Sh100 per chick. Seventy of the birds survived and 30 died.
"When my husband died, I had to take care of my family. I took up odd jobs that weren't paying much. I decided to try my luck in poultry farming and that's where my journey began," she said.
Determined to run her poultry venture professionally, she enrolled for a management course which was being offered by KAPP.
"I attended the training sessions on poultry housing, pest and disease control, stress management, poultry feeding and nutrition. I implemented what I learnt and since we had been linked to financial institutions, I took a loan and put up a chicken house," she said.
She also procured 1,000 more improved kienyeji chicks and 500 layers from KALRO.
"I also purchased feeders, drinkers and feeds. A few months later, my layers were laying. There was ready market for my eggs, I didn't struggle much. Of course along the way, I encountered a lot of challenges but I was determined to keep on going," she added.
She currently has over 3,000 birds.
"A while back, I had more than 10,000 birds but it became a little hard for me to manage and I had to sell quite a number of them," she said.
Her son, Michael Muhatia -- who helps in managing the farm -- said one of their greatest secrets is feeding the layers with a balanced diet that helps in sustaining maximum egg production.
"The chickens require energy, proteins, fats, minerals and vitamins. A chick consumes about 2kg of chick mash a day. We have designed the cages to accommodate three chicken as comfort is key if you want your layers to be productive enough, the feeders have been positioned where the feed level is the same as the back of the hens to avoid spillage," he said.
They have also put up piped water, with springs on each cage to keep the birds well hydrated. "Water is critical but often overlooked nutrient. At normal temperatures, layers consume twice as much water as they consume feeds. During periods of high temperatures, water consumption usually doubles," he added.
They have incorporated perches on which birds sleep at night and they also help distillate manure in single locations making cleaning easier.
According to Muhatia, record keeping is also a crucial aspect in farming.
"Without records, it is hard to know sometimes how many birds you have in a particular week, as there are those that don't survive. You also need to have records to know when the birds started laying as well as their vaccinations schedules," he said.
There are five workers who help in managing the farm.