Poultry farming and the impact of Covid-19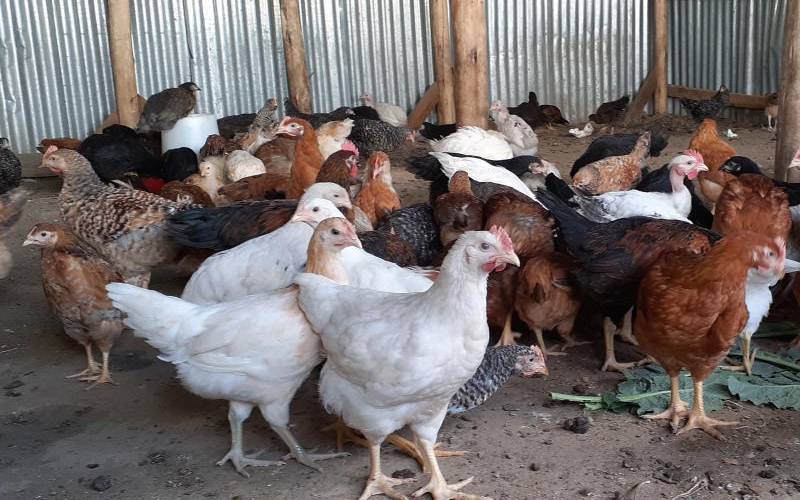 As the pandemic struck, many areas were affected, ranging from businesses, health systems and more so, the agriculture sector.
For developing countries like Kenya where Agriculture is the backbone of the economy, the pandemic has resulted in unforeseen losses that hurt both the farmers and the consumers as a whole.
Analysts today say there is a need for stakeholders to draw up a post-Covid-19 strategy to make up for these losses, especially for poultry farmers.
When the pandemic struck, the majority of small-scale poultry farmers ended up only producing enough to consume with their families. This was majorly because most of their customer base, who are schools and hotels, were closed to curb the spread of coronavirus.
Chicken play a major role representing four per cent of agricultural contribution to GDP. Local chicken constitutes 80 per cent of all poultry in Kenya with a population of over 31 million birds and average flock sizes of 10- 30 birds per household.
According to the 2019 Kenya Population and Household Census, the national poultry meat production is estimated at 18,600 tonnes valued at Sh3.52 billion.
Local chicken meat production is 11,400 tonnes (61 per cent); broilers produce 6,300 tonnes (34 per cent) and culls from layers 900 tonnes (5 per cent) Egg production is at 1.3 billion, valued at Sh9.70 billion with Local chicken producing 570 million (47 per cent) while exotic layers' production is 650 million eggs (53 per cent).
Small-scale poultry systems are important in food-insecure resource-poor areas. Chicken contributes to each dimension of food security: availability, access, utilization and stability.
The poultry chain is among the agriculture sectors that has been hard hit with the pandemic, and worse off at a time when poultry farmers were only grappling with the recent ban on eggs from outside the country.
Leaders have advised farmers to stay up to date regarding government advice and the available help on the supply chain such as packaging, feeding, market routes and processing.
A study from 60 Decibels, a tech-enabled impact measurement company, in September showed an economic crunch for Kenya's farmers.
It reported that nearly nine out of 10 Kenyan farmers said their financial situation has gotten worse during the pandemic.
According to recent data released by 60 Decibels, Kenyan farmers are being economically squeezed by decreasing demand for their produce and livestock, falling prices, and increasing costs for raw materials and supplies.
The research went on to add that farmers have had to make adjustments to cope with the harsh conditions created by the pandemic.
Some of these new ways of conducting the poultry business have included finding feed and chicks to bolster yield.
The study showed that almost 90 per cent of these farmers are spending more time in their farms but it still did not match their income because the pandemic hurt all sectors of businesses.
According to reporting in The Daily Nation and All Africa, Mama Hadija Nganyi is one who has had to step in to fill in the gap left by the pandemic.
She supplies month-old improved kienyeji chicks to producers hoping to increase their flock.
Nganyi said, "I initiated the chicken project for the vulnerable people in the community, especially women, persons with disabilities and the youth to cushion them economically, particularly during these hard times of the Covid-19 pandemic."
To further beat the economic impact on their businesses, poultry farmers have had to resort to ways that will give them the best out of a dire situation.
One example is that of Victor Kyalo's chickens which are said to have doubled the number of eggs they are laying. The reason: Human excrement. A reuters report stated that toilet waste was key for new animal feed.
He feeds them food from a Nairobi-based organics recycling company. Sanergy harvests waste from toilets it operates in a franchise network in Nairobi's slums and feeds it to fly larvae, which become high-quality animal feed.
According to Kyalo, his customers have noticed yellower yolks and larger eggs. "Before we were getting like five trays (of eggs) per day, but now we are getting 10," Kyalo said.
While the country experiences its second wave, farmers have come out to state that adopting to the new normal may be the only chance to survive the pandemic by crafting new ways to make up for the losses and tough financial times created by the pandemic.
Want to get latest farming tips and videos?
Join Us