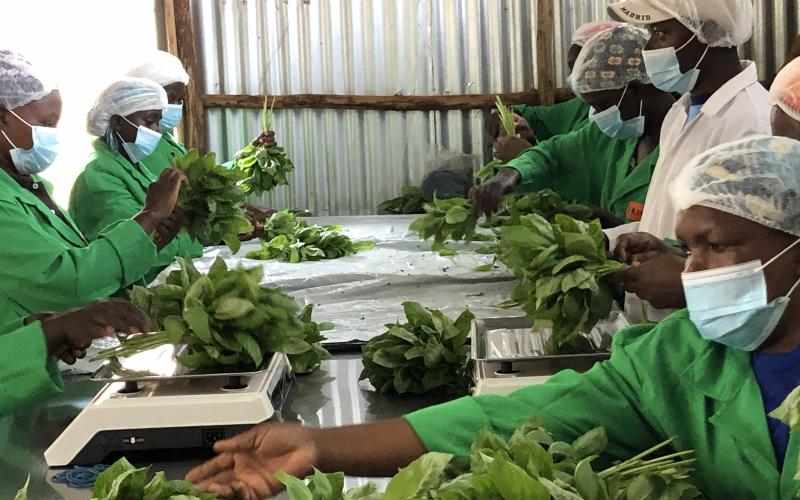 Around 70 kilometres from Machakos County and 100 kilometres from Jomo Kenyatta International Airport, deep in the thick woods where mobile telephone signal is weak, is a sleepy village called Utuneni. From an investor's cynical eye, nothing good can come out of Utuneni village.
In this remote village, one ambitious agriprenuer, Eunice Ngina has established Freshplus Ltd, a now thriving company that exports basil herb to Europe.
The firm that employs hundreds of locals and produces tonnes of basil for export, is a testament that with hard work, right attitude and determination, anything is possible.
The journey
Four years ago, Ngina quit her job to venture into basil farming in this village in Mbooni, Makueni County.
"This was a huge gamble for me given that most people in the area plant traditional crops such as maize and beans. Basil was very foreign to them."
But why basil?
While undertaking her market research, Ngina discovered that basil has a big market in Europe and the United Arab Emirates, with the high demand driven by health-conscious consumers. Basil contains many vitamins and minerals, as well as antioxidants that promote good health.
"I chose basil because it has a rich export market and it performs well in warm areas. Basil is still untapped despite the rich potential," Ngina says.
She also learnt that the herb is resistant to diseases and needs little agricultural inputs like fertiliser.
Before one dives into export business, she points out that they have to seek clearance from regulatory bodies like Kenya Plant Health Inspectorate Service (Kephis) and the Horticultural Crops Directorate (HCD).
"There is a lot of paper work involved before one can access the export market. I did my groundwork well and was able to get all the certification. I got all the lengthy details in their websites," she says.
As part of the requirements, she also engaged GLOBAL GAP which is a body that certifies standards for produce that targets the European markets.
No shortcuts
"If you want to access the export market, there are no shortcuts. And for me, it was double trouble because I was starting an export market in a little known village. But thanks to my persistence and determination, I was able to meet all the protocols that allowed me to access major supermarkets in Europe," she says.
In her quest to tap into export market, she discovered that getting certification and finding clients are both very critical for success of the enterprise.
"After getting my export documents, I started to network with other exporters and that way, I got very useful leads on markets I can tap into. The trick for newcomers is to get a veteran exporter to hold your hand, that way you will not burn your fingers. They will show you the rules of the game."
Another strategy that has helped her penetrate the complicated market is attending international trade exhibitions.
Another aspect that has helped her is the fact that she deals with quality of seeds that come from certified seed suppliers.
"Growing quality starts with buying certified seed and following best practise like proper soil and water management practices such as soil and water testing," she advises.
How she grows it
From her extensive research, she has learnt how to grow quality basil that is accepted in the international markets.
In the initial stages of basil farming, it starts at the propagation zone where basil seeds are planted in a nursery and take around 14 days to germinate.
After three weeks, they develop leaves and are ready for planting in the greenhouses. She has 16 greenhouses on two acres.
The herb is cultivated in these greenhouses because of the ideal climatic conditions that guarantee quality produce.
Pest control
For pesticide control, one must avoid using poisonous chemicals. The requirement for the export market is that any control method one uses must not be harmful to wildlife such as bees to ensure safer ecosystems.
The good thing is that the crop is repellant to most pests and mosquitoes due to its smell.
Ngina grows the sweet Aroma 2 basil variety which she says is preferred by most of her customers because of its aroma.
She says the demand for the herb is so high that many a time she cannot meet the orders.
"My challenge every season is to meet the huge demand," Ngina says.
Though the business has been fairly stable, the biggest challenge was occasioned by the Covid-19 pandemic.
"When Covid-19 pandemic hit, most of the countries imposed lockdowns and only cargo planes were operating. We were also affected since not all our produce was exported. We incurred a lot of losses but we are slowly recovering."
She has also had to overcome numerous odds that come with operating from a remote location.
"Running an export farm in a village is no joke. When we introduced it here, we had to train local labour since it's a new crop. We also had power problem for refrigeration of our products but we resorted to green energy.
Bad roads means that sometimes, there are delays to the airport, and due to water problems, we decided to sink a borehole," she explains.
Being greenhorns, her workers did not know much about the crops husbandry.
She had to train her workers on how to handle the delicate herb without compromising the quality.
They had also to be trained on maintenance, harvesting, grading and packaging of the herb before it heads to the airport.
She has also learnt that Kenya's and European countries' variance in seasons is a factor to consider when planting her herbs.
"There are two seasons in Europe of winter and summer. During summer, they grow their own crops but during winter they don't grow and that is when we have to work harder and then scale down our production during summer," she says.