Starting your home vegetable garden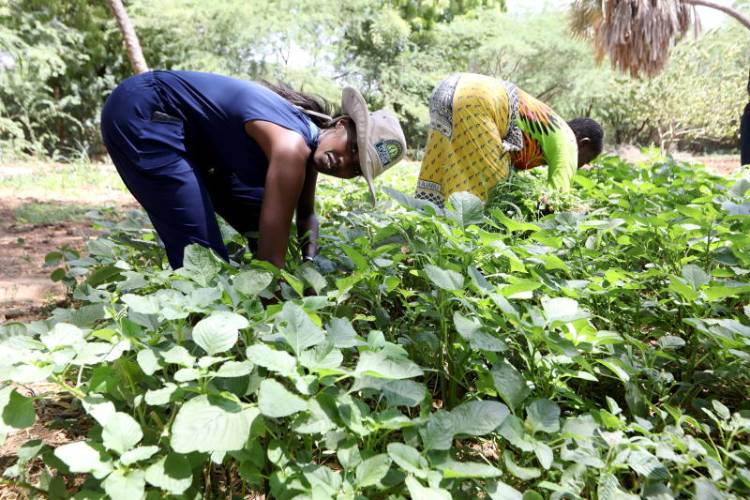 The Ministry of Agriculture, last month, launched the National Inclusive Growth project that will see one million households in all 47 counties get simple kits to set up kitchen gardens.
Aimed at mitigating Covid-19 challenges of food shortage and to encourage production of fresh vegetables for households, the project will enable households to use simple technologies to set up gardens in their balconies and home gardens.
With the social distancing directive issued by the government and the need to avoid crowded market places, this is a timely intervention.
There is also a likelihood of slowed down production and transport of food to most markets, and it can only help that households grow their own vegetables.
So what does one need to start a vegetable garden in an urban and peri-urban set up?
Kelvin Kariuki who runs Blessed Basket farms, a demo kitchen garden farm in Kiambu, offers tips for novices in the venture which he describes as the best way to relax for those staying at home during the pandemic.
"There is a way that interacting with plants calms the nerves. People use their kitchen gardens and other micro gardens to relieve stress," says Kariuki.
Kariuki, who has specialised in making equipment for micro gardens -including vertical farming bags, bucket irrigation kits, wall gardens and irrigation systems, says kitchen gardens are also the best way to experiment before one decides to venture into large-scale farming.
The agri-entrepreneur says he has seen the number of urban dwellers keen on starting kitchen gardens surge as people continue to stay at home. Here are key factors to consider when going the kitchen garden way:
1. Space and location of your kitchen garden
Take a quick survey and help us improve our website
Take a survey
"Don't be discouraged by the size of the space you have. With a kitchen garden, you can use a small space and get high yields," says Kariuki.
The entrepreneur has been working on the wall garden technology that allows households to grow herbs and spices on their walls where there is no ground space.
The uptake of the technology has, however, been slow with many Nairobi residents unwilling to drill walls in their rented houses.
"Many can only marvel at the wall garden technology, but they can't drill into walls that are not their own. We are working with a few real estate companies that will incorporate the concept as they plan for buildings," he says.
The Ministry of Agriculture, in its guide for starting a micro garden, lists containers such as plastic lined wooden crates, custom-built tables, old car tyres, sacks, plastic containers such as yoghurt cups, water bottles, tins, flowerpots, buckets and even old jeans and gumboots as good spaces for micro gardening.
It also helps to have your kitchen garden in a space that will allow your vegetables between six and eight hours of sunlight. If you have it on a balcony, it has to be the side that faces sunlight.
According to Kariuki, plants that produce fruits like tomatoes and peppers need full sun to flourish. Plants such as lettuce, however, do well in a slightly shady area.
2. Deciding what to grow
Kitchen gardens are mainly fashioned for vegetables, herbs and spices which do not require a big space to grow.
Common foods to grow on a kitchen garden include leafy greens such as spinach, leafy onions, sukuma wiki, bok choy, lettuce, tomatoes, terere, strawberries, mint, dhania, broccoli, cauliflower and potatoes.
Testing the soil qualities of your kitchen garden such as acidity levels helps you decide what kind of crop will do well in your kitchen garden. It also helps in the future management of pests and diseases.
If you want to go commercial, do a market research to identify what people are looking for before you settle on what to grow.
It is also worth noting that not all of these crops, simple as they appear, are easy to grow and maintain.
"Some mature faster than others. Some are easily attacked by pests and diseases while others are more hardy. It all goes down to how much attention you are willing to give your crops," says Kariuki.
He adds: "Tomatoes are especially difficult to handle in kitchen gardens especially during the rainy season when they are easily attacked by pests and disease. I have seen many farmers give up on kitchen gardening completely because they had a terrible experience with tomatoes."
3.Water requirements
Ministry of Agriculture statistics indicates that in a year, a one square metre micro-garden consumes about 1,000 litres of water, or less than three liters per day. A bigger kitchen garden is likely to place a strain on water, especially where the commodity is paid for.
It is the challenge that Duncan Nyingi, a bank employee who runs a 10 by 6 metre vegetable garden in Ruiru, off Thika road, grapples with every day.
"Water is the biggest challenge in Ruiru. The water we buy for domestic use is what we use for irrigation and it is very expensive. To save on water consumption, I don't irrigate the plants as much as is required," he says.
The other challenge with many urban dwellers is getting safe water for irrigation. Some people use waste water from the kitchen which may contain harmful substances to the crops.
A study that was published in Environmental Research Letters, exposing the dangerous use of waste water on crop irrigation, indicates that as many as 885 million urban residents are exposed to dangerous pathogens, including parasites and bacteria contained in waste water.
4.Management of pests and diseases
One main reason people grow their own crops is to ensure they produce food free of chemicals. "Organic farming is relatively easy for people doing kitchen gardening and keeping poultry or small animals such as rabbits and goats," Kariuki says, adding that chicken droppings provide enough manure for a small kitchen garden.
Additionally, crops can easily be monitored for pests and diseases.
"A small garden with countable number of plants is easy to monitor. You can check on each single crop daily and pick the insects from the plants without spraying," he says.
Pests on a kitchen garden can also be controlled by non-chemical means, including coloured sticky traps and insect proof nets.
According to Kariuki, intercropping with aromatic herbs that naturally repel insects, such as basil, parsley, spring onions, chilies and mint is also a sure way to grow organic crops.
5.The time element
Most people think that kitchen gardens, don't require a lot of attention since the gardens are small. But this is not true, according to Kariuki.
"Starting and maintaining a kitchen garden is a whole process of preparing land, weeding, irrigation and anything else that you would do to any other type of farming. There is no shortcut," he says.
With Covid-19, many people are locked away in their homes and therefore have a lot of time to tend to their kitchen gardens.
6. The equipment
Your attempt at kitchen gardening can also flop due to lack of the right equipment.
Kariuki's demo farm is complete with a simplified bucket irrigation kit for those who want to grow 150 plants on three lines that measure 10 metres each. The kit, which the entrepreneur sells at Sh2,000 has a 20-litre bucket that is fitted with 10-metre long perforated water driplines to run along the clines of plants.
He also demonstrates the use of an expandable bucket irrigation kit that has a 100-litre water bucket. This suits farmers with an intention of expanding the sizes of their gardens without having to buy a new irrigation kit.
Kariuki is also fabricating vertical farming bags which he sells at Sh800 each. The bags can support 90 plants each and come with a separate irrigation system.
Additionally, the innovator in farming is working with real estate agencies to incorporate his wall-gardening system in construction of modern houses. The system allows growing of herbs and spices on walls for aesthetics and for consumption.