Coffee fetches tidy sum in new auction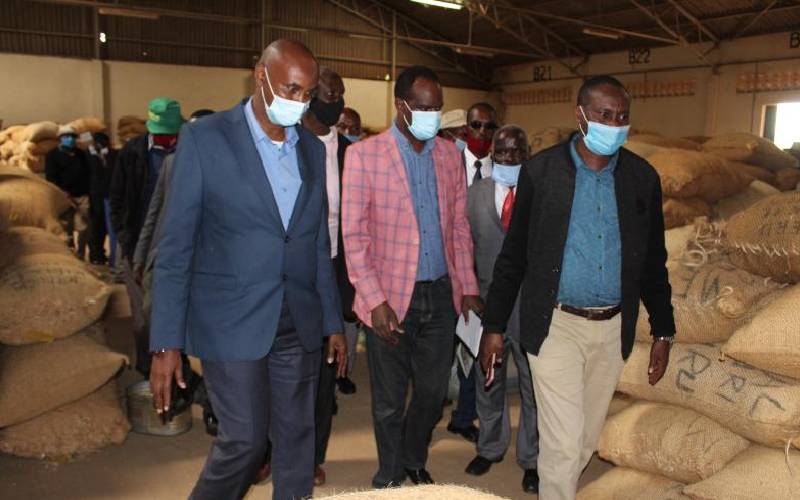 Several coffee producers in Meru County who last week sent produce for sale at the Nairobi Coffee Auction are a happy lot.
This is after the produce fetched relatively high prices at a time their new milling and marketing entity, New Kenya Planters Co-operative Union (NKPCU) was making a debut in the market.
New KPCU chairman Henry Kinyua said the tidy sales last Tuesday gave them hope of an easy turnaround, after the union resumed the milling and marketing business of its liquidated predecessor.
"We sat with farmers way before the auction and set a reserve price, which has probably helped us to get those prices. They also come with some of the lowest milling loses we have experienced in recent years," Kinyua said.
Ntongoro/Ntimbiri Coffee Farmers Society in North Imenti recorded the highest price of US$438 (Sh47,304) per 50kg bag in the auction with 10 bags of Grade AA.
Another 46 bags of the same grade at US$433 (Sh46,764) and yet another 30 bags of Grade AA at US$421 (Sh45,468), all sold to buyers Servicoff Ltd.
The one-factory society managed prices of between US$282 (Sh30,456) and US$301 (Sh32,508) for the 155 bags of Grade AB it presented at the auction, with its offering mostly snatched by the buyers Taylor Winch.
Ntongoro/Ntimbiri also sold 14 bags of Grade C and another nine bags of the same grade at US$274 (Sh29,592) and US$278 (Sh30,024) respectively to buyers Taylor Winch at Tuesday's auction.
Ntongoro chairman Stanley Mungori praised the New KPCU for starting off on a high note, saying it should retain transparency in milling process.
"The year has registered high quality bean production but we also note that the milling loses are down from average of 22 to 24 per cent across the grades to 17 to 18 per cent," said Mungori, adding that high prices will immediately trigger increased production.
Take a quick survey and help us improve our website
Take a survey
He added that highest comparative prices that Ntongoro managed last year for the premium AA grade were US$372 (Sh40,176).
Also registering high prices on their debut appearance under the New KPCU stable is Mariara CFS in Central Imenti, which sold a consignment of 11 bags of Grade AA at US$400 to buyer Serviceoff Ltd at the last auction.
John Kimathi, the chairman of the four factory Mukuune CFS in Central Imenti, which has delivered some of the highest parchment consignment for milling at New KPCU Meru at over 300,000 kilogrammes, said this looked like the start of a good year for coffee farmers.
"Our sales averaged between US$250 and US$290 for all the grades in the last sales," said Kimathi.
KPCU presented a consignment of 3,450 bags at the last auction, which fetched an average of US$296 and Kinyua said they were excited that the market had shown a great rebound on their debut.