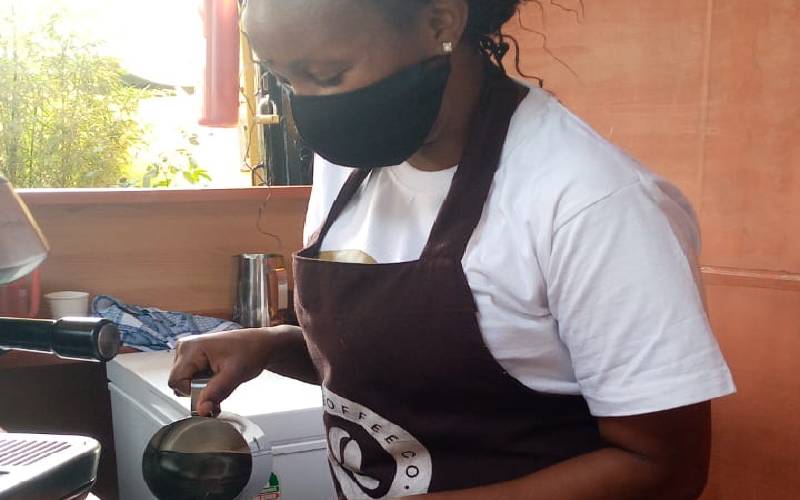 A business initiative to encourage local coffee consumption in coffee growing counties has kicked off in Nyeri town with locals treated to cups of cappuccino, latte, mocha & americano.
Entrepreneur Joshua Kariuki said Kilele Coffee Company is a business that partners with local restaurants setting up coffee bars that brew barista-quality coffee using berries from local cooperatives that roast their own products.
The business idea came to Kariuki when he and his wife visited Othaya Coffee Cooperative, Nyeri County, and bought 1kg of roasted coffee.
"After consuming it we decided that we should get more people to enjoy the high quality coffee produced locally," Kariuki stated.
He noted it was unfortunate that coffee farmers are paid less than Sh100 per kg of cherry while they produce premium coffee which can be roasted and sold at Sh1,200 per kg.
"One of the reasons farmers are not compensated adequately is because many coffee producing counties do not consume the coffee locally, when you visit a hotel and ask for coffee you are served with 5gm sachet and a cup of hot water," Kariuki explained.
Kariuki reasoned that when people meet to socialise they often drink a cup of tea instead of coffee, but if they were introduced to a well brewed cup of coffee, they could start to enjoy it as a local drink.
The Kilele Coffee Company founder explained the rationale to partner with local restaurants as opposed to setting up physical locations was to cut costs of building brick and mortar business model and tap into the already existing café industry.
"We have trained barristers and bought the necessary coffee making machines that will ensure high quality of coffee. All the coffee and milk we use is locally sourced," he noted.
Kariuki is working with three restaurants in Nyeri town, and will expand to Karatina town where they will share the profits from the coffee sales.
"If we can introduce coffee to more Kenyans, it will benefit local farmers and eventually the region," he said.
Betty'z Place restaurant owner, Beatrice Wambugu, said the decision to partner with the coffee company was to tap into the expertise of coffee brewing to offer the customers high quality drinks.
"I want to serve great coffee but I cannot be a jack of all trades, so I decided to partner with a company that offers better quality so my customers can enjoy coffee," she said.