Coffee farming: Tips on how to manage common diseases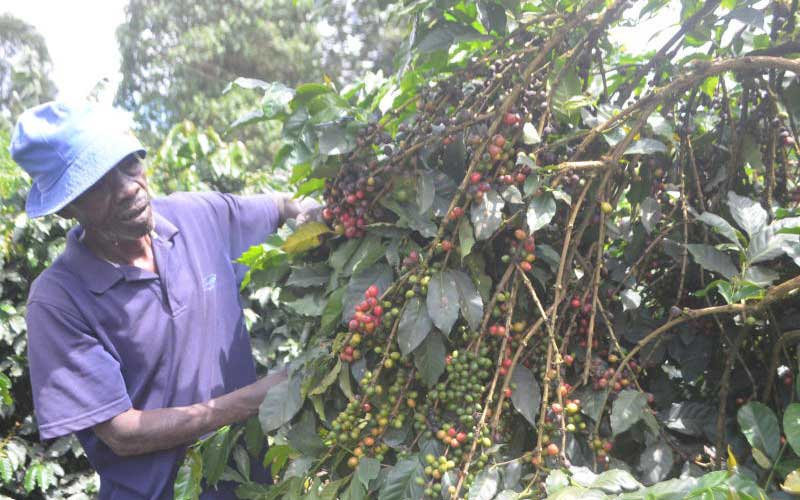 Coffee production in Kenya is greatly constrained by three fungal diseases namely coffee leaf rust, coffee wilt disease, and coffee berry disease.
The fungal diseases, just like coffee, thrive in cold weather. Young berries are mostly attacked and it is likely to wipe out a farmer's entire crop if not managed in time.
The extent of damage cannot be underscored as they can ravage yields to a farmer's financial ruin.
Considering that fungal disease infestations depend on the environmental conditions farmers are supposed to be well prepared.
As climate changes, farmers need to watch out for various disease that can affect crop production, here are few guidelines every farmer should follow to manage these diseases.
Coffee leaf rust
Farmers have battled the disease for decades. It is common in warm and humid conditions of low altitudes. The disease is widely spread by wind and rains.
The leaves will have orange rust-like dust on the underside and defoliation.
Affected pants fruits will fail to ripen fully and after ripening they produce light beans which have a sour taste. It causes stunted growth of new stems hence reducing crop yields in the current season and previous.
Take a quick survey and help us improve our website
Take a survey
Coffee wilt disease
It is a coffee tree vascular disease that blocks water and sap circulation caused by fungus. The leaves will start to fall, rust-like and premature ripening of the cherries. Premature cherries lead to acidity loss an increased bitterness.
Coffee berry disease
It causes dark necrosis spots and premature drops on green berries. It is common in areas with high humidity, high altitudes and warm temperatures. According to green life crop protection Africa, the disease causes about 80 per cent crop loss.
Managing the diseases
In Kenya, these diseases can be avoided by planting disease-resistant coffee varieties such as Ruiru 11 and Batian.
Most diseases are controlled through good farm management, environmental conditions management, pesticides and plant nutrition.
According to Francisco Quezada Montenegro, an agronomist at Dinamica International Crops several diseases can be managed by god plant nutrition.
Providing your crops with adequate nutrients improves the health of the crops they require to resist diseases in comparison to the use of fungicides.
Intensive pruning schedule of at least after every five years can help control coffee rust disease. Although pruning exposes the plants to fungal infections during rainy seasons, ensure you minimise damage during the process.
Keep farm equipment such as pruning and farm tools clean to avoid the spread of disease from one plant to another especially during weeding and pruning.
During weeding and pruning, minimise damaging the plant as wounds leave the plants vulnerable to fungal infections.
Monitor disease at field levels through recording flowering periods, the amounts of fertiliser and pesticides used. Frequent visit in the plantation can help site disease signs and symptoms to reduce diseases spread.
Also keep track of shades, rain and humidity levels as it helps on to create an environment that will keep peats and diseases at bay.
Although fungicide helps contain the diseases, it reduces natural pest predators' population that help control pest naturally. Whereby after application it increases pest population in the field. Farmers should take note that a good disease management strategy improves coffee quality.