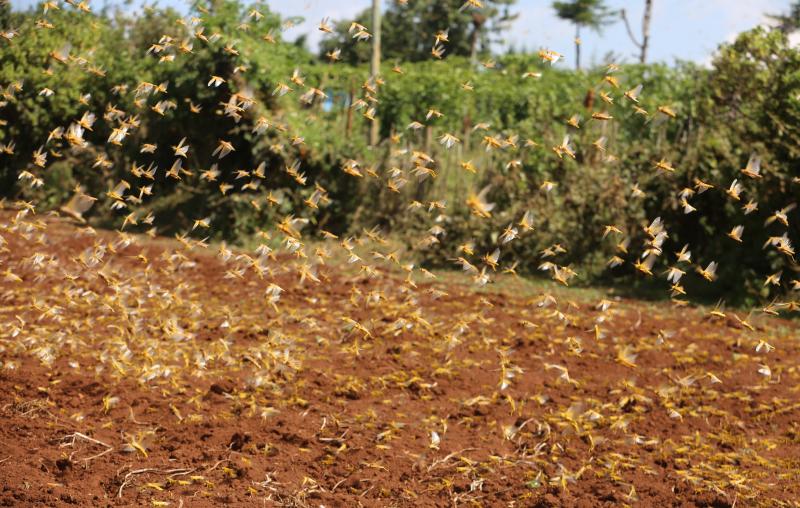 Kenya is not yet out of the woods as the country is expected to face a second wave of desert locusts in November, the United Nations Food and Agriculture Organization (FAO) has warned.
The first wave hit earlier this year, leaving a trail of destruction, particularly worsening food insecurity in some parts of the country.
But in August, FAO said the desert locust infestation in Kenya was now under control, applauding Kenya's significant efforts in fighting the desert locusts. Kenya stood out among the countries that had posted major milestones in the region.
On Tuesday, the UN agency said the desert locust crisis could re-escalate as recent strong winds carried mature swarmlets from southern Somalia into eastern and northeastern Kenya.
"Although some of the swarmlets that reached Kenya may have already laid eggs before their arrival, there remains a risk of further egg-laying in sandy areas that saw recent rainfalls, said FAO, adding that in this case, hatching and hopper band formation can be expected in early December.
The agency noted that breeding continues in central Somalia and eastern Ethiopia where bands of hoppers – non-flying, nymphal stage locust – are present, and a new generation of immature swarms could start forming by the end of November.
FAO warns a resurgence of the swarms could aggravate food security in the region, "where almost 25 million people are already suffering from severe acute food insecurity."
Desert Locusts are considered the most destructive migratory pest in the world, devouring large areas of crops as well as pastures for livestock.
In September, Government received a report from the Food and Agriculture Organisation (FAO) showing more than150,000 hectares of agricultural land affected by the locusts had been sprayed, particularly northern Kenya.
The report, received by the Ministry of Agriculture, Livestock and Fisheries assessed the impact of locust invasion in 16 countries.
The loss, occasioned by the invasion of the pests was estimated to be more than 150,000 tonnes of cereals from November last year when the locust invaded the region to early March this year.
Kenya's Mandera, Meru, Turkana and Isiolo counties were the most affected in the first wave.