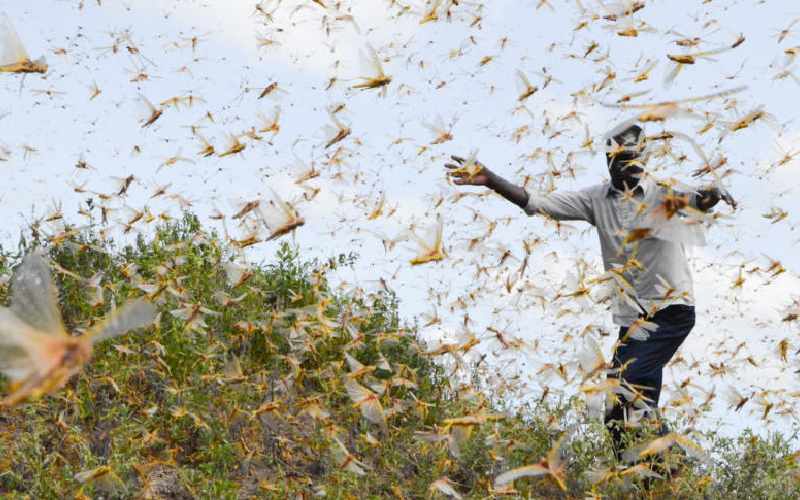 A few early and mid-instar hopper bands of locust are forming in Samburu county.
In the northeast, more swarms have been reported near the Somalia border in Mandera and Wajir counties which may be laying eggs. These swarms are said to have come from central Somalia on northerly winds that are now reaching Kenya.
According to Food and Agriculture Organisations's Locust Watch important and widespread breeding continues in eastern Ethiopia and central Somalia.
New swarms are expected to start forming in early December and move south to Kenya and southern Somalia by mid-December. However, control operations are underway.
In Somalia, immature swarms are present in the northwest between Boroma and Hargeisa. In the northeast and central areas, hatching is continuing between Garowe and Belet Weyne.
At the same time, in Ethiopia, a few immature swarms persist in Afar region while more immature swarms are present in the Somali region between Jijiga and Degeh Bur, some of which are maturing.
More than 100,000 farmers affected by the locust menace will receive tracking devices to monitor the migration of the insect.
The move is aimed at improving the country's disaster preparedness.
In September, the State received a report from the Food and Agriculture Organisation (FAO) showing more than150,000 hectares of agricultural land affected by the locusts had been sprayed, particularly northern Kenya.
The report, received by the Ministry of Agriculture, Livestock and Fisheries assessed the impact of locust invasion in 16 countries.
The loss, occasioned by the invasion of the pests was estimated to be more than 150,000 tonnes of cereals from November last year when the locust invaded the region to early March this year.
"Because of this effort of spraying fields that were likely to be affected by the locust invasion, we secured livelihoods of farmers who were staring at a possible total loss of their produce," said Dominique Burgeon, FAO's director of emergencies and rehabilitation division.
In June, Turkana was the epicentre of the desert locust invasion, the FAO had warned.
The county recorded the highest number of hopper band sites carrying millions of the insects posing a threat to food security.
Turkana Governor Josphat Nanok said his county is starring at a possible famine following devastating effects on food crops by the desert locusts.