New tea picking gadget to save farmers money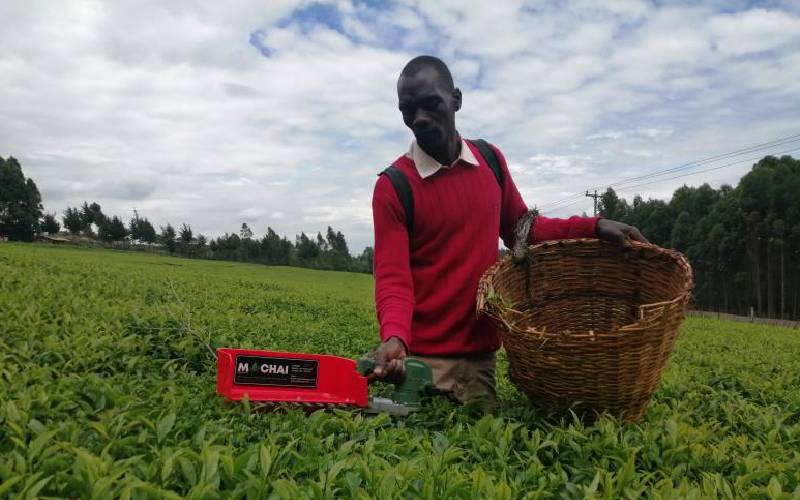 A new innovation in the tea industry promises farmers low production costs, high yields and quality produce.
M-Chai is a portable motor-driven tea-leaf picker that weighs 1.5kg and has a detached battery and carrier bag that also weighs 1.5kg. The gadget is being rolled out gradually in tea growing zones after a two-year research.
Mobile Edge, an Eldoret-based company behind the innovation says M-Chai is a gamechanger in the tea industry. Mobile Edge has partnered with the Kenya Tea Development Agency (KTDA) to roll out the gadget and other new technologies.
Gamechanger
Engineer Ben Lang, the Chief Executive Officer Mobile Edge says this is a fully a Kenyan innovation that will address the high cost of operations incurred by tea farmers.
"M-Chai is a third version of more effective tea picking machines. The concept uses latest technology to achieve quality plucking of tea easily and faster," says Lang.
The components of the machine include a plastic tray with self sharpening metallic scissors that cut on the required parts of the tea leaves. Once the tray is full, the green leaves are emptied into a separate tea bag.
How it operates
Lang says the M-Chai battery comes with a new lithium technology and maintains energy for eight hours. It has a socket for electric charging and carrier bag.
Lang says the gadget is air cool and water-resistant hence can operate during humid conditions. Metallic parts, he says, only require regular oiling for maintenance.
"M-Chai has been approved and attains over 85 per cent of picked tea quality standards compared to 65 per cent achieved in hand picking."
The machine costs Sh28,000 and is affordable to most individual tea farmers.
Farmers' experiences
Hundreds of farmers in tea growing belts including Nandi, Bomet, Kiambu, Kericho, Kiambu counties are slowly embracing its use and hand-picking could soon be thing of the past.
One such farmer is Mr John Tanui, a large scale tea farmer in Nandi County.
When The Smart Harvest and Technology visited Tanui's farm at Kosirai in Chesumei constituency, he was busy using the machine, which he says has brought tremendous change on his farm.
"It is light and easy to operate compared to picking tea by hand. For long, I have been paying Sh8 per every kilo of green leaves picked by hand. This machine will effectively address the high cost of labour," says Tanui.
He adds: "The machine is faster in plucking tea. When I use it, I work fewer hours in my farm compared to when I am hand picking the tea. With handpicking I can manage 30 to 40kg of green leaf per day. With this, I can pick 200 kilos of tea," says Tanui.
He says the electric tea-leaf picker is also environment friendly and will address high operational costs faced by tea farmers.
Tea picking alone costs an average Sh8 to Sh13 per kilo depending on the picking rates while some companies pay farmers between Sh18 to Sh28 per kilo of tea picked.
Tanui says the use of the machine will address injuries like blisters on hands sustained during manual picking.
He says with the motor-driven tea leaf picker, a farmer picks quality tea leaves, which is the preference of tea factories.
Sharon Keitany, another tea farmer, also spoke highly of it.
"It is faster, less straining and picks volumes of tea in a short span. With M-Chai tea picking machine I can achieve an average of between 150 and 200 kgs per day. One farmer can use a single machine and also assist neighbours because it is faster."
Clare Kimutai, a director at Mobile Edge says the machine is user friendly and can be operated on by any adult of sound mind.
"M-Chai is assembled in Eldoret and Mobile Edge and any farmer can operate it without having technical skills. In case of any issues, we have trained technicians on call who help farmers navigate such challenges. It comes with a one-year warranty upon its sale," says Kimutai.
KTDA and research
Nickson Kipngetich, Head of Research and Development at KTDA says though the innovation is still in trial stage, it has proven to boost efficiency and yields in tea farms.
"We are carrying out final trials. Other developed countries are adopting machines in tea picking and Kenya will not be left behind," says Dr Kipngetich.
He says with the innovation, KTDA hopes to fully mechanise the sector and secure Kenya's position as a leader in high quality tea production in the global markets.
"After conclusion of trials, a tea stakeholders workshop will assess the impact of machine use, the plucking rate, costs and other factors that will come up with new technologies," says Kipngetich.
Want to get latest farming tips and videos?
Join Us