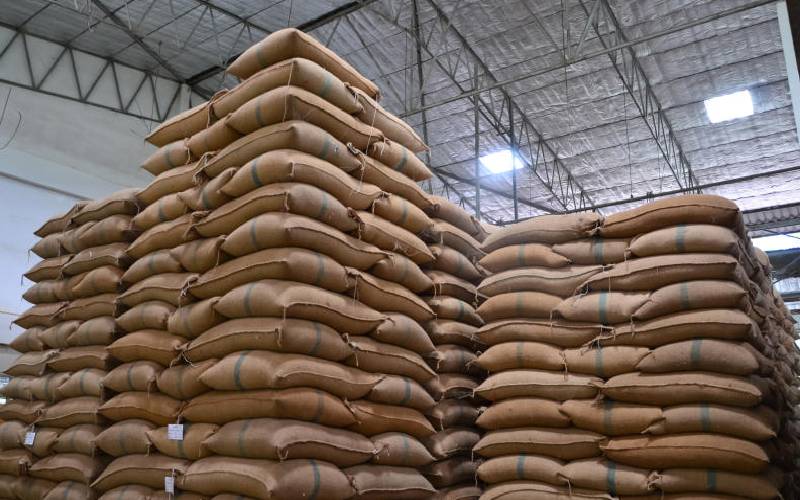 The National Cereal and Produce Board (NCPB) has signed an agreement with the Agro-processors Association of Kenya (APAK) to strengthen grain management in the country.
The agreement is part of the board's ongoing reforms geared at supporting the private sector to boost the value chain process towards an efficient and competitive market for agricultural produce.
The memorandum of understanding was signed at NCPB headquarters in Nairobi by the board's managing director Joseph Kimote and APAK Chairman Anthony Ndirangu.
"The two institutions have agreed to cooperate in matters related to grain handling and storage services, grain quality testing especially for aflatoxin and fumigation, as well as capacity building for those handling the food," said Kimote.
He added, "This partnership is in line with the current NCPB and Strategic Food Reserve (SFR) reforms being undertaken. One of the deliverables was for NCPB to cede seven million 90 kg bags storage space to the private sector."
Kimote noted this is aimed at enhancing the participation of the private sector along the agriculture value chain and will create an efficient and competitive market for agricultural produce.
"It is after NCPB gave a nod to our proposal as APAK to lease some warehouses for maize storage that have birthed this day. These are gains of mutual engagement, and we are proud to enter into this MOU, that will enable us to buy and aggregate maize," said Ndirangu, the APAK chairman.
He said the MOU will be beneficial to APAK members in planning ahead and protecting them from future price fluctuations and instabilities that affect their manufacturing business.
Last month, NCPB announced its readiness to offer grain storage services to address post-harvest challenges.
The board said it was ready to receive grains from individual farmers, cooperative societies, or other groups for storage under the Warehouse Receipt System (WRS) to maintain quality in readiness for market and processing.
"NCPB is prepared to implement WRS and post-harvest management activities after 58 of its stores and a silo complex completed the inspection and certification process for consideration," said Kimote.
He added that certification of all NCPB stores across the country was ongoing to ensure they conform to the required standards for food storage as per KS 2657:2016 standards on WRS.