Will Mt Kenya have nine million voters as Anne Waiguru claims?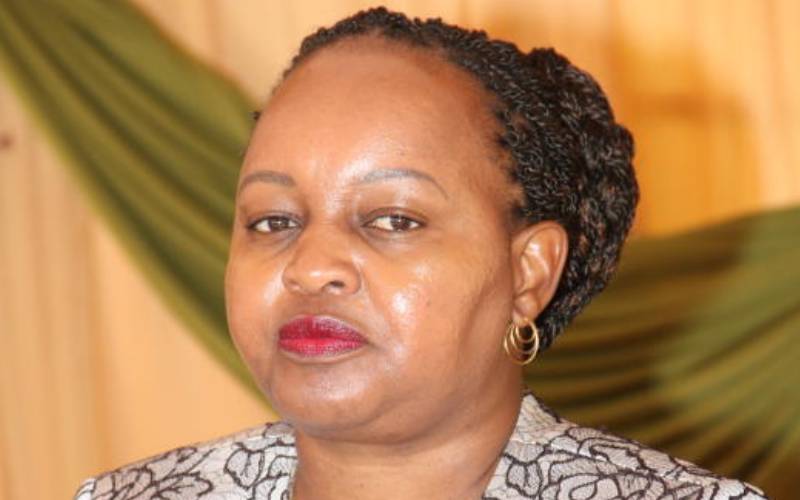 On Friday, September 17, Kirinyaga Governor Anne Waiguru made a claim on KTN News that the Mt Kenya region had a range of about nine million votes in total.
"Those who are interested in the top leadership in the country have trooped to Mt Kenya because of our numbers. We have a range of about nine million votes in total. Anybody who is able to add these numbers to their own votes can be president," Waiguru said.
In the interview, Governor Waiguru was explaining why there is an interest among presidential contenders to get a deputy/running mate from the Mt Kenya region.
So, is it true Mt Kenya has about nine million votes? The Standard's Checkpoint desk looks into Waiguru's claim.
What comprises Mt Kenya?
Mt Kenya region is a geopolitical classification of counties namely Kiambu, Muranga, Kirinyaga, Embu, Tharaka Nithi, Meru, Laikipia, Nyeri, Nyandarua and Nakuru, which are located around Mt Kenya and which share the same demographic profile based on the dominant ethnic communities who are part of the Gikuyu, Embu, Meru Association, and similar voting trends.
The phrase Mt Kenya is often used interchangeably with Central Kenya which is a grouping of counties that comprised the former Central Kenya administrative region. It includes Kiambu, Muranga, Kirinyaga, Nyeri and Nyandarua.
Gatundu South MP Moses Kuria, in an interview on KTN News on September 22 called it a 'community of similar interest and voting pattern.'
"Since 2007, I have been in charge of political numbers and Mt Kenya region, county by county, produces 7 million votes," he said.
"When I talk of votes, I am talking about the 10 counties that make up Mt Kenya region plus the community of interest of people who find themselves voting together," said Kuria.
For illustration, Kuria said there were 100, 000 votes in Mombasa County and 25,000 in Lamu which fell under the Mt Kenya community of interests.
Number of voters
Does Mt Kenya have nine million voters?
Data from the Independent Electoral and Boundaries Commission (IEBC) 2017 shows that Mt Kenya region had a total of 5,331,672 registered voters broken down as follows:
Meru - 702,480
Tharaka Nithi - 213,154
Embu - 309,468
Nyandarua - 335,634
Nyeri - 456,949
Kirinyaga - 349,836
Muranga - 587,126
Laikipia - 246,487
Nakuru - 949,618
Kiambu - 1,180,920
By August 2022 when Kenya goes to the polls, the number of voters is expected to increase as the IEBC embarks on a mass voter registration campaign that will kick off from October 4, 2021.
The Commission says it is targeting six million new voters across the country. The commission has planned for two phases of mass voter registration targeting seven million Kenyans. The second phase is scheduled for December 6 - 20.
"The commission targets to register at least six million new voters at the County Assembly ward level and we urge eligible Kenyans who have not registered as voters to turn up in large numbers and register," IEBC chairperson Wafula Chebukati said on September 11.
Mt Kenya votes in 2013
In 2013, there were 3,939,832 registered voters in the counties that make up the Mt Kenya political bloc.
Between 2013 and 2017, IEBC enlisted 1,391,840 new voters from the region, meaning that the number of voters increased by 35 percent. Going to 2022, the number of voters in the region is similarly expected to increase by as much as 1,099,597 new voters.
The figure is the difference between the number of people aged above 18 during the 2019 census and the number of registered voters in 2017.
Nationally, there were slightly over six million people who had attained the age of 18 and who were not registered voters.
During the 2013 general election, the turnout in Mt Kenya region was 92 per cent while in 2017 the turnout decreased to 86 per cent.
Population in Mt Kenya
In Meru, there were 198,089 people who were aged above 18 and not registered as voters, Tharaka had 20,851, Embu had 68,250, Nyandarua 24,953, Nyeri 31,145, Kirinyaga 47,466, Muranga 58,306, Kiambu 362,294, Laikipia 40,564 and 247,679 in Nakuru.
If the number of eligible voters from the region as of 2019 is added to registered voters in 2017 it brings the registered voters to around 6,431,269.
This figure is, however, an estimation.
It does not factor in the population who were aged 16 by the time of the census and would be above 18 years now and thus eligible to vote. It also does not factor in the number of deaths or migration, which also affects the number of registered voters.
Waiguru's claim that there are nine million voters in the region is therefore an overestimation.