Fact-Check: Is SA President Cyril Ramaphosa in Tanzania for Samia Suluhu's swearing-in?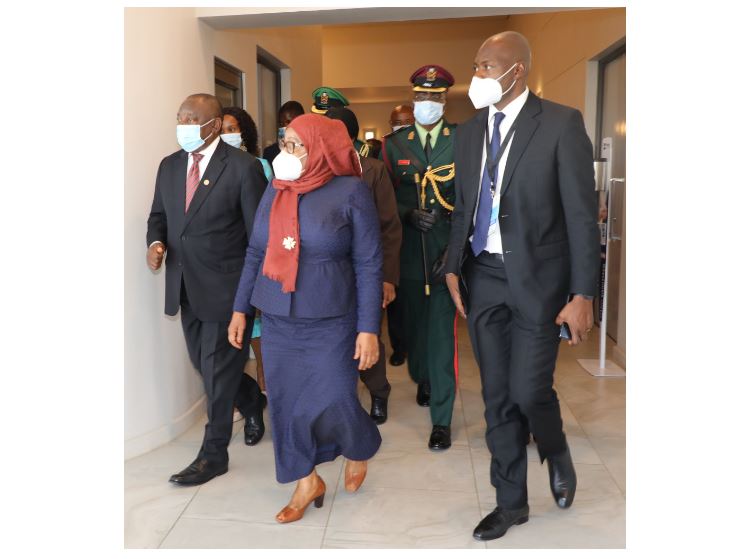 All eyes on Tanzania and Vice President Samia Suluhu who is expected to be Tanzania's next president - according to Tanzania's constitiution.
Minutes after Suluhu announced the death of President John Pombe Magufuli on the night of Wednesday March 17, the interwebs went on overdrive. Magufuli's death follows days of speculation about his health and whereabouts. He succumbed to a heart disease.
Photo shared on Twitter
So what next after Magufuli's death? As at Thursday night, there has not been any formal communication from authorities in Tanzania about the succession of Magufuli. If the Constitiution if followed, Suluhu, 61 should assume the presidency for the remainder of the five-year term that Magufuli began serving in 2020 after winning a second term. She will be Tanzania's first female president.
As East Africans eagerly wait for the next president of Tanzania to be sworn-in, a photo of Vice President Suluhu and South Africa's president Cyril Ramaphosa walking together while wearing masks has gone viral with claims that Ramaphosa is in Tanzania for her swearing-in ceremony.
Earlier in the day, lawyer Ahmednassir Abdullahi (@ahmednasirlaw) posted the photo of Suluhu and Ramaphosa and said, "TZ VP orders wearing of face masks and leads by example..."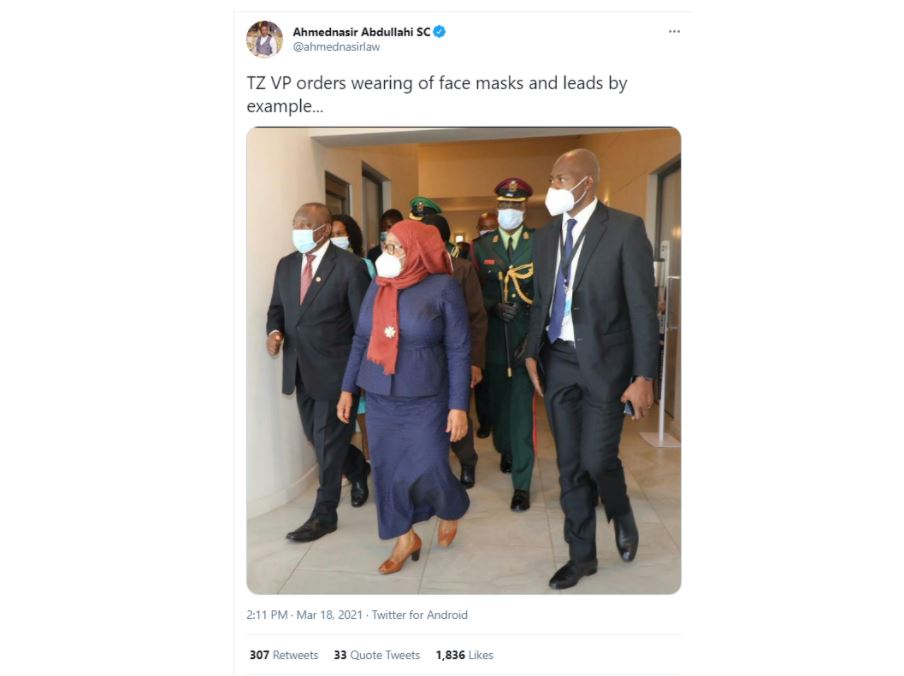 Self-proclaimed Eastleigh's mayor Ahmed Mohamed (@Asmali77) also shared the photo and wrote; "New dawn in Tanzania. Masks ON. Suluhu with the solution."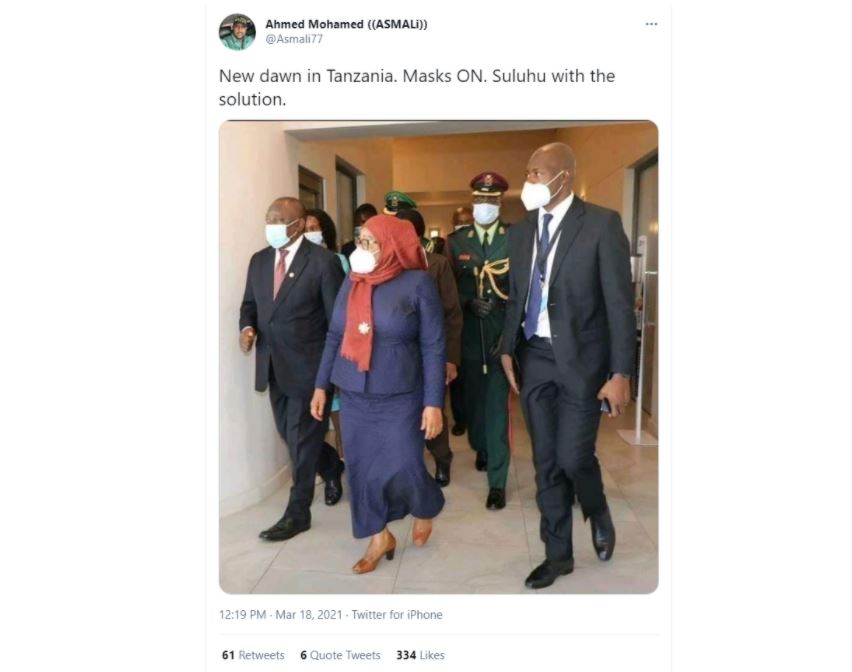 From his tweet Isaac Waihenya (@IsaacWaihenya) gave the impression that Suluhu was already president after posting the photo with the text; "Madam President Samia Hassan Suluhu getting down to work already."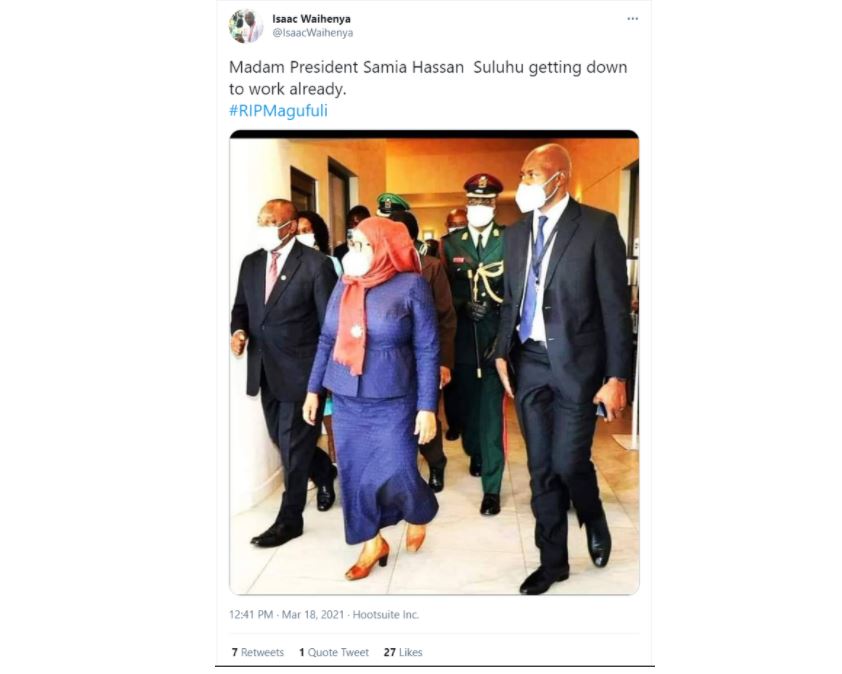 Fikitaa Otieno (@hotshotcreative) tweeted the same photo and wrote; "Poleni wa TZ (Sorry Tanzanians). See the masks are on already? Tanzania yapata Suluhu baada ya Pombe (Tanzania gets Suluhu after Pombe). Wear a mask. Keep your distance. Wash your hands. Get the #CovidVaccine #COVID19 ipo. #ripmagufuli"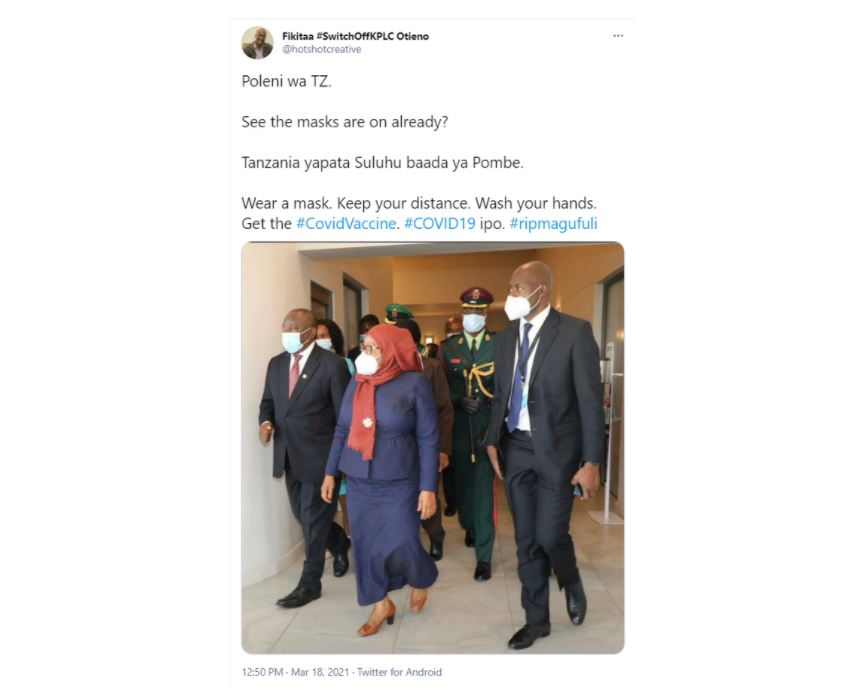 A review of Ramaphosa's verified Twitter account (@CyrilRamaphosa) shows he hasn't visited Tanzania and his only post about the country was a message of condolence, in which he attached four photos of himself and Magufuli on different occasions.
South Africa is united in grief with the government and people of Tanzania following the passing of His Excellency President @MagufuliJP. I spoke to the Vice-President Her Excellency Samia Suluhu Hassan, to express our deepest condolences as they go through this difficult moment. pic.twitter.com/BndcSJPhKQ — Cyril Ramaphosa #StaySafe (@CyrilRamaphosa) March 18, 2021
On Suluhu's Twitter account (@SuluhuSamia), she has only posted a video when announcing Magufuli's death, before that she posted clips of her speech on March 16, 2021.
Taarifa ya Kifo Cha Rais Wa Jamhuri Ya Muungano Wa Tanzania pic.twitter.com/LNi5CtoURm

— Samia Suluhu (@SuluhuSamia) March 17, 2021
Source of photo
The photo being shared is actually from a tweet by Suluhu posted on November 27, 2020 on her official Twitter handle.
She was at the time attending a Southern African Development Community (SADC) conference in Botswana about Mozambique's Cabo Delgado Province security situation.
Nimeongoza Ujumbe wa Tanzania kwenye Mkutano wa Dharura wa pamoja baina ya SADC, ORGAN TROIKA Nchi zinazochangia Vikosi vya Ulinzi na Amani vya Umoja wa Mataifa Mashariki mwa Jamhuri ya Kidemokrasia ya Congo kwenye Kikosi cha Umoja wa Mataifa DRC, unaojadili kuhusu hali ya pic.twitter.com/x1LbRODVXW — Samia Suluhu (@SuluhuSamia) November 27, 2020