Fact-Check: Did Magufuli and his cronies die of Covid-19?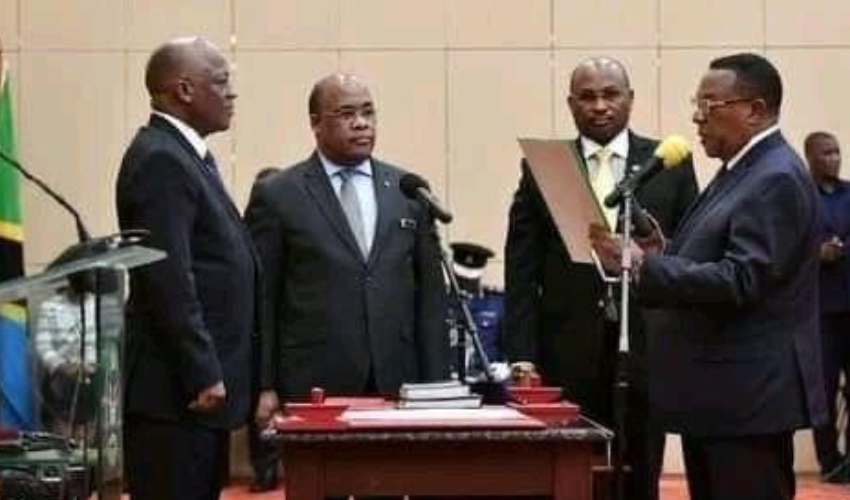 I am sure you have seen this photo circulating on social media, including WhatsApp groups.
Following the death of Tanzania's President John Pombe Magufuli this photo of Magufuli alongside three other men, with one of them taking an oath of office, started circulating on social media. It is claimed that all the four men in the photo had died of Covid-19.
The Standard Fact-Check desk did some research based on the claim.
Are all the men deceased?
We have confirmed that all the four men in the photo are dead. However, their deaths have been attributed to different causes, not Covid-19.
John Pombe Magufuli
From left. The first person in the photo is Magufuli. He died of heart failure. The announcement was made by the country's vice president Samia Suluhu in a televised broadcast saying the leader died of a heart condition.
The VP said Magufuli was admitted on March 6, 2021 to a hospital in Mzena, Dar es Salaam. He was battling chronic atrial fibrillation a condition he had lived with for 10 years. She further said that Magufuli died at around 6pm on March 17, 2021 and in his honour the country will mark 14-days of mourning.
Magufuli died aged 61 and is survived by a widow and five children. His death comes after weeks of uncertainty over his health and his whereabouts, he had not been seen in public for more than two weeks.
John Kijazi
Next to Magufuli is Ambassador John Kijazi. He was the Chief Secretary.
Kijazi died of a heart attack on February 17, 2021 at the Benjamin Mkapa Hospital and was buried three days later in his ancestral home in Korogwe District, Tanga region.
He served in different capacities in the ministry of transport before stints as a permanent secretary and ambassador. Kijazi was 64 and is survived by a widow and three children.
Oswald Simon Majuva
To the third left of Magufuli is Oswald Simon Majuva. He was one of the President's assistant at State House. After his stint in state house he was moved to Mara province where he served as the deputy provincial commissioner to Adam Malima. He once served as an ambassador to Tanzania's neighbour Zambia, stationed in Lusaka.
Majuva died on March 12, 2021 in Musoma, Mara province and the cause of his death was not made public.
Augustine Mahiga
The man in the photo taking an oath is Augustine Mahiga.
He was the Constitutional and Legal Affairs minister during Magufuli's first term as president. Mahiga died on May 1, 2020 in Dodoma.
Announcing the death of his minister, Magufuli at the time said Mahiga had fallen ill on the morning of May 1, 2020 and was rushed to a local hospital where he passed on.
In 2015, Mahiga was appointed as Tanzania's Foreign minister before moving on to the constitutional docket. He was 74 and is survived by a widow and three children.