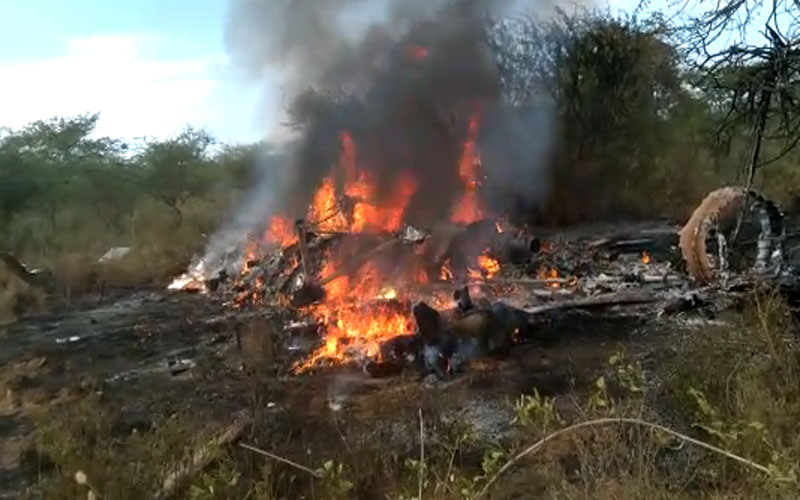 A military aircraft crashed at Eremet area in Oltinga, Kajiado West today morning.
KDF spokesperson Zipporah Kioko said in a statement that the helicopter was on a training mission when it went down and burst into flames.
Kioko identified the model of the aircraft as an Mi-171E copter.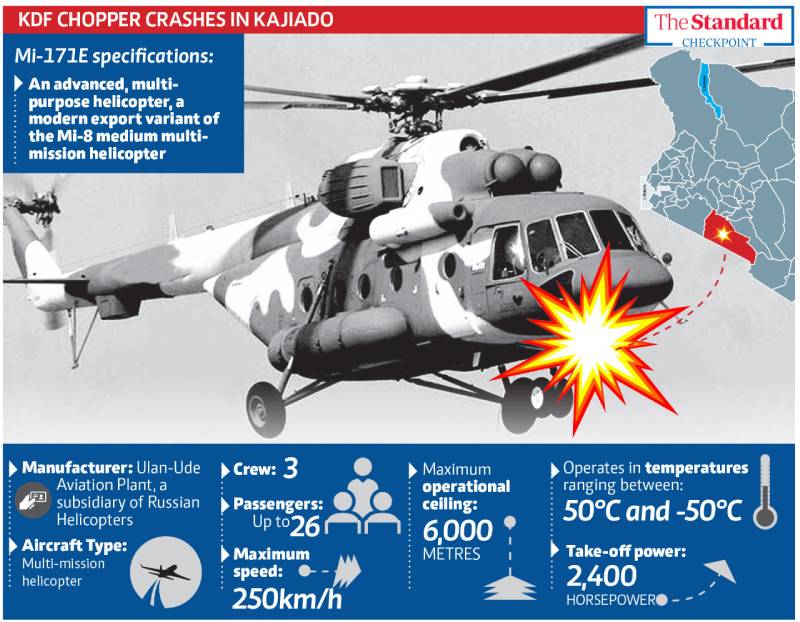 Here's what you need to know about the Mi-171E:
Specifications:
The Mi-171E is an advanced, multi-purpose chopper. It is a modern export variant of the Mi-8 medium multi-mission helicopter
Manufacturer: Ulan-Ude Aviation Plant, a subsidiary of Russian Helicopters
Aircraft Type: Multi-mission helicopter
Crew: Three
Passengers: Up to 26
Maximum speed: 250km/h
Maximum operational ceiling: 6,000 metres
Operates in temperatures ranging between: 50°C and -50°C
Take-off power: 2,400 horsepower
Weight: The aircraft weighs around 7,489kgs and its maximum take-off weight is 13,000kgs.
Design features:
Built to fly in adverse weather conditions
Equipped for special operations during the night
Highly effective during missions in mountainous regions and in hot climates
Special fittings include search light, rappelling equipment, loudspeaker station, heli-bucket, radiolocation system
Ground proximity warning system
Physical features:
Features a metallic fuselage made of high-strength aluminum alloys
Its fuselage integrates a five-bladed main rotor and a three-bladed tail rotor
The under hull is installed with a fixed try-cycle landing gear system
Source: US Homeland Security.