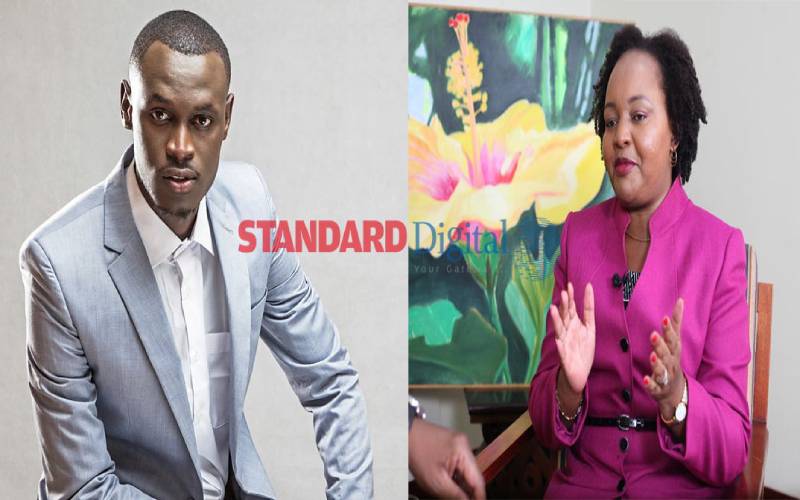 Kiranyaga Governor Anne Waiguru has threatened to sue rapper Kennedy Ombima –alias- King Kaka for allegedly defaming her in his anti-graft song Wajinga Nyinyi which translates to 'you fools'.
In the song, the spoken word artist does not mince his lyrics exposing politicians who have been linked to various scandals in the country.
Ms Waiguru, a former Devolution and Planning Cabinet Secretary is mentioned in the song with references to the National Youth Service (NYS) scandal in which she was cleared by the Ethics and Anti-Corruption Commission.
Waiguru has now asked King Kaka to apologise and pull down the video out of all of his social networks or face a defamation suit.
Read More
What is defamation?
Merriam Webster dictionary defines defamation as the act of communicating false statements in the form of facts about a person that injure the reputation of that person. It should add, "before right-thinking members of the society,"
Types of defamation?
There are two types of defamation: Libel is an untrue defamatory statement made in writing Slander is a defamatory statement that is spoken.
Libelous acts, therefore only occur when a statement is made in writing (digital statements count as writing) and slanderous statements are only made orally.
For a statement to be defamatory, it should entail the following;
· First, defamation begins with someone making a statement. Defamation requires making an affirmative statement.
· For the statement to amount defamation, it should have been published/ publicised to the third party.
· If the false remarks are just between people then that is not defamation.

· A defamatory statement should also cause harm or injury to the person defamed. If a statement hinders a person from getting a job or makes the person incur losses in their businesses because of a false remark then the statement is defamatory.

· For a statement to be defamatory it must be false.

· Lastly, a statement can be defamatory if there is no privilege to protect the statement. For instance, when one testifies in court, the remarks they say cannot be defamatory because they are protected by law.

Below are defenses one can use when facing a defamation suit

· Truth always sets you free and in a defamation suit, the defendant must prove that the statement alleged to be defamatory is true.

· Some statements enjoy absolute privilege and no actions can be taken even if the person making the statements knows they are false. For instance, an MP's remarks during the house proceedings are protected even if they are known to be false.

· A defendant can use the defence of qualified privilege which protects honest conversations without fear. However, should the plaintiff prove that the statement was motivated by malice then one is likely to lose the case.

· Statements that enjoy qualified privileges include; Discussion of government and political matters. Reporting of public proceedings like parliament and court sessions or when some replies to an attack in public.

· Lastly, the common defense of defamation is proving that the statement was a fair comment such as opinions expressed about matters of public interest.?