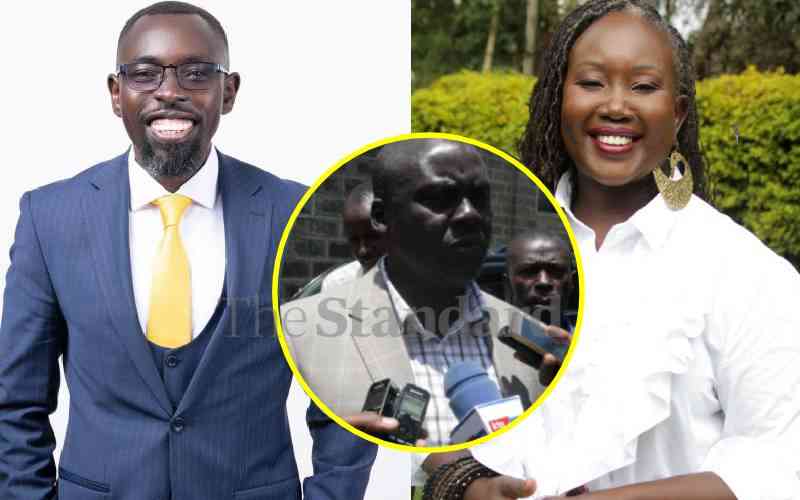 President William Ruto's UDA faces a litmus test as Elgeyo Marakwet voters return to the polls to elect a senator, after Kipchumba Murkomen joined Cabinet.
The Thursday by-election has snowballed into a fierce battle between UDA and Party for Peace and Development (PPD), an outfit widely seen to be a threat to the ruling party.
Former Marakwet West MP William Kisang, who lost to Independent candidate Timothy Kipchumba in the August 2022 eection, is flying the UDA flag, running against PPD's Tim Kipchumba, an entrepreneur.
Activist Jerotich Seii of Safina Party, lawyer Andrew Mengich (independent) and Timothy Tanui of the New Democrats are also in the race, but the battle, observers say, has been whittled down to a two-horse race days to the vote.
UDA deployed its top political arsenal led by Mr Murkomen for a last-ditch all-out campaign against the PPD candidate ahead of the close of vote-hunting today. The UDA team, which started its campaigns on Sunday, held rallies in Kapyego and Kapcherop wards on new year before taking their vote-hunt to Endo in Marakwet East.
The brigade, which faced heckling and cold reception on Sunday and Monday, said it would be embarrassing for UDA to lose the seat after the county was rewarded with a CS position. Murkomen was appointed Transport CS.
In separate campaign meetings, Murkomen and Marakwet East MP Kangogo Bowen asked residents to give Mr Kisang, the UDA candidate one term as senator, saying the former MP will retire from politics in 2027.
"You know I have not come to campaign for the UDA candidate because I thought all was well on the ground, only to discover that things were slippery," the CS said.
He added: "I am asking you to forgive Mr Kisang (the UDA) because the Bible says so, and if you can't forgive him, please go to the ballot on Thursday and choose the Wheelbarrow (UDA symbol)," Murkomen said in Marakwet dialect. Murkomen said should UDA lose the senate seat on Thursday, his job as CS would be at risk. "What will I say before the President when I come from a county where I have the burden of two independent MPs and now a senator from another party? Vote UDA so that I can still have a say in government," Murkomen said.
He added: "When things go wrong in the Elgeyo Marakwet Senate race, it should not be said that I did not play my role. Please don't expose my nakedness..... The only reward you can give President Ruto for giving us a CS position is to vote in favour of his party."
He asked Mr Kipchumba and Ms Seii to step down, promising to secure them government jobs. But the two yesterday stood their ground, maintaining that Elgeyo Marakwet voters will decide on Thursday. Governor Wisley Rotich has also been campaigning for the UDA candidate.
Yesterday, Kericho Senator who is the Senate majority leader Aaron Cheruiyot and his Bomet counterpart Hillary Sigei were among Rift Valley leaders who joined lawmakers from Elgeyo Marakwet: Timothy Kipchumba (Marakwet West), Kangogo Bowen (Marakwet East), Adams Kipsanai (Keiyo North), Gideon Kimaiyo (Keiyo South) and Caroline Ngelechei (Woman Rep) on the campaign trail.
"I am asking you (Elgeyo Marakwet voters) to forgive Kisang. If there is anyone he wronged, it was me, and I have forgiven him," Marakwet MP Timothy Kipchumba said after he was heckled by youth as he campaigned for his predecessor.
Mr Kipchumba, the PPD candidate whose popularity among the youth has been rising in the last one month, said his party is a Kenya Kwanza collation affiliate. He came second in the UDA primaries in November, but protested what he termed as shambolic nominations.
"I support President Ruto 100 per cent, and I am the true definition of a hustler. To lose the UDA ticket because of the lack of transparent nominations and then face the entire brigade campaigning against us even when we are inside Kenya Kwanza is the irony of last year! May 2023 be better for children of hustlers," Kipchumba said.
Related Topics