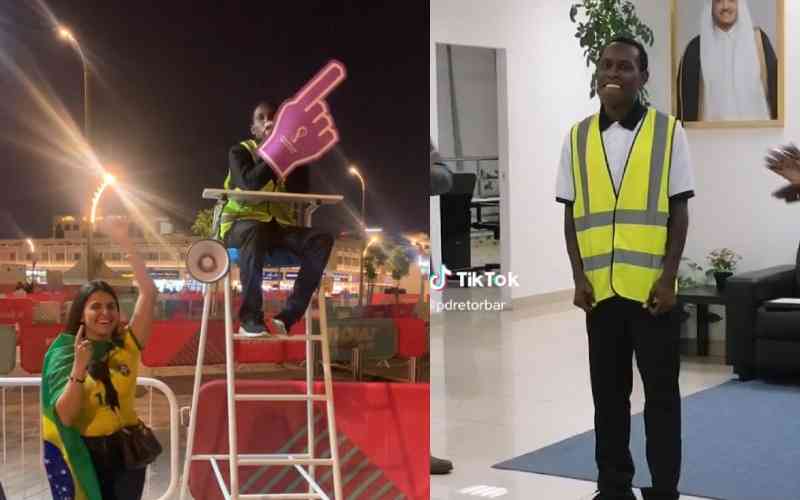 A Kenyan man in Qatar who is tasked with directing World Cup fans to a metro station has become an instant sensation after his videos went viral on social media.
'Metro Guy' as he is now referred to, has warmed the hearts of many and in one of the clips he holds a foam finger and speaks into a megaphone, repeatedly saying, "Metro."
"Thanks, guys for your support, we love you," Metro Guy says in another video, where he is with friends.
Often wearing a reflector coat, perhaps for his job, the TikToker has been receiving love from across the world, and from Kenyans on social media as well.
His comment section is filled with Kenyans proudly commenting on the Kenyan flag.
In another video, the TikToker clarifies that when he says metro he means "a metro station in Doha."
The content creator then confirmed that he is indeed from Kenya while responding to a TikToker, one @Espearance942 who asks him where he is from.
@metro_man001
#metroman001
#souqwaqif
#metro
#doha
#qatar
#worldcup2022
♬ original sound - metro man001
In his response, Metro Guy uploaded a google-search result of Kenya, which shows the Kenyan flag and describes its location in East Africa.
He explained in a short interview uploaded to his account that he went viral for coming up with an interesting way to direct fans.
"The fans were just passing by and I thought of a way that I could engage them, and have fun with them," he said.
"Saying 'metro this way...metro this way' over and over was tiresome and boring. That is why I wanted to make it interesting," he said.
Now, his methods of engaging fans have caused a worldwide internet sensation.
Every time he says "Metro", fans from diverse different countries either repeat after him or chant, "This way!"
"I love you guys. Keep sharing, keep posting and keep commenting. And another thing, I have only one account, so whoever is impersonating me, please report that account and unfollow it," Metro Guy said in an announcement uploaded to his account yesterday.
Indeed, his clips pop up on different accounts on the platform, receiving millions of views and likes.
The content creator also celebrated being recognised for his efforts in being creative at his job. He posted a clip where he is being gifted several goodies.
"For the first time in my life, I received a gift. Thank you TikTok, Thank you to my office and thank you Tik Tok users," he wrote.
"How can you get lost in Qatar when you have this guy?" One TikTok user poses on a viral clip of 'Metro Guy' doing what he does.
@metro_man001
#fifaworldcup
#fifaworldcup2022
#metroman001
#souqwaqif
#metro
#doha
#qatar
♬ original sound - metro man001
And Kenyans on the app continue to celebrate him.
"Kenyans are so proud of you, wakenya wako wapi," wrote a user going by Rift Kenya.
"Ashakuwa celeb (he has already become a celebrity)," wrote one Sharon Muthoni.
Standard Entertainment and Lifestyle has reached out to the content creator for comment.
Related Topics