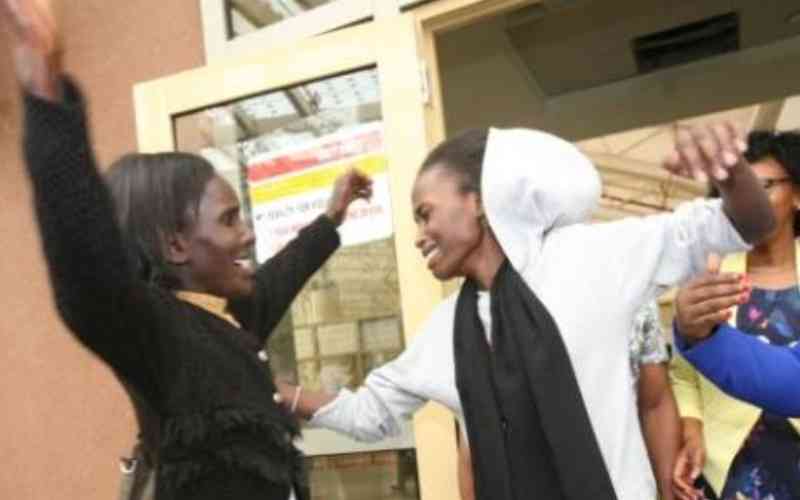 Diana Chepkemoi, the young Kenyan woman who was stranded in Riyadh, Saudi Arabia is back home.
Speaking after her arrival at JKIA, Chepkemoi, who is a student at Meru University but had sought greener pastures in the Gulf, said she suffered at the hands of her employer.
She added that her colleagues are suffering and called on the government to act quickly.
"I left Kenya for Saudi Arabia hoping to get a better life but if I can be honest, mine is just a tip of the iceberg.
"Watu wanateseka. My friends are suffering. I am just lucky that my plight was highlighted. I am pleading with the government to do something," she said.
Adding: "People are mentally and psychologically tortured. It is a shame that they often tell us there is nothing we can do. The government should do something. Some have even forgotten their names. They have forgotten where they came from."
Chepkemoi said she always carried out her duties diligently but trouble started when she reported her employer to her agent in vain.
"I was not rude. They (employers) know they have power over you," she said.
On Monday, the Kenyan Embassy in Riyadh, through a tweet, said Chepkemoi was picked up from her employer's house by an ambulance and was taken to hospital for a checkup.
She was later referred to a specialized hospital and according to the Embassy, she was given a clean bill of health.
Earlier, the Embassy of the Kingdom of Saudi Arabia said Chepkemoi was not subjected to any kind of ill-treatment and assured that it is dedicated to protecting the rights of residents in their country.
Related Topics