Mine lady crushing stereotypes
EVE WOMAN
By - | Apr 6th 2013 | 4 min read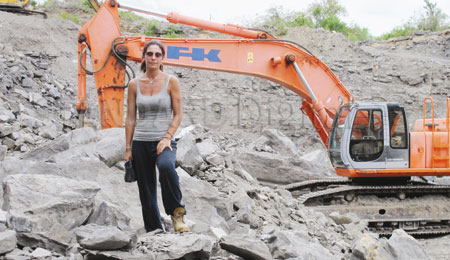 Naja at the mines in Kilifi.PHOTOS: JECKONIA OTIENO/STANDARD]
During the Tana Delta clashes, which saw the death of more than 100 people last year, many organisations came together to help save the situation — one of them was Duma Foundation. The foundation is an offshoot of a larger investment, Duma Crusher, headed by a resilient woman.
Naja Dahmani, the CEO of Duma Crusher is not your typical power-wielding boss lady. She is down-right down-to earth and if you meet her in the mines chatting and mingling freely with her staff, you would think she is one of them.
Powerful as she maybe, she is always in the field getting her hands dirty and bonding with her workers.
As we do the interview, she goes round the mine and climbs on top of rocks, revs the excavators and loaders as she shows that despite having been born on the high end of life, she does not think of herself so highly.
"I do not mind getting my hands dirty. I like to mingle with my staff and help them around. That way, I get to know if there is any problem they are facing," says the down to earth Naja.
Though she operates one of the largest fixed mines in Eastern Africa producing about 4,200 tonnes of crushed stone daily, she is easygoing and has a heart and passion for humanity.
Under the Duma Foundation, Naja's company has put up several schools and water points in the area surrounding the mine, which is located in Kilifi.
Origin Libya
So who is this not-so-ordinary mine lady?
Naja — who is originally from Libya — came for holiday in Kenya in 2010 and immediately fell in love with the country. She says she was smitten by the beautiful beaches and favourable weather at the Coast, and immediately decided to make Kenya her second home.
"I landed in Mombasa and drove to Malindi where a friend of my dad was living. Oh my! What I saw was heavenly, the warm beach waters and the snow-white sand was out of this world. I wanted to see these gems more often. That is why I decided to make this place my abode," she says.
There was more in store for her. It is in Kenya that she met her boyfriend and love of her life — Philip Camerucci — with whom they have invested in Duma Crusher.
Out of Duma Crusher came the Duma Foundation an initiative meant to give back to the society that lives around the area Naja has invested.
She was moved to give back to society after an eye-opening trip in Malindi. Naja had gone for a trip at the Tsavo Game Reserve and it was then that she came face to face with crippling poverty that the locals were facing.
Instead of just sympathising with the situation, she decided to act. She started buying food and sending those who worked with her to distribute it to the local community.
Says Naja: "I saw the plight of the children and realised that even though I cannot solve all their problems, I cannot just sit and assume it all. I decided to do something with a long-term impact."
She has put up Kathama Primary School, which now serves the local children who had to walk long distances to seek education in Tsavo area. During the Tana clashes, Duma Foundation donated Sh1million for medicine, tents and foodstuff for the displaced in Jaribuni in Kilifi.
Educational background
Born in Italy 38 years ago, Naja studied in Switzerland and England. She has a degree in Marketing.
"After studies, I worked in my father's shipping firm where I cut my teeth in the corporate world," Naja says.
So why did she choose to put her money in Kenya?
"I chose to invest in Kenya because it is a beautiful country with a lot of untapped opportunities. In fact, I see Kenya being a greater economy than South Africa because of its strategic location. Kenya is also a darling of the international community," she confesses.
Good as it may sound, she admits that starting and running such an outfit in a foreign land has challenges.
First, most of the quarries in Kilifi are owned by men, and so penetrating this male-dominated environment was an uphill task.
She had to use her wisdom, expertise and backing from the local community to roll out. It also took Naja and her colleagues a year to clear the paper work before finally shipping in the hi-tech machines for the production process.It was difficult for the locals to accept that a woman can invest in a male-dominated field. But she soldiered on with her vision.
She says: "When I see trucks lining up here to get stones, I know it has taken the hand of God and the goodwill of the locals to actualise this dream."
The secret of her company's success is to treat her workers well so that they can devote their time and energy to her company.
While she is in Kenya, Naja spends most of her time at the site.