Black Lives Matter protesters pull down statue of slave trader and roll it into river
EUROPE
By Mirror | June 8th 2020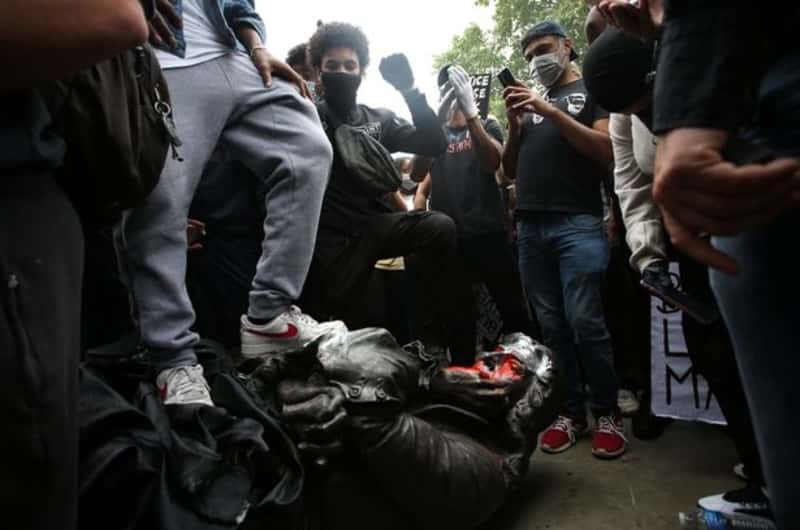 Black Lives Matter protesters have pulled down a statue of a 17th-century slave trader and thrown it in the water in Bristol.
The bronze memorial of Edward Colston, which has been situated in Bristol city centre since 1895, was torn down after crowds left College Green.
It has been the subject of an 11,000-strong petition to have it removed. After it was toppled, protesters rolled it towards the harbour and threw it into the water.
Earlier, protester John McAllister, 71, tore down black bin bags used to hide the statue to denounce it in front of fellow protesters.
He said: "It says 'erected by the citizens of Bristol, as a memorial to one of the most virtuous and wise sons of this city'.
"The man was a slave trader. He was generous to Bristol but it was off the back of slavery and it's absolutely despicable. It's an insult to the people of Bristol."
According to BristolLive, ropes were used to pull the statue from its plinth, which was followed by cheers among the crowd as the bronze figure hit the floor.
Videos show the moment the statue was toppled, which was met by cheers and people waving their arms in the air, before running towards it.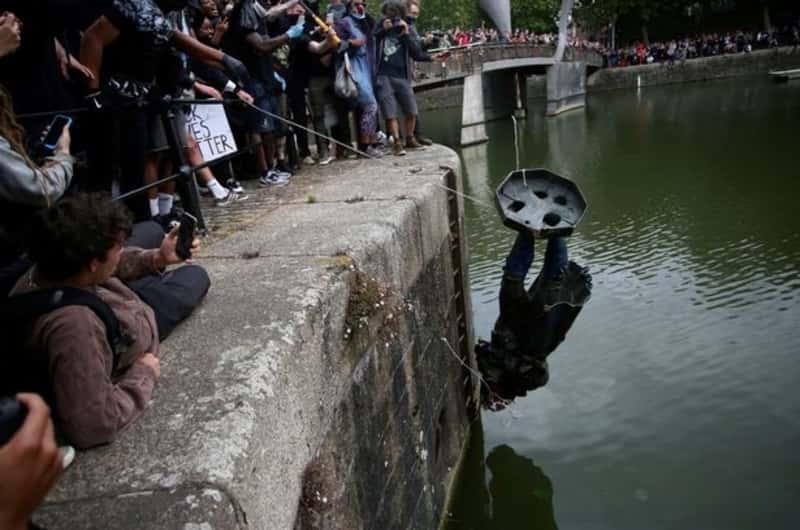 Pictures and video on social media show the statue being rolled by protesters towards the harbour.
It is now in the water, according to BristolLive reporter Tristan Cork, who tweeted: "The statue of Bristol slaver Edward Colston has just been thrown into the Floating Harbour by a huge crowd of people."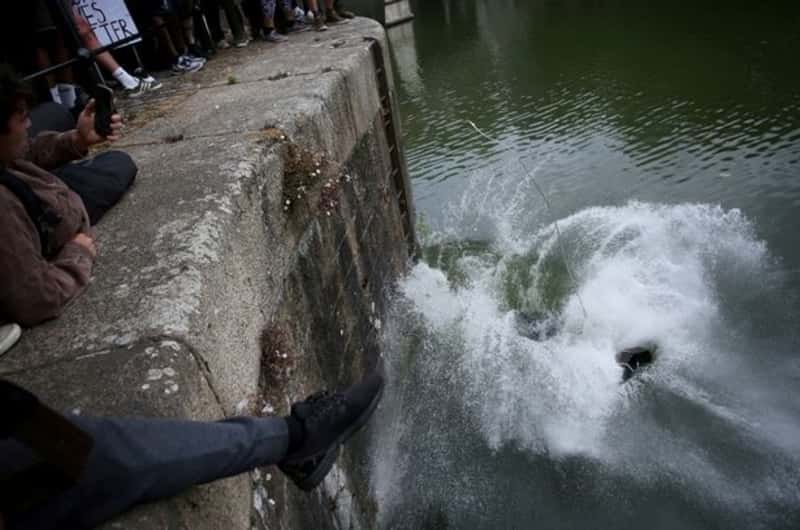 Protester Solly Cox, 24, said: "It was just really powerful. They dressed him in bondage gear and then tied the ropes around him. When it was pulled down everyone just cheered. After Colston was pulled down a guy got up and knelt on his neck. It was just a really powerful moment. After the statue was pulled down it kinda kicked off."
Avon and Somerset Police have now launched an investigation to identify a small group of people "who clearly committed an act of criminal damage" in pulling down the statue.
Superintendent Andy Bennett said: "The Black Lives Matter demonstration in Bristol today was attended by an estimated 10,000 people. The vast majority of those who came to voice their concerns about racial inequality and injustice did so peacefully and respectfully."
"However, there was a small group of people who clearly committed an act of criminal damage in pulling down a statue near Bristol Harbourside. An investigation will be carried out to identify those involved and we're already collating footage of the incident.
Colston was a slave trader who came from a family of merchants, who had a prominent presence in Bristol for more than 300 years.